Commissioner Eileen Higgins
Welcome to District 5, the heart of the Miami-Dade County!

From historic neighborhoods to sweeping bay, river, and ocean views, the eclectic mix of District 5 embodies the best Miami-Dade has to offer residents and visitors alike.

This vibrant district includes the cities of Miami and Miami Beach, including the urban neighborhoods of Brickell and Downtown; the working, industrial Miami River; tree-lined Coral Way neighborhoods like The Roads, Silver Bluff and Shenandoah; the South and Mid parts of Miami Beach; and Little Havana and West Flagler, the colorful center of Hispanic culture.

We invite you to join our team in creating the story of Miami's present and future together. Learn more on how District 5 is serving you by searching legislation, latest news and events, and all county services.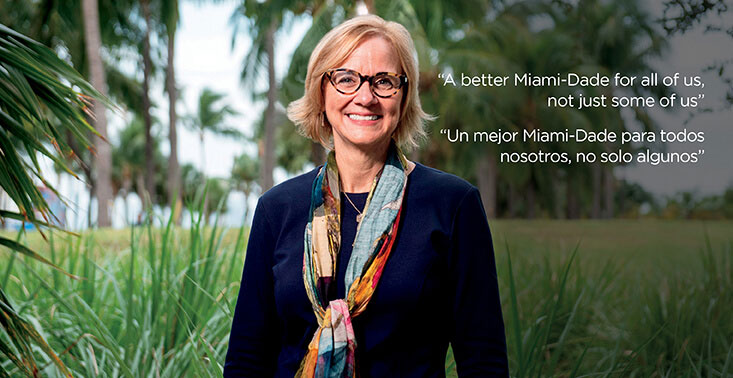 Applications are available now.

In response to the Coronavirus (COVID-19), the District 5 Mom and Pop Grant Program will be suspending the application submission dates until further notice.

We will post the new dates to submit the application once we reschedule the deadlines. Thank you for your understanding, and please help us by sharing this information with anyone in your network that is planning on applying. For more information, feel free to call our office at 305-375-5924 or email

[email protected]
Greener Coral Way is a voluntary, business certification program that encourages Coral Way restaurants to remove or replace Styrofoam and single-use plastic, and address food waste in their operations, while helping the businesses thrive by recognizing them as environmental stewards of the neighborhood.
On January 15, 2020, Miami-Dade County Commissioner Eileen Higgins, District 5, testified before the Subcommittee on Aviation of the House Committee on Transportation & Infrastructure on the treatment of airport ground workers in Washington, DC.

The installation ceremony for newly elected County Commissioner Eileen Higgins of District 5 was held on Tuesday, July 10 at 10 a.m. in the Commission Chambers at the Stephen P. Clark Center, 111 NW 1st Street, 2nd Floor.

News Releases and Photo Gallery