When Rhonda M. Smith was diagnosed with Stage I Breast Cancer, she became intently focused on the treatment process. It wasn't until after two surgeries, chemotherapy, radiation and finally a clean bill of health, that she started dealing with the psychological impact of facing a life-threatening disease. In getting her life back to normal, Rhonda reinvented herself and became a resource and friend to women affected by breast cancer. This is why she now "Puts On Her Pink Bra" and is involved with the American Cancer Society. Rhonda was one of about 250 attendees at the Making Strides Against Breast Cancer Kickoff Breakfast recently hosted by the American Airlines Arena.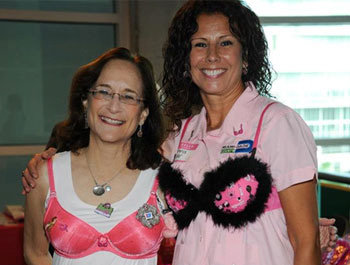 The breakfast served as the kickoff for the 2012 Making Strides Against Breast Cancer and aimed to generate excitement for the walk through the "Put On Your Pink Bra" campaign, a call to arms for women to fight back against breast cancer by supporting the American Cancer Society.The breakfast included comments from Miami-Dade County Manager and Deputy Mayor Alina Hudak, who serves as the 2012 Event Chair and who walks each year in memory of County employee and colleague Debbie Curtin. "This is the 20th anniversary of the Making Strides event nationally and our tenth year locally," said Hudak. "We're hoping to raise $500,000 through this year's event."
Damarys Isler, Team Development Chair of this year's Making Strides, encouraged area residents to form teams of 10 to 12 walkers. Isler said sign-up is already under way and she hopes to attract between 300 to 400 teams, and more than 5,000 participants. She said each walker is encouraged to raise at least $100, but there is no minimum required to participate.
Making Strides Committee members, cancer survivors, team captains and representatives from Making Strides media partners – WSVN-Channel 7, Univision-23 and Univision Radio were in attendance. Other 2012 flagship sponsors include Miami Dade County, Odebrecht Construction and Engineering, Baptist Health Cancer Services, All American Containers, Cherokee Enterprises, The Flyer and T-Mobile.
Last year's walk generated about $300,000. The money goes to support cancer research, and fund local support and awareness programs. Hudak said she was pleased by the attendance at today's breakfast. "That's good, because if we have good attendance here, that means we'll have good attendance at the walk," she said.
For more information about the Making Strides Against Breast Cancer walk or to register, call 305.779.2860 or visit www.putonyourpinkbra.org/miami.