Dedication ceremony for new Children's Courthouse set for Thursday, Feb. 6th
(MIAMI, February 5, 2014) – Miami-Dade County and the Eleventh Judicial Circuit of Florida are pleased to announce that a dedication ceremony for the future Miami-Dade Children's Courthouse will take place at 12 p.m., Thursday, Feb. 6th, 2014. The new courthouse will be named after and dedicated to two longtime children's champions: Judge Seymour Gelber and Judge William E. Gladstone, who will be present and will present remarks during the dedication.
The new Children's Courthouse, which will go up at 155 NW 3rd Street, is the result of more than 10 years of collaboration between Miami-Dade County and the Eleventh Judicial Circuit of Florida, and is a shared vision to improve conditions for the children and families who appear in our courts.
The new courthouse will replace the aging and undersized Juvenile Justice Center currently located at NW 27th Avenue and 33rd Street. Among its many distinguishing features, the new Children's Courthouse will be one of the few facilities in the nation to house all court partners as well as support agencies for the Juvenile Justice Community.
The facility will be approximately 375,000 square feet in size, with the capacity to house 18 courtrooms and judges' chambers, court administration, the Clerk of Courts, State Attorney's and Public Defender's Offices, as well as support agencies such as the Guardian Ad Litem Program, Corrections, and Miami-Dade Police Court Liaison personnel.
Members of the media are welcome to attend this special event. Photo opportunities and interviews can be arranged upon request.
IMPORTANT NOTES
Visitor's Release Form: All those planning to attend the Children's Courthouse Dedication Ceremony should complete and sign the attached Visitor's Release and Hold Harmless Agreement

and bring with you to the event. It will serve as your admission ticket to the ceremony.
Parking: West Lot Garage, 220 NW 3rd Street, Miami, FL 33128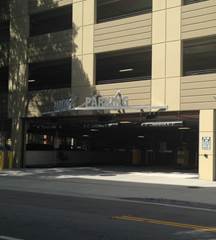 # # #
It is the policy of Miami Dade County to comply with all of the requirements of the Americans with Disabilities Act. The facility is accessible. For sign language interpreters, assistive listening devices or materials in accessible format, please call at least five days in advance.
Who:
Miami-Dade County and the Eleventh Judicial Circuit of Florida
What:
Children's Courthouse Dedication
When:
February 06, 2014, 12:00 p.m.- 01:00 p.m.
Where:
Main entrance to Children's Courthouse, located at 155 NW 3rd Street, Miami, FL 33128