Last Visited »
Hurricane Irma
As we continue our recovery and cleanup efforts, please visit the Emergency website for the latest information on openings and closings in Miami-Dade County.



Mayor's Initiative on Aging
Together with public and private partners, Mayor Carlos A. Gimenez is advocating for some of the most vulnerable members of our community and making a difference in their lives. The Mayor's Initiative on Aging provides resources and information on programs and activities for seniors throughout the County.
The Initiative assists in coordinating educational forums for elders and professionals, health and fitness fairs to promote wellness and safety among older adults, hurricane preparedness education and kit distribution.
The Miami-Dade Age-Friendly Initiative is conducting a survey among residents age 50 and over to understand the community's views and what we will need as we age in order to make our community a great place to live, work and play. Take the survey. Your answers will be used to update our Age-Friendly Action Plan.
National Council on Aging's Benefits Check Up Grant
The National Alliance Council on Aging can help you find benefits available to you. You can get assistance with food, healthcare, medication, income assistance, food and nutrition, housing and utilities, tax relief, veteran, employment and much more. Call 305-671-6356 (English), 305-671-6376 (Spanish) to get help in applying for benefits. There is an interpreter for other languages. Services are free.
On Monday, March 25, there will be a benefits enrollment event at the South Dade Regional Library, 10750 SW 211th Street, in Cutler Bay. Staff will be available to help you apply for benefits. The event is free and open to the public.
Wynwood Job Fair
Attend the Wynwood Job Fair on Friday, April 5 from 10 a.m. - 2 p.m., Robert Clemente Park, 101 NW 34th Street, in Miami.
Sponsored by Miami-Dade Mayor Carlos Gimenez Initiative on Aging, Miami-Dade Chairwoman Audrey Edmonson, Community Action and Human Services, the City of Miami Wynwood/Edgewater NET Office and the Puerto Rican Chamber.
Transforming Grief and Loss Seminar
The weekly seminar is for older adults who are experiencing loss in their life. Hosted by Ligia Houben, grief expert, will demonstrate tools that can help you find meaning, achieve breakthroughs, and build the life you want on the other side of loss or transition. She will show you a roadmap that can help you find peace, healing and recovery.
Every Saturday, April 6-June 29 from 2 p.m. - 3:30 p.m., 7600 block of SW 57th Ave
Registration is required. RSVP to attend seminar or call 305-666-9942/305-299-5370.
Age-Friendly Summit 2019
Join us for the Age-Friendly Summit 2019. An interactive series of discussions and presentations will local government officials and community leaders aimed at making Miami-Dade a better place for our citizens of all ages, especially older adults.
This year's summit will focus on strategies to address health, housing and planning toward addressing needs as we age-in place.
Continental breakfast and lunch will be provided.
Thursday, May 16.
Miami Dadeland Marriott
9090 S. Dadeland Boulevard
8:30 a.m. - 2 p.m.
To RSVP visit www.age-friendlymiami.org
Social Security
To enjoy a comfortable retirement, workers should think Social Security as a foundation. One of the best ways to begin fashioning a sound retirement plan is by creating a mySocialSecurity account. This valuable online resource allows you to view personalized estimates of future benefits based on your real earnings, see your latest statement, and review your earnings history.
Social Security has been and will continue to be, part of the American fabric, providing protection for those Americans who have paid into Social Security through their earnings. By knowing what you can expect from Social Security, people are empowered to make important decisions about their savings and future retirement.
Mind and Melody
Mind and Melody brings innovative music entertainment to the comfort of your home. Our mission is to improve the quality of life for your loved one.
Services offered include a 1 hour interactive music session with live performances and unique instruments.
Benefits: See your loved one happy & engaged, social interaction, break from routine, cognitive stimulation and innovative activity.
Complete registration form.
For more information, call 305-582-1006 or email [email protected]
Center for Medicare Services presentation on new Medicare Cards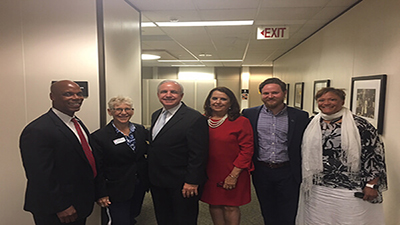 (L to R: Dr. Renard Murray Center for Medicare & Medicaid Services, Cindy Brown JCS and Co-Chair of Elder Issue/Mayor Initiative on Aging Committee, Carlos Gimenez, Mayor, Teri Busse Arvesu, Senior Advocate, Office of the Mayor,
Michael Pearson, Dir. of Alzheimer Association and Chair of Elder Issue/Mayor Initiative on Aging Committee and April Washington Center for Medicare & Medicaid Services).
Medicare recipients will soon receive their new card between April 2018 and April 2019. The Social Security Numbers have been removed to help keep your identity more secure. Cards will arrive at different times.
The new card will not change the coverage of your benefits. Make sure your mailing address is up-to-date. To make a change, visit My Social Security account online or call 1-800-772-1213.
New Medicare cards are coming
A new, unique Medicare Number is replacing the Social Security Number-based Health Insurance Claim Number (HICN) on each new Medicare card.
Learn about the new Medicare card.
Find out when your new Medicare card will be mailed to you.
10 things to know about the new Medicare card.
Miami-Dade Age-Friendly Initiative Mini-Grant Winners
The Miami-Dade Age-Friendly Initiative awarded five local organizations an Age-Friendly Mini-Grant to help jump-start age-friendly projects across Miami-Dade County. The organizations, which were selected based on their ability to offer a project to meet a community need in an age-friendly domain identified through a survey conducted in 2017, each received a $2,500 award.
Miami-Dade County joins AARP's Age-Friendly global network
Miami-Dade County and the Miami-Dade Age-Friendly Initiative received a certificate from AARP Florida accepting them into the Network of Age-Friendly Communities.
"Older adults are an important part of our diverse, world-class community," said Miami-Dade County Mayor Carlos A. Gimenez. "Joining this network shows that we remain committed to working with our many community partners to continue making Miami-Dade County a place where our 2.7 million residents can enjoy every phase of their lives to the absolute fullest.
Affordable Housing Search
The U.S. Department of Housing and Urban Development gives funds directly to apartment owners, who lower the rents they charge low-income tenants. You can find low-rent apartments for senior citizens and people with disabilities, as well as for families and individuals.
Assisted Living
The Helen Sawyer Assisted Living Facility is designed to meet the physical and emotional needs of elderly public housing residents.
Elderly Services
Community Action and Human Services offers a variety of elderly assistance programs including Care Planning, Foster Grandparents, Home Care, Meals on Wheels, Senior Centers and more. Learn more about the services.
Meals on Wheels
The Department of Community Action and Human Services provides home delivered meals each week to low-income, ill and/or homebound persons with disabilities in Miami-Dade County. Meals for the Elderly provides older persons with hot nutritious meals and activities in a Senior Center setting.
Transportation
If you are a senior citizen 65 years and over, or a Social Security beneficiary and are a permanent Miami-Dade resident, you are eligible to ride transit free with a Golden Passport EASY Card. Honorably discharged veterans who are permanent residents of Miami-Dade and whose annual income is $22,000 or less are eligible to ride transit free with the Patriot Passport EASY Card. Special Transportation Service (STS) is MDT's complementary paratransit service. Service is offered with no restrictions on trip purpose. Learn more about STS.
Parks fun for Active Adults 55+
From walking clubs to yoga and tai-chi, Miami-Dade Parks provides a wide variety of senior programs for adults ages 55 and older. Learn more about the programs.
Golden Ticket Arts Guide
The Golden Ticket Arts Guide features an amazing array of free cultural offerings for Miami-Dade County senior residents, ages 62 and over.
Back to Top
Page Last Edited: Fri Mar 22, 2019 8:19:31 AM
mayor
Report Elderly Abuse

Call 1-800-96-ABUSE. Elderly abuse and neglect are far too common. For more information on reporting elderly abuse, visit the Florida Department of Elder Affairs.


Contact Us
Teri Busse Arvesu
Senior Advocate
Office Phone
305-375-5648
Cell Phone
305-213-4348


Email

You are now leaving the official website of Miami-Dade County government. Please be aware that when you exit this site, you are no longer protected by our privacy or security policies. Miami-Dade County is not responsible for the content provided on linked sites. The provision of links to these external sites does not constitute an endorsement.

Please click 'OK' to be sent to the new site, or Click 'Cancel' to go back.