(Miami-Dade County, FL) --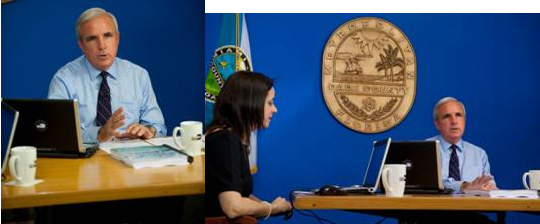 Miami-Dade County Mayor Carlos A. Gimenez hosted a Social Media Town Hall Meeting, on July 14, 2011, at the Stephen P. Clark Center. Six hundred questions were submitted to Mayor Gimenez via Facebook; Twitter, #AskMayorGimenez; and www.miamidade.gov from Miami-Dade County residents and employees. To view the town hall meeting, visit http://miamidade.granicus.com/MediaPlayer.php?publish_id=340.

"I'm excited to be here," Mayor Gimenez said. "This is my first time ever doing something like this, and I think it provides a great opportunity for me to get in touch with our community in a new way. I want to thank everyone who submitted questions and participated. In the coming weeks, I'll be hosting more in-person and virtual town hall meetings."

As Mayor Gimenez stated during the virtual meeting, he will be hosting a traditional town hall meeting on Thursday, July 28, 2011, at 7 p.m., at the Kendall Village Civic Center Pavillion, 8625 SW 124th Avenue.