(Miami-Dade County, FL) --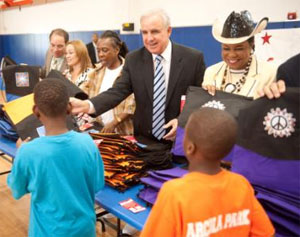 Miami-Dade County Mayor Carlos A. Gimenez and U.S. Congresswoman Federica Wilson hand out school bags to local summer campers at Gwen Cherry Park in Liberty City earlier today.
Earlier today, Miami-Dade County Mayor Carlos A. Gimenez and U.S. Congresswoman Frederica Wilson traveled to Gwen Cherry Park in Liberty City to address 300 school-bound summer campers from various Miami-Dade Park and Recreation summer camp sites. With students returning to the classroom next week, Mayor Gimenez and Congresswoman Wilson encouraged the youngsters to focus on their studies in the classroom, and also to take full advantage of after-school programs at facilities like Gwen Cherry Park.
Joining them for the event were representatives from several organizations that partner with Miami-Dade County to provide quality out-of-school programming for youth in park facilities across the County, including: The Children's Trust, Communities in Schools, the Boys and Girls Club of Miami and the Gwen Cherry Park Foundation. These strong community partnerships support learning and positive enrichment experiences beyond the classroom and provide children with a safe environment during after-school hours. Also in attendance was a representative from District 2 County Commissioner Jean Monestime's office.
With the support of the Office Depot Foundation, all children in attendance were provided with backpacks and school supplies to help them get the upcoming school year off to a positive start.
"The after school programs that the community partners here today provide are vital to the overall well-being and success of our students and offer our children a safe and enriching after-school environment," said Mayor Gimenez. "I'm proud that the County collaborates with these vital programs and I'm grateful to the community partners who make them tick."