Mayor's Ball for United Way of Miami-Dade raises nearly $550,000 to benefit 120 social service programs in the community
More than 1,000 community and business leaders gathered to show their support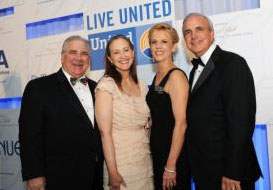 Pictured from left to right: Harv Mogul, president and CEO, United Way; Alesia Mogul; Lourdes Gimenez; and Miami-Dade County Mayor Carlos A. Gimenez. Photo by United Way of Miami-Dade.
The 13th Annual Mayor's Ball hosted by Miami-Dade Mayor Carlos A. Gimenez and Lourdes Gimenez raised nearly $550,000 net to benefit United Way of Miami-Dade, supporting 120 programs in our community that are focused on improving education, financial stability and health. More than 1,000 business and community leaders joined in celebrating all that makes Miami shine today and unites us in building a bright tomorrow. The event took place on Saturday, June 2, at the JW Marriott Marquis Miami.
"I'm grateful to everyone who supported the Mayor's Ball. I'm committed to doing whatever I can to improve the lives of all of our residents and so is the United Way. It's this shared vision that has made Miami-Dade County's partnership with the United Way such a productive one over the years," said Mayor Gimenez.
Guests enjoyed performances and exhibitions from local young talent including an opera singer who grew up in Miami and recently graduated from Florida International University School of Music; Miami Children' Chorus, comprised of 65 children from Miami-Dade County; string soloists from Sunny Isles K-8 Center; an artist from South Miami Middle Community School, who painted a self-portrait during the event; a string quintet from South Miami K-8 Center Music Magnet; and Luis Serrano & his Orchestra, a nine-piece band, headlined the evening.
"The Mayor's Ball is a testament to the strong partnership United Way and the county share in helping to make this community the very best it can be," Harve Mogul, president and CEO, United Way, said. "Funds raised through the Mayor's Ball will directly benefit the lives of thousands of people in our community."
Mayor Gimenez and Lourdes Gimenez served as event co-chairs, carrying on the legacy of the charity ball created by former Mayor Alex Penelas and his wife, Lilliam, in 1998. United Way was selected as the beneficiary given its broad reach across the county and its residents.
Joining the Mayor and Lourdes Gimenez as event co-chairs were Yolanda and Jeff Berkowitz, Shelly and Steve Brodie, and Irene and Manny J. Rodriguez.
Committee members included: Michael Adams, Cathy and Jeff Bartel, Maria and Alberto Carvalho, Lili and Robert Chisholm, Eileen Damaso, Alberto Dosal, Alexia and Herman Echevarria, Silvia and Mario Garcia-Serra, Vicky and Ralph Garcia-Toledo, Sandy Gonzalez-Levy, Tiffany and Alexander Heckler, Maria Johnston, Cristina and Marcelo Llorente, Marile and Jorge Luis Lopez, Carlos Migoya, Natacha Munilla, Phillis Oeters, Maggie Perez, Jorge Plasencia, Tracy and Douglas Seaton, Donna Shalala, and Jesus Vazquez.
The Mayor's Ball was sponsored by: Jayne and Leonard Abess, American Airlines, Yolanda and Jeff Berkowitz, BVK/MEKA, Carnival Cruise Lines, Coastal Construction and the Murphy Family, Florida Power & Light, Greenberg Traurig, Lennar Corporation, The Miami Herald/el Nuevo Herald, Southern Wine & Spirits of America, thinkLAB Ventures and Venue Magazine at the Platinum level; Holland & Knight, MCM Corporation and ODEBRECHT at the Gold level; American Bancshares Mortgage LLC, Bank of America, Baptist Health South Florida, Bijoux Turner, BOUYGUES Civil Works, Bunny Bastian, Carlton Fields, EAS Jet Charter Management, Horsepower Electric Inc., L&R Construction, Miami Executive Aviation, Nationwide Claim Services, Related Development, Terra Group and Wells Fargo at the Silver level; Air IT, Akerman Senterfitt, Aon, Berkowitz Pollack Brant, Becker & Poliakoff, Bermello Ajamil & Partners Inc., Bilzin Sumberg, Chartis Insurance, The Collection, Covanta Energy, D. Seaton and Associates, Facchina Construction, Florida Crystals, Florida International University, FPL Fibernet, Greater Miami Convention & Visitors Bureau, Jorge Herrera, Jorge Luis Lopez Law Firm, KM/Plaza, Leon Medical Center, LSN Partners, M.C. Velar Construction Corp., Magic City Casino, Mandarin Oriental, Miami, MasTec, Medina Capital Partners, Miami Children's Hospital Foundation, Miami Dolphins Foundation, Miccosukee Resort & Gaming, Northern Trust, Parsons Transportation Group, The PFM Group, PNC Real Estate, Rasco, Klock, Reininger, Perez, Esquenazi, Vigil & Nieto, P.A., Royal Caribbean Cruises, Ltd, Seitlin Insurance, Siltek Group Inc., Squire Sanders, Swire Properties, Inc., T.Y. Lin International/HJ Ross, TD Bank, Teco Energy, Inc., TotalBank, TracFone Wireless, Inc., United HomeCare, Vizcaino, Gitlin & Zomerfeld, LLP, WAM Media, Waste Services, Inc., Weiss Serota Helfman Pastoriza Cole & Boniske, Williamson Automotive Group, World Waste Recycling and Zuni Transportation at the Bronze level. Rum was provided by Zacapa, and Gilbert's Bakery served late night treats.
About United Way of Miami-Dade
For nearly 90 years, United Way of Miami-Dade has been an innovative force in the community with a long and successful track record of responding to emerging needs and transforming people's lives. Today our work is focused on education, financial stability and health-the building blocks of a good life.
We invest in quality programs, advocate for better policies, engage people in the community and generate resources. To learn more, give, advocate or volunteer, visit www.unitedwaymiami.org, www.facebook.com/UnitedWayMiami or www.twitter.com/UnitedWayMiami.