Sweet Success: Miami-Dade County Mayor Carlos A. Gimenez and Hialeah Mayor Carlos Hernandez recognize local job-creator Banah Sugar at street dedication ceremony
Miami-Dade County Mayor Carlos A. Gimenez was in Hialeah on Friday morning, July 13, to help do the honors as a stretch of Southeast 10th Avenue, between Hialeah Drive and Southeast 5th Street, was co-designated as Banah Sweet Way. Mayor Gimenez was invited to participate in the celebration by his counterpart from the 'City of Progress,' Mayor Carlos Hernandez. Also in attendance was District 6 County Commissioner Rebeca Sosa who represents portions of Hialeah and sponsored the County resolution approving the street co-designation.
"Banah's investment represents real progress not just for Hialeah, but for all of Miami-Dade County, and we appreciate the confidence they've shown in us," said Mayor Gimenez. "This project is going to put hundreds of our friends and neighbors back to work, and it's a strong signal to outside investors that Miami-Dade County has what they're looking for: a skilled workforce, strategic geographic location and the critical infrastructure that makes us a leader in international trade & commerce."
The new street name honors sugar producer Banah International Group, Inc., which recently committed to housing their international headquarters at a major 300,000 square-foot facility on Southeast 10th Avenue in Hialeah. The site includes production space, warehouse space and room for corporate offices.
Banah's new facility is expected to create 300 local jobs over the next three years and their investment comes at a time when the local economy is showing signs of making a turn for the better. Banah International group selected to build their long-term future in Miami-Dade County after considering sites in Texas, Alabama and the Dominican Republic.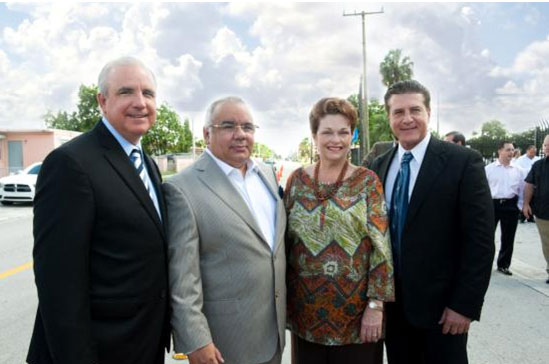 Pictured from left to right: Miami-Dade County Mayor Carlos A. Gimenez; Alexander I. Perez, founder and Chairman of BANAH International Group, Inc.; Miami-Dade County District 6 Commissioner Rebeca Sosa; City of Hialeah Mayor Carlos Hernandez.
Photo courtesy of Armando Rodriguez