Miami-Dade County Mayor Carlos A. Gimenez, Miami-Dade County Public Works and Waste Management Department, and the Town of Miami Lakes team up to break ground on NW 87th Avenue Roadway Improvement Project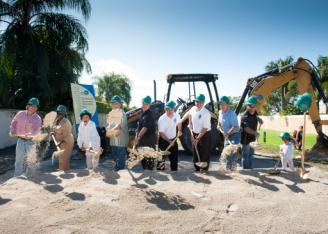 Breaking ground for the NW 87th Avenue Roadway Improvement Project are (from left to right): Hiram Siaba, Director, Public Works and Capital Improvements, Town of Miami Lakes; Kathleen Woods-Richardson, Director, Miami-Dade County Public Works and Waste Management Department; Mary Collins, Councilwoman, Town of Miami Lakes; Tim Daubert, Councilman, Town of Miami Lakes; Carlos A. Gimenez, Mayor, Miami-Dade County; Michael Pizzi, Mayor, Town of Miami Lakes; Richard Pulido, Councilman, Town of Miami Lakes; Alex Rey, Town Manager, Town of Miami Lakes; and Ceasar Mestre, Vice Mayor, Town of Miami Lakes
(Miami-Dade County, FL) – Miami-Dade County is set to begin a new roadway improvement project in the Town of Miami Lakes. The project had been talked about for years: to join two segments of Northwest 87th Avenue in northwestern Miami-Dade County.
"The roadway improvements on Northwest 87th Avenue from Northwest 154th Street to Miami Gardens Drive is a long-awaited project that joins the Town of Miami Lakes to neighboring communities," said Miami-Dade County Mayor Carlos A. Gimenez. "Once completed, it will be much easier for residents and visitors to drive on our roadways and between different neighborhoods."
Currently, Northwest 87th Avenue ends at Northwest 154th Street on the south and NW 162nd Street on the north. The roadway is separated by vacant land, leaving a gap about one-half mile wide in the major thoroughfare.
In addition to joining NW 87th Avenue, the project entails:
• Widening NW 87th Avenue to a divided four-lane roadway from NW 154th Street to NW 186th Street;
• Installation of sidewalks, bicycle lanes, new signalization, new pavement markings and signage, left-turn lanes, raised medians with landscaping, decorative lighting, and curbs and gutters;
• Replacement of an existing culvert across NW 170th Street;
• Installation of a continuous storm drainage system with two emergency overflows to the Golden Glades Canal;
• Installation of a new 36-inch water main.
The project will be funded by Charter County Transportation Surtax. Additionally, this project is a part of the County's People's Transportation Plan.
EDITOR'S NOTE: For a high-resolution version of the photo, please contact fcald@miamidade.gov.