Miami-Dade County Mayor Carlos A. Gimenez's hosts launch of CareerSource Florida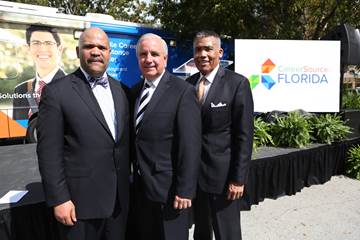 Pictured from left to right: CareerSource South Florida Executive Director Rick Beasley; Miami-Dade Mayor Carlos A. Gimenez and CareerSource South Florida Chairman Alvin West.
(MIAMI, February 10, 2014) – Today, Miami-Dade County Mayor Carlos A. Gimenez hosted the launch of CareerSource Florida, Florida's new unified workforce system. This initiative will help build a world class economic climate where people will want to live, work, and invest in our community by matching the needs of job seekers and businesses.
"CareerSource Florida is a valuable partner whose efforts aim for higher-skilled and better paying jobs for all Miami-Dade County residents," said Mayor Gimenez. "This will help us ensure that our residents and businesses have the best access to economic growth and opportunity."
Miami-Dade County will be working with CareerSource Florida and the business and education communities to launch the Actively Investing in Miami Dade (AIM) Initiative. This community wide effort expands education and career opportunities to young adults.
"The AIM Initiative is committed to supporting the education of Miami-Dade County's future leaders from high schools, colleges, universities, and technical schools," said Miami-Dade County Deputy Mayor Russell Benford. "This unified system will further strengthen our ability to prepare Miami-Dade County residents for the job opportunities of tomorrow."
"Our transition to our new brand, CareerSource South Florida, marks an exciting transformation for our organization. Driven by our commitment to excellence, we are using this opportunity to improve our services and ensure we are providing effective and market-relevant solutions that lead to greater success for South Florida job seekers, workers and employers," said Rick Beasley, Executive Director, CareerSource South Florida.