Miami-Dade County Mayor Carlos A. Gimenez sets priorities in his 2014 State of the County Address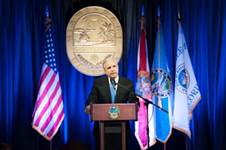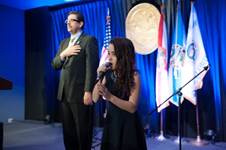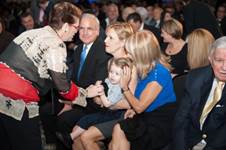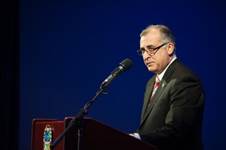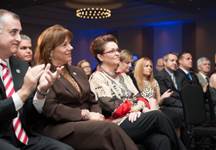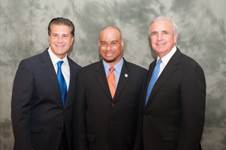 (MIAMI, February 26, 2014) – More than 500 community leaders and members of the public attended Miami-Dade County Mayor Carlos A. Gimenez's 2014 State of the County Address. Mayor Gimenez spoke about transforming the way the County serves the public, enhancing its position as a global community and cultural crossroads, and positioning Miami-Dade County to be competitive in the new economy. The event took place at the Milander Center for Arts and Entertainment in Hialeah. Julia Dale, the 12-year-old singing sensation who has performed at numerous sporting events and Miami Heat games, captivated the audience when she sang the National Anthem.
Excerpts from Mayor Carlos A. Gimenez's Speech
My administration began at a historic moment, when voters in Miami-Dade County decided we needed reform. We responded by restoring honesty, transparency, and accountability to government. We cut bureaucracy, saved taxpayers over $400 million, and delivered the largest tax cut in county history.
This may be good enough for some, but we still have a long way to go. And while last year was difficult, and I have the battle scars to prove it, I will never stop fighting for the citizens of Miami-Dade County and for I believe is right. Today, the state of our County is strong because we are embracing the opportunities in our challenges, and we choose to move forward, together.
Miami-Dade is now among the top ten most populous counties in the nation, but this growth is placing a burden on our infrastructure. Our challenge is how to balance this growth while ensuring that residents continue to receive the services they deserve. And, we must remain proper stewards of the people's hard earned money. This is why we will present a balanced budget that reflects this stewardship, and holds the line on taxes.
We are taking the opportunity to reform the way we serve people, becoming fiscally sound, and to setting us on a course toward sustainability. This means that we are stretching every public dollar and pursuing opportunities to seek greater efficiencies, including partnering with the private sector. Today, we are more streamlined, and focused on our core missions of maintaining public safety and delivering direct services to our residents.
We must also continue to enhance our status as a global commercial and cultural crossroads. This provides us with the opportunity to make investments in the things that add value to our sense of place and community. We have increased our investments in our top two economic engines, our air and seaport, which are breaking records in terms of visitors and activity. We are also seeking innovative ways to connect libraries, parks, and arts and culture into neighborhood centers for our children to learn.
As the world's economy continues to evolve, our challenge becomes making sure we can compete in this New Economy. To successfully support the businesses of the future, we need to have the workers to fill these jobs. We are linking business and government with education, creating a continuum that aligns with target industries, making sure that young people can get an early start on obtaining the knowledge to become part of tomorrow's workforce. This also allows us to foster the growth of our creative class and the Miami urban area is now viewed internationally as the emerging location for "start-up" companies.
Finally, we need to understand that our economies are all connected. The world sees us as ONE Miami, and it's time we see ourselves the same way. This is why we are finding new ways for cities and counties complement one another in areas like transit, the environment, and commerce. Connectivity serves to expand economic opportunity for all our residents. No matter your social or economic status, no matter what neighborhood you live in, we are all connected, and we all have a shared responsibility to ensure that our children and grandchildren have the opportunity to prosper.
To view Mayor Gimenez's speech, visit http://www.miamidade.gov/mayor/library/SOTC-2014.pdf.
Picture #1: Miami-Dade County Mayor Carlos A. Gimenez delivers his 2014 State of the County Address.
Picture #2: Event emcee Hialeah Chamber of Commerce and Industries' Chairman Mandy Llanes and singer Julia Dale.
Picture #3: Miami-Dade Board of County Commissioners Chairwoman Rebeca Sosa, Miami-Dade County Mayor Carlos A. Gimenez and Mrs. Lourdes Gimenez.
Picture #4: District 13 Miami-Dade County Commissioner Esteban Bovo, Jr.
Picture #5: District 13 Miami-Dade County Commissioner Esteban Bovo, Jr., District 5 Miami-Dade County Commissioner Bruno A. Barreiro, Miami-Dade Board of County Commissioners Vice Chair Lynda Bell and Miami-Dade Board of County Commissioners Chairwoman Rebeca Sosa.
Picture #6: City of Hialeah Mayor Carlos Hernandez, Town of Miami Lakes Councilman Ceasar Mestre and Miami-Dade County Mayor Carlos A. Gimenez.