Miami-Dade County Mayor Carlos A. Gimenez and Barcelona Mayor Xavier Trias sign friendship and marine industry agreements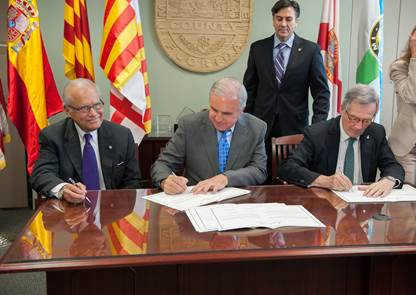 From left to right: Senator Javier Souto, Miami-Dade County Commissioner District 10, Miami-Dade County Mayor Carlos Gimenez, and Barcelona Mayor Xavier Trias Vidal de Llobatera.
(MIAMI, April 2, 2014) – Miami-Dade County Mayor Carlos A. Gimenez and City of Barcelona Mayor Xavier Trias Vidal de Llobatera today signed a friendship and cooperation agreement to strengthen relations between Miami-Dade County and Barcelona. The signing of the agreement was also witnessed by Miami-Dade County Commissioner Javier D. Souto and Municipal Corporation of Barcelona General Secretary Jordi Cases. In addition, the two Mayors were present to witness the signing of an agreement between Phil Purcell, Executive Director of the Marine Industry Association of South Florida (MIASF), and Tony Tió, President of Barcelona Cluster Nautic (BCN), to cross-promote and enhance all marine related businesses between the two regions.
"Barcelona has earned a reputation for being a premiere global city, so on behalf of the residents of Miami-Dade County I am honored and proud to sign this agreement to strengthen our commercial, educational, technological and cultural ties," said Mayor Gimenez. "Today's agreement builds upon our very productive visit to Barcelona last year, and I am grateful to Mayor Trias for his support of what I know will be a long-standing friendship based on mutual admiration and cooperation."
"Miami-Dade and Barcelona want to strengthen their relationship, because we have many similar challenges and shared opportunities. We would like to take advantage of the direct flight between Barcelona and Miami," said Barcelona Mayor Xavier Trias Vidal de Llobatera. "Miami represents a bridge for Catalan and Spanish companies on their way to the Caribbean and Latin America."
The Friendship-City agreement is one of the important initiatives that resulted from Mayor Gimenez' business development mission to Madrid and Barcelona in June 2013. The objective of the mission was to further strengthen business ties between Spain and Miami-Dade County, and provide local private sector participants joining the mission with opportunities to develop their commercial activities with Spanish companies.