If you are having trouble viewing this email, please click here.
District 12 e-Newsletter


Dear residents,

I would like to thank everyone who joined us at the "Support Our Police" motorcycle ride and rally event on February 8. The crowd was amazing and I am extremely proud that so many of you came out to support our police – the people that placed their lives on the line every day. Thank you for supporting all our law enforcement!

A special thank you to the Dade County Police Benevolent Association (PBA), the Cartel-Baggers Motorcycles, Miami-Dade County, Miami-Dade Parks and all our great sponsors that donated to this very worthy cause. I am happy to report tens of thousands of dollars were raised for the PBA Love Fund, a charity that assists officers and their families during times of need.

Sincerely,

Commissioner Jose 'Pepe' Diaz
District 12
Legislation sponsored by Commissioner Diaz
Commissioner Diaz sponsored legislation to include funding for The Underline Trail as a priority for the 2015 State legislative session. Commissioner Diaz has been a strong advocate for bike and roadway safety. The Underline project consists of transformation of a 10-mile M-Path beneath the Metrorail from Miami River to Dadeland South into a linear park for bicyclists and the community.
"Support Our Police" Ride and Rally
About 2,000 residents, including more than 600 on motorcycles, joined Commissioner Diaz, the Dade County Police Benevolent Association (PBA) and Cartel-Baggers Motorcycles on February 8 to show support for law enforcement at the 'Support Our Police' motorcycle ride and rally at Tropical Park. The event included a ceremony for fallen police officers at which surviving loved ones spoke, as well as a flyover by the Miami-Dade Police Department Aviation Unit. The event also had music, entertainment and food trucks. Read the news release en español.
Absentee Ballot renewal postcards in the mail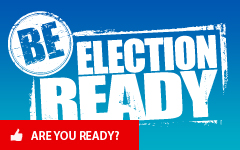 The Miami-Dade County Elections Department is mailing reminder postcards to all voters whose permanent absentee ballot request expired at the end of 2014. To renew request for absentee ballots or to sign up: you can call 305-499-8444, submit request online or email at [email protected] . For more information, visit the Elections website. Voters may also call 305-499-VOTE (8683). For TTY, call 305-499-8480.
Miami-Dade Parks and IRS provide free Income Tax help
The Miami-Dade County, Parks, Recreation and Open Spaces Department has partnered with the Internal Revenue Service (IRS) to help make income tax filing less taxing for qualified taxpayers. Now through the April 15 IRS tax-filing deadline, Miami-Dade County Parks will offer free income tax preparation services at four Technology Learning Centers (TLC) for older adults, people with disabilities and individuals with limited command of the English language. IRS certified volunteers will be on site to guide taxpayers in the preparation of basic tax returns and web-based tax preparation software. For a complete listing of TLC sites and to stay up to date on all programs and future events presented by Miami-Dade County Parks, visit the Miami-Dade County Parks website.
Miami-Dade County offering free mulch
The Miami-Dade County Public Works and Waste Management Department (PWWM) is making free mulch available on a first-come, first-served basis, while supplies last. The mulch offered is made from recycled Christmas trees and is a fragrant reminder of the holiday season. Residents must bring their own bags or containers, and shovels or other tools, to receive the mulch. Mulch is currently available at certain locations, open seven days a week, from 7 a.m. to 5:30 p.m. Mulch will only be made available to residents who receive waste collection services from PWWM – those who live in unincorporated Miami-Dade County and the municipalities of Aventura, Cutler Bay, Doral, Miami Gardens, Miami Lakes, Palmetto Bay, Pinecrest and Sunny Isles Beach. For more information call 3-1-1 or visit website.
SR 836/Dolphin Expressway closures
On November 30, 2009, the Florida Department of Transportation (FDOT) District Six in partnership with the Miami-Dade Expressway Authority (MDX) began a reconstruction project of the State Road (S.R.) 826 (Palmetto Expressway) and S.R. 836 (Dolphin Expressway) Interchange. Now that construction has begun, there will be many upcoming lane and ramp closures on the Dolphin Expressway. For more information about construction-related activities, please contact Oscar Gonzalez at 786-280-0983 or via e-mail at [email protected]. General information can be found at http://www.826-836.com/. Motorists are encouraged to call 511 before they drive, or log on to http://www.fl511.com/ for real-time traffic and lane closure information.
Looking for a job? Need to update your resume?
To help Miami-Dade County residents, the Miami-Dade Public Library System is offering a wide assortment of vital information and valuable assistance for job seekers! From computer classes and access to the Internet, to help with resume writing, job interviewing skills and test preparation, the Library wants to help patrons prepare for and search for jobs. Free classes are held throughout all 47 branch locations and are available in both English and Spanish. The Library's website, www.mdpls.org, has created a "Job Search" section for individuals to access from any location 24/7. For more information, contact 305-375-BOOK (2665) or visit www.mdpls.org.
Need assistance paying your utility bills?
The Miami-Dade Community Action Agency's (CAA) Low Income Home Energy Assistance Program (LIHEAP) is currently assisting eligible residents with payment of their gas or electric bills. The program assists individuals who are experiencing an increase in their energy bill due to the weather as well as individuals with final notices or those who have had their services disconnected. Applications for LIHEAP are available Monday through Friday at CAA Service Centers like the Hialeah Service Center, 300 E. First Avenue, or the Sweetwater Service Center, 250 SW 114 Avenue. For a complete list of all the CAA Service Centers or to download the application, please visit the County's website at www.miamidade.gov/caa/liheap.asp or contact the Miami-Dade Community Action Agency at 786-469-4600.