New Soar Park Senior Center Opened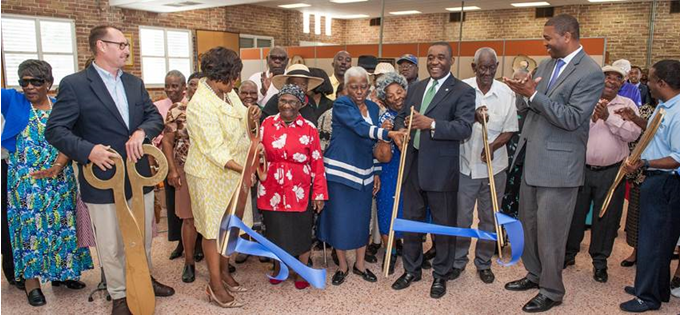 Hi-resolution versions of these photos are available.
(MIAMI, April 25, 2014) — On Wednesday, April 23, 2014, the Miami-Dade County Parks, Recreation and Open Spaces Department and Miami-Dade County District 2 Commissioner Jean Monestime joined the Miami-Dade Community Action and Human Services Department (CAHSD) and area seniors for the grand opening of the new Senior Center at Soar Park, located at 100 NW 83 Street in Miami. The new facility is a designated CAHSD Senior Center.
At CAHSD senior centers, participants are provided with nutritionally balanced hot meals, enhanced fitness, art classes, Silver Surfer computer training classes, nutrition and health education, and individual nutrition counseling. Participants enjoy socializing, recreational activities and outings. They are also provided with transportation to and from the Senior Center. For more information about CAHSD, visit www.miamidade.gov/socialservices/.
For further information about Soar Park call (786) 469-4610 and visit Miami-Dade County Parks on the web at www.miamidade.gov.
Photo 1-top, L-R: Pictured at the ribbon-cutting for the new Soar Park Senior Center - Miami-Dade County Parks Assistant Director of Operations Kevin Kirwin, CAHSD Director Lucia Davis-Raiford, District 2 Commissioner Jean Monestime, and Deputy Mayor Russell Benford with county staff and area seniors.
Photos 2-6, L-R: Views of the Soar Park Senior Center dining and activities room; TV lounge; computer area; arts and crafts station; and community garden.
Photos by Armando Rodriguez
About the Miami-Dade County Parks, Recreation and Open Spaces Department:
Nationally accredited, a three-time winner of the NRPA National Gold Medal Award, winner of the 2013 Florida Governor's Sustained Excellence Award and the 2009 Florida Governor's Sterling Award for excellence in management and operations, Miami-Dade County Parks is the third largest county park system in the United States, consisting of 260 parks and 12,825 acres of land. It is one of the most unique park and recreation systems in the world. Made up of more than just playgrounds and athletic fields, it also comprises out-of-school, sports-development, and summer-camp programs; programs for seniors and people with disabilities; educational nature centers and nature preserves; environmental restoration efforts; arts and culture programs and events; the renowned Zoo Miami and the Deering Estate at Cutler; the Crandon Tennis Center, home of the Sony Open; golf courses; beaches; marinas; campgrounds; pools; and more. For information about Miami-Dade County Parks call 3-1-1, or visit www.miamidade.gov/parks/.
Miami-Dade County Parks is supported by The Parks Foundation of Miami-Dade a non-profit 501(c)3 organization supporting the Miami-Dade County Parks, Recreation and Open Spaces Department's efforts to further develop Miami-Dade County's world-class parks system for residents and visitors. Its mission is to create a healthier, more livable and sustainable Miami community by ensuring the implementation of the Parks Open Space Master Plan and the development of year-round park and recreation programs for local children, adults and people with disabilities. For more information on the Parks Foundation, please visit http://www.liveaparklife.org/.
To request material in accessible format, information on access for persons with disabilities, or sign language interpreter services (7 days in advance), call (305) 755-7848.