Miami-Dade County Parks and Miami-Dade District 12 Commissioner Jose "Pepe" Diaz to dedicate new fitness court at North Trail Park on Saturday, May 3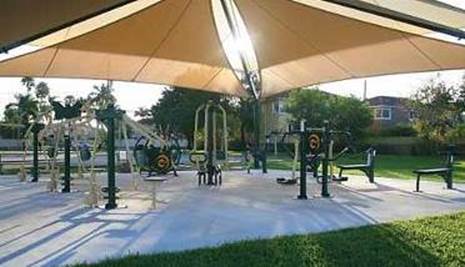 The new Fitness Court at North Trail Park
(MIAMI, April 30, 2014) — Join the Miami-Dade County Parks, Recreation and Open Spaces Department and Miami-Dade County District 12 Commissioner Jose "Pepe" Diaz on Saturday, May 3, 2014, for the dedication of the new fitness court at North Trail Park, 780 NW 127 Ave., Miami. The event will be held in conjunction with Commissioner Diaz's annual District 12 Spring Festival for families from 11:00 a.m. to 3:00 p.m. They will cut the ribbon on the new fitness court at 12:15 p.m. There will be free food, live entertainment, games, bounce houses, face-painting, slides and lots of surprises and special guests. Children are encouraged to bring their Easter baskets to participate in an egg hunt. In addition, displays and literature on Miami-Dade community services will be on hand.
Participating Miami-Dade County departments will include Corrections, District 12 Mobile Office, Elections, Fire Rescue's Venom Response Team, Library, Solid Waste, Parks, Police and Canine Units, Property Appraiser, and State Attorney's Office. Event parking will be available at Prince of Peace Catholic Church, 12800 NW 6th Street, Miami. The park improvements were funded with $153,626 from the Quality Neighborhood Improvement Program and "Building Better Communities" General Obligation Bond Program.
"I commend our Parks Department for their great work in developing more outstanding and accessible recreational amenities for Miami-Dade County residents," said Miami-Dade County Mayor Carlos A. Gimenez. "Park improvements, such as the new North Trial Park fitness court, are essential because they promote active, healthy living."
"I am very excited about this new fitness court at North Trail Park. Neighbors now have a free and convenient way to get a great workout, that's just steps from their homes," said Commissioner Diaz. "I look forward to seeing everyone at the park for our annual District 12 Spring Festival and invite them to try out this wonderful, state-of-the-art outdoor gym equipment."
"Outdoors gyms like this are designed to help like people of all fitness levels to stay physically active and surrounds them with nature," said Miami-Dade County Parks Department Director Jack Kardys. "This is a step forward in our efforts to build sustainable parks for people of all ages."
As part of the Miami-Dade County Parks initiative to improve the health and wellness of residents through parks and recreation, it has installed 16 outdoor gyms at its parks since July 2012. Similar fitness courts are also planned for Gratigny Plateau Park, Tree Island Park, Cherry Grove Park, Highland Oaks Park, International Gardens Park, Lake Stevens Park, Lago Mar Park, and Wild Lime Park.
The 15-acre North Trail Park also has a skateboard park, a recreation center, a playground, a walking path, a soccer field, and courts for playing tennis, volleyball and basketball. The park also offers facility rentals and a wide variety of recreational activities and programs for residents, including Miami-Dade Parks Fit2Play Out-of-School and Summer Camp Programs for kids. For more information about this park, call (305) 207-2420, or visit www.miamidade.gov/parks.
Commissioner Diaz's annual District 12 Spring Festival is made possible through the sponsorship of Battlefield Live; Blue Bell Ice Cream; Cemex; Citizens Crime Watch; Crystal Springs; Florida East Coast Industries; Flagler Development; Live Colors; Miami Children's Museum; Miami Dolphins; Miami Marlins; National Guard; Navy Recruiting District, Miami; Pepsi; Tropical Ice LLC; U.S. Army and Marine Corps; Universal Gymnastics; Walgreens; and Zoo Miami. For more information about the District 12 Spring Festival contact Olga Hernandez at (305) 599-1200.
About the Miami-Dade County Parks, Recreation and Open Spaces Department:
Nationally accredited, a three-time winner of the NRPA National Gold Medal Award, winner of the 2013 Florida Governor's Sustained Excellence Award and the 2009 Florida Governor's Sterling Award for excellence in management and operations, Miami-Dade County Parks is the third largest county park system in the United States, consisting of 260 parks and 12,825 acres of land. It is one of the most unique park and recreation systems in the world. Made up of more than just playgrounds and athletic fields, it also comprises out-of-school, sports-development, and summer-camp programs; programs for seniors and people with disabilities; educational nature centers and nature preserves; environmental restoration efforts; arts and culture programs and events; the renowned Zoo Miami and the Deering Estate at Cutler; the Crandon Tennis Center, home of the Sony Open; golf courses; beaches; marinas; campgrounds; pools; and more. For information about Miami-Dade County Parks call 3-1-1, or visit www.miamidade.gov/parks/.
Miami-Dade County Parks is supported by The Parks Foundation of Miami-Dade a non-profit 501(c)3 organization supporting the Miami-Dade County Parks, Recreation and Open Spaces Department's efforts to further develop Miami-Dade County's world-class parks system for residents and visitors. Its mission is to create a healthier, more livable and sustainable Miami community by ensuring the implementation of the Parks Open Space Master Plan and the development of year-round park and recreation programs for local children, adults and people with disabilities. For more information on the Parks Foundation, please visit http://www.liveaparklife.org/.
To request material in accessible format, information on access for persons with disabilities, or sign language interpreter services (7 days in advance), call (305) 755-7848.