AVMED challenges Miami-Dade Parks' Fit2play Summer Campers to get fit through the Morning Mile Program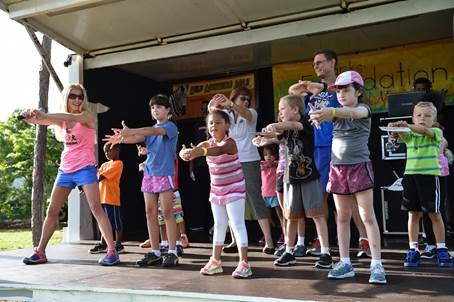 (MIAMI, June 17, 2014) — To kick off Miami-Dade Parks' Fit2Play® summer camp and its Morning Mile® program, Miami-Dade County employee families "prowled" the "Wild Morning Mile," presented by AvMed at Zoo Miami. Walkers "pounced" across the one-mile scenic course on Saturday, June 14, at 8:30 a.m., and were rewarded with a collectible "paw print" charm upon completion. The Wild Morning Mile featured a pep rally with emcee Ron Magill and a VIP list including Miami-Dade County Commission Vice Chair Lynda Bell, Fitz Koehler from Fitzness International, Parks Foundation board president and former Miami Dolphin Dick Anderson, AvMed and Miami-Dade Parks representatives, and the Zoo Squad. After completing the walk, participants stayed and enjoyed the zoo.
Thanks to AvMed's sponsorship, the zoo kickoff begins a fourth consecutive summer for the Morning Mile at all 42 Miami-Dade Parks' Fit2Play summer camps. The program gives children
the opportunity to run or walk as far as they'd like in a 30 minute time frame. For every five miles completed, summer campers receive collectible necklace charms marking their progress and incentivizing physical fitness. Last year, campers logged more than 100,000 total miles and 56 children reached 100 miles or more, setting a new record for Miami-Dade Parks' summer camp.
Developed by Fitzness International, the Morning Mile is designed to get kids active, fit and poised to carry good exercise habits into adulthood, a perfect addition to Miami-Dade Parks' Fit2Play summer camps program which teaches kids how to live a healthy lifestyle by providing evidence-based physical fitness activities. This year, the Morning Mile reached a national goal of over 1,000,000 miles logged by children all across the country participating through their local school systems. The program now includes 160 sites in Florida, Texas, California, Louisiana, Missouri, Canada, and a US Air Force Base near Tokyo, Japan.
"We are extremely proud to partner with Miami-Dade County and Fitzness International to sponsor a fourth year of the Morning Mile," said James M. Repp, AvMed Senior Vice President. "The best healthcare starts with a personal commitment to live an active and healthy lifestyle, and instilling healthy behaviors, like starting each day walking or running, is an excellent habit for children to learn that can continue into adulthood."
"The Morning Mile program has been a tremendous addition to our summer camp curriculum. We're grateful to AvMed and Fitzness International for their continued commitment to the health of our community," said Jack Kardys, Director of Miami-Dade Parks, Recreation and Open Spaces.
About AvMed:
In 1969, AvMed began in South Florida as Aviation Medicine to serve the growing airline industry by providing pilot physicals. Today, with offices in every major metropolitan area of the state, AvMed aims to inspire its membership of 300,000 Floridians to "Embrace better health." AvMed provides Medicare Advantage coverage in Broward and Miami-Dade counties, Individual and Family coverage in Broward, Miami-Dade, and Palm Beach counties and Commercial coverage in more than 30 counties across the state. Major employer clients have been partners for decades, a testament to AvMed's culture of service, which consistently ranks above statewide peers. For more information, visit www.avmed.org.
About Morning Mile®:
Created by Fitzness International LLC, the Morning Mile® program provides participating schools or parks with a program guidebook and everything needed to bring the exercise program to their students. The program has been so successful with over 160 programs in Florida, Texas, California, Louisiana, Missouri, Canada and on a US Air Force Base near Tokyo, Japan, that venues around the United States and beyond have applied to participate so they can implement the program as well. A grant from AvMed provided the funding for the Morning Mile starter kits, which give parks the instructions and materials to start the program. To learn more about launching or sponsoring the program, visit www.MorningMile.com.
About The Parks Foundation of Miami-Dade
The Parks Foundation of Miami-Dade is a non-profit 501(c)3 organization supporting the Miami-Dade County Parks, Recreation and Open Spaces Department's efforts to further develop Miami-Dade County's world-class parks system for residents and visitors. Its mission is to create a healthier, more livable and sustainable Miami community by ensuring the implementation of the Parks Open Space Master Plan and the development of year-round park and recreation programs for local children, adults and people with disabilities. For more information on the Parks Foundation, please visit www.liveaparklife.org.
About the Miami-Dade County Parks, Recreation and Open Spaces Department:
Nationally accredited, a three-time winner of the NRPA National Gold Medal Award, winner of the 2013 Florida Governor's Sustained Excellence Award and the 2009 Florida Governor's Sterling Award for excellence in management and operations, Miami-Dade County Parks is the third largest county park system in the United States, consisting of 260 parks and 12,825 acres of land. It is one of the most unique park and recreation systems in the world. Made up of more than just playgrounds and athletic fields, it also comprises out-of-school, sports-development, and summer-camp programs; programs for seniors and people with disabilities; educational nature centers and nature preserves; environmental restoration efforts; arts and culture programs and events; the renowned Zoo Miami and the Deering Estate at Cutler; the Crandon Tennis Center, home of the Sony Open; golf courses; beaches; marinas; campgrounds; pools; and more. For information about Miami-Dade County Parks call 3-1-1, or visit www.miamidade.gov/parks/.