Children and teens made an environmental impact on the Crandon shores, trails, and preserves for Global Youth Service Day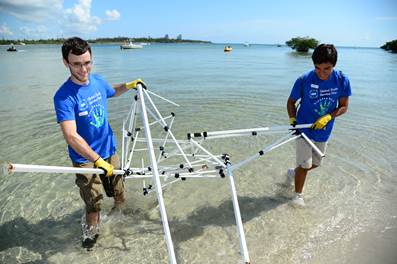 (MIAMI, April 23, 2015) – More than 200 volunteers celebrated Earth Month by joining the worldwide movement – Global Youth Service Day, a volunteer event created to encourage children and teens to be active in their community. The event took place Saturday, April 18th, at the Crandon Park Nature Center, 6767 Crandon Blvd., Key Biscayne, FL, and was hosted by Miami-Dade Parks and the Parks Foundation of Miami-Dade in partnership with Marlins Ayudan and HandsOn Miami.
The volunteer event began with a brief opening ceremony featuring representatives from the partnering organizations and local non-profit, Debris Free Oceans, followed by a park clean-up and litter removal from Crandon's beaches, trails, and preserves. Volunteers removed 70 trash bags worth of litter from the Bear Cut Preserve, Crandon Bike Paths, Tequesta Trail, Bear Cut Trail, Osprey Trail, Preserve Beach Line North, Crandon North Beach, Crandon South Beach, Crandon Gardens, and the Bird Nesting Zone.
All volunteers received breakfast, lunch, 2 tickets to a Miami Marlins game, and a t-shirt courtesy of Marlins Ayudan. The Marlins will recognize all volunteers for their efforts in a special pre-game on-field ceremony, Saturday, April 25th, that media are invited to attend.
"Seeing the community come together for such an important environmental event is what pushes me to continue inspiring people to care about our oceans and Florida's fragile coastline," said Tracy Nolan, Educational Director for Debris Free Oceans.
For more volunteer opportunities, please visit www.iaminvolved.org. Individuals, businesses and organizations interested in sponsoring future volunteer projects at parks across the county, please contact Lauren Breckenridge by e-mail at breckl@miamidade.gov.
About Marlins Ayudan
Marlins Ayudan (Spanish for "help") is the Marlins' front-office volunteer program. The purpose of Marlins Ayudan is to provide a sustainable corps of volunteers willing and ready to effectuate positive change in the community. The goal of Marlins Ayudan is to leave a lasting legacy as a result of Marlins Ayudan activities; to engage the front office in volunteer work as well as act as a conduit to help each employee find a cause they are passionate about; and finally, to be recognized by the community as a corporate leader in volunteerism that fulfills an integral role within the community.
About HandsOn Miami
HandsOn Miami inspires, equips and mobilizes people to take action to positively effect change in Miami-Dade County by offering a Flexible Volunteering Model. The focus of HandsOn Miami is to make volunteering more convenient for Miami residents. There are no long-term commitments, no background checks or detailed training, and they encourage volunteers to try and experience a variety of different projects. To find volunteer opportunities in Miami visit http://www.handsonmiami.org/.
About Debris Free Oceans
Debris Free Oceans is a 501(c)(3) nonprofit organization that inspires local communities to responsibly manage the lifecycle of plastics and waste as part of a global initiative to eradicate marine debris from our beaches, reefs, and oceans. To learn more about this organization and how you can take action visit http://www.debrisfreeoceans.org/.
About The Parks Foundation of Miami-Dade
The Parks Foundation of Miami-Dade is a non-profit 501(c)(3) organization supporting the Miami-Dade County Parks, Recreation and Open Spaces Department's efforts to further develop Miami-Dade County's world-class parks system for residents and visitors. Its mission is to create a healthier, more livable and sustainable Miami community by ensuring the implementation of the Parks Open Space Master Plan and the development of year-round park and recreation programs for local children, adults and people with disabilities. For more information on the Parks Foundation, please visit www.liveaparklife.org.
About the Miami-Dade County Parks, Recreation and Open Spaces Department
Miami-Dade County Parks is the third largest county park system in the United States, consisting of 260 parks and 12,825 acres of land. It is one of the most unique park and recreation systems in the world. For information about Miami-Dade County Parks visit their website or call 3-1-1.