Miami-Dade Parks "Miami Heat Wheels" wheelchair basketball team crowned "2015 NWBA Division 3 National Champions"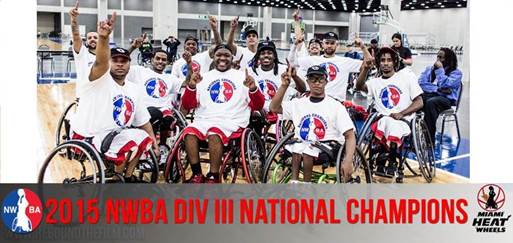 Miami Heat Wheels photos courtesy of www.ReboundTheFilm.com
(MIAMI, April 23, 2015) – On April 19, 2015, the Miami-Dade County Parks, Recreation and Open Spaces Department's Miami Heat Wheels wheelchair basketball team was crowned "NWBA Division 3 National Champions," after defeating the San Antonio Spurs wheelchair basketball team by a score of 70-66 in the finals of the 67th annual NWBA National Championships, held in Louisville, Kentucky. This is the first-ever NWBA National Championship win for the team.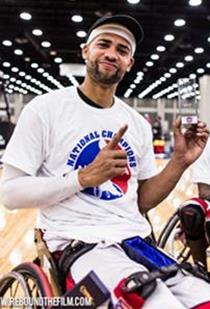 In addition to winning the National Championship, the Miami Heat Wheels athletes earned honors among the league's best:
• "2015 MVP" (Most Valuable Player) – Carlos Martinez (pictured)
• 1st Team "All Tournament" – Mario Moran and Dirrick Hughes
• 2nd Team "All Tournament" – Manny Rodriguez and Jeremie Thomas
The Miami Heat Wheels team roster also included Eduardo Thompson, Jackson David, Jairo Mendez, Luis Amaro, Marvin Valcourt, Miki Erez, Orlando Carrillo, Raul Acosta, Ryan Galvez, Willy Rodriguez, Almelio Pena, and Jose Prado.
The three-day double-elimination style playoff tournament featured more than 1,000 wheelchair basketball athletes, 90 teams and 200 coaches. Other competing Division 3 teams included Charlotte's Rollin' Hornets, Washington DC's NRH Ambassadors, Richmond's Rimriders, Wisconsin's Thunder, Houston's TIRR Hot Wheels, Tampa Bay's Strong Dogs, and Detroit's Diehards.
The Miami Heat Wheels team's accomplishments will be featured in the upcoming documentary "The Rebound," filmed by Shaina Koren Cinematography. The filmmakers have been following the team's travels to wheelchair basketball competitions for the past three years.
The Miami-Dade County Parks Disability Services Division founded and has supported the Miami Heat Wheels wheelchair basketball team since 1998. The team is made up of Miami-Dade County residents and plays at the Division III level in the Florida Wheelchair Basketball Conference, competing in local and regional NWBA competitions from September through March. The season culminates with the NWBA National Championships in April each year. The team also receives support from the Leisure Access Foundation.
About the Miami-Dade County Parks, Recreation and Open Spaces Department
Miami-Dade County Parks is the third largest county park system in the United States, consisting of 260 parks and 12,825 acres of land. It is one of the most unique park and recreation systems in the world dedicated to placemaking, health and fitness, and conservation. For information about Miami-Dade County Parks visit their website or call 3-1-1.
Miami-Dade County Parks is supported by The Parks Foundation of Miami-Dade, a non-profit 501(c)3 organization helping to further develop Miami-Dade County's world-class parks system for residents and visitors. Its mission is to create a healthier, more livable and sustainable Miami community by ensuring the implementation of the Parks Open Space Master Plan and the development of year-round park and recreation programs for local children, adults and people with disabilities. Visit the Parks Foundation website for more information.
To request material in accessible format, information on access for persons with disabilities, or sign language interpreter services (7 days in advance), call 305-755-7848.