Miami-Dade County youth invited to register for the County's inaugural "USATF Future Stars" Track and Field Meet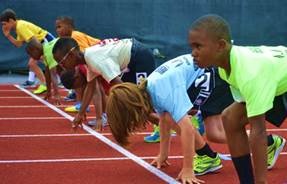 Photo courtesy of USATF.org
(MIAMI, May 11, 2015) -- Kids around Miami-Dade will have an opportunity to show off their running, jumping and throwing skills during the county's inaugural "USATF Future Stars" Track and Field Meet. The event is being presented by USA Track and Field (USATF) and the Miami-Dade Parks, Recreation and Open Spaces Department on Saturday, June 6, 2015, from 9 a.m. - 4 p.m., at Dade Christian School, located at 6601 NW 167th, Hialeah. The youth sporting event is a new addition to the Youth Sports Championship Series, an initiative of Miami-Dade County Mayor Carlos A. Gimenez aimed at increasing participation in youth athletics.
The meet is open to area youth ages 18 and younger. The cost to participate is $5 per athlete. Participants must register online. For more information, contact Chris Evans at 305-755-7885 or [email protected].
Contested events for all age groups will include:
100-, 200-, 400-, 800-, and 1,500-Meter Runs
4x100- and 4x400-Meter Relays
High and Long Jumps
Shot Put
Additional races will include:
Hurdles (Ages 11 & up)
Mini Javelin (Age 12 & under)
Long-Distance Running (Ages 13 & up)
The coveted "Mayor's Cup" award will go to the top three teams. In addition, awards will be presented to the top three individual performers.
Mayor Gimenez knows first-hand the values developed from continuous involvement in athletics. "We are proud to launch the county's inaugural USATF Future Stars track and field meet, as part of the Youth Sports Championship series," he said. "Participation in youth sports helps children to develop character, discipline, sportsmanship, and teaches them how to work with others. These valuable life skills will help them to stay on track in their personal development and future pursuits."
"We are proud of our long-standing commitment to encouraging kids to live healthier and be active with outdoor sports activities," said Miami-Dade County Parks Director Jack Kardys. "Through dedicated Youth Sports Championship partners like the USATF, we are providing this community with more great youth sports competitions, like track and field, which allow young athletes to enjoy themselves, make new friends and excel and compete in a sport that they love. We couldn't be more proud of that."
"USATF's Youth programs have earned a strong reputation as very high-level, competitive track meets," said USATF CEO Max Siegel. "Through USATF Future Stars Meets, we are establishing a system of developmental meets, run by parks and recreation departments and local community organizations that provide a point of entry for tens of thousands of children across the country. We want to ensure these meets can flourish in their communities and continue to introduce children to competitive track and field and to USATF."
USATF Future Stars meets are designed to provide significant support to mid-level, competitive track and field meets around the country and to foster participation by children nationwide. For more information, visit www.USATF.org/youth.
For more information about the Mayor's Youth Sports Championship Series visit the website.
About the Miami-Dade County Parks, Recreation and Open Spaces Department
Miami-Dade County Parks is the third largest county park system in the United States, consisting of 260 parks and 12,825 acres of land. It is one of the most unique park and recreation systems in the world dedicated to place making, health and fitness, and conservation. For information about Miami-Dade County Parks visit their website or call 3-1-1.
Miami-Dade County Parks is supported by The Parks Foundation of Miami-Dade, a non-profit 501(c)3 organization helping to further develop Miami-Dade County's world-class parks system for residents and visitors. Its mission is to create a healthier, more livable and sustainable Miami community by ensuring the implementation of the Parks Open Space Master Plan and the development of year-round park and recreation programs for local children, adults and people with disabilities. Visit the Parks Foundation website for more information.
To request material in accessible format, information on access for persons with disabilities, or sign language interpreter services (7 days in advance), call 305-755-7848.