Mayor honors Miami Heat Wheels for NWBA National Championship win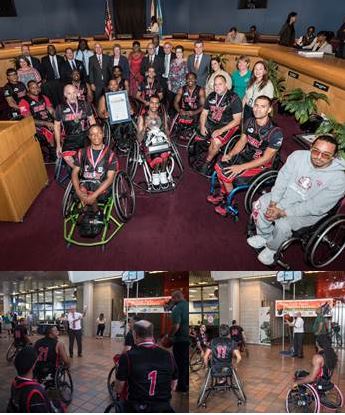 (MIAMI, May 19, 2015) — Today Miami-Dade Mayor Carlos A. Gimenez joined members of the Board of County Commissioners (BCC) in presenting a proclamation, claiming this day as "Miami Heat Wheels Day!" The proclamation recognized the Miami Heat Wheels wheelchair basketball team for their recent achievement of winning the NWBA Division 3 National Championship. The ceremony took place at the Stephen P. Clark Center (SPCC), Miami-Dade Commission Chambers, located at 111 NW 1st St., Second Floor, Miami.
The ceremony was followed by a meet and greet and basketball shoot-around in the SPCC lobby with Mayor Gimenez and the Miami Heat Wheels players. Representatives from the Miami-Dade County Parks, Recreation and Open Spaces Department and the community were in attendance.
"It is my privilege to recognize the Miami Heat Wheels team for their first NWBA national win," said Mayor Gimenez. "This marks an extraordinary milestone for Miami-Dade County and these talented wheelchair basketball athletes. Their outstanding dedication and commitment to excelling in the sport that they love has realized their dreams and is making a positive impact in the lives of others."
Pictured above: (Top photo) Mayor Gimenez presents the proclamation to the Miami Heat Wheels team in the Commission Chambers and (Bottom photos L-R) enjoying a basketball shoot-around with the team in the SPCC Lobby.
Photo credit: Miami-Dade County photographer Ryan Holloway
Watch the Miami Heat Wheels' WINNING GAME VIDEO at the 67th National Championships in Louisville, Kentucky last month. In addition to the team taking away the Division 3 crown, several Miami Heat Wheels athletes earned top honors for that tournament: "2015 MVP" (Most Valuable Player) – Carlos Martinez ;1st Team "All Tournament" – Mario Moran and Dirrick Hughes; and 2nd Team "All Tournament" Manny Rodriguez and Jeremie Thomas.
The Miami-Dade Parks Disability Services Division founded and has supported the Miami Heat Wheels wheelchair basketball team since 1998. The team is made up of Miami-Dade County residents and plays at the Division III level in the Florida Wheelchair Basketball Conference, competing in local and regional NWBA competitions from September through March. The season culminates with the NWBA National Championships in April each year. The team also receives support from the Leisure Access Foundation.
The Miami Heat Wheels team's accomplishments will be featured in the upcoming documentary "The Rebound," filmed by Shaina Koren Cinematography. The filmmakers have been following the team's travels to wheelchair basketball competitions for the past three years. For more details, visit www.ReboundTheFilm.com and see the film promo.
---
Miami-Dade Parks is a world-class parks system supported by the Parks Foundation of Miami-Dade and focused on Placemaking, Health and Fitness, and Conservation and Stewardship. For more information visit www.miamidade.gov/parks.
About Miami-Dade Parks: http://www.miami-dade.gov/parks/about-parks.asp.
About the Parks Foundation of Miami-Dade: http://www.miamidade.gov/parks_foundation/about-us.asp.