Carol Kruse named Zoo Miami director
Kruse succeeds Eric Stephens after 17 years of service as the Zoo Director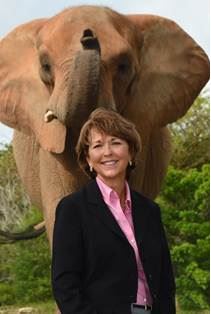 (MIAMI, May 22, 2015) — The Miami-Dade County Parks, Recreation and Open Spaces Department joins Zoo Miami and the Zoological Society of Florida (ZSF) in announcing today that Carol Kruse has been named Zoo Miami Director, following Eric Stephens' retirement from Miami-Dade County. Former Assistant Zoo Miami Director from 2003-2011, Kruse re-joins Zoo Miami and the ZSF at a time of change and development.
Stephens, long time Zoo Miami Director, has retired after 36 years of county service, 35 of which have been at Zoo Miami and the last 17 as its Director.
Miami-Dade County Mayor Carlos A. Gimenez said of Kruse's appointment: "Her experience with both the County and Zoo Miami make her uniquely qualified to lead this important community resource."
Miami-Dade County District 9 Commissioner Dennis C. Moss who is also the Chair of the Zoo Oversight Board stated that Kruse steps in at an exciting time for the Zoo. "A number of significant capital improvements just on the horizon include: the new Entry Plaza project scheduled for completion in late 2015; the new exhibit Florida: Mission Everglades scheduled to finish in mid-2016; a "refresh" of the Zoo Master Plan to guide its capital projects over the next 10-15 years; and the possibility of the Miami Wild's entertainment complex adjacent to it. Zoo Miami is poised for significant growth."
"Carol's appointment ensures a seamless transition," said Miami-Dade County Parks Director Jack Kardys.
Kruse plans to create and flesh out her five-year strategic plan around five foundational pillars. The first is Animal Well-Being to ensure the highest level of animal care and welfare at the Zoo. Conservation and Stewardship are the second areas of priority where Kruse plans to make Zoo Miami a leader in regional wildlife conservation and environmental stewardship. The third pillar focuses on the Guest Experience to create a high value destination for family fun and learning as well as connecting people with nature. The fourth is Financial Strength to ensure long-term stability through sound business practices. The fifth and final pillar is Performance Excellence to establish an organizational culture of caring, collaboration and engagement.
"My role is to recruit and retain the best talent to help Zoo Miami achieve its strategic goals, and to help mentor and empower the next generation of zoo leaders and conservation stewards. We must focus on continuous improvement - always searching for how to get better and how to stay relevant in a rapidly changing world," said Kruse.
Having recently led the accreditation process with zoo staff for Zoo Miami with the Association of Zoos and Aquariums (AZA), Kruse affirms that Zoo Miami will be the best zoological institution in the world, inspiring people to become conservation stewards and protectors of wild things and wild places. "We need to do this in order to ensure a healthy, diverse planet for future generations and to connect people to nature for the life of the planet."
"I also look forward to continuing a strong relationship with our partners at the Zoological Society of Florida and hope to help them raise funds for current and future endeavors," said Kruse.
A Miami-Dade Parks employee since 1990, Kruse most recently served as the department's Assistant Director of Administration from April 2011-Feb. 2015. She holds a Bachelor of Science degree in Biology from Florida Atlantic University and a Master's in Business Administration from Nova Southeastern University. Kruse has also been a Board Member for the Florida Attractions Association since 2010 and an AZA member since 2004.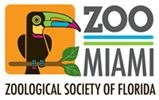 About Zoo Miami
Rated one of the top ten zoos in the U.S. and one of the top 20 zoos in the world by Tripadvisor.com, Zoo Miami houses more than 3,000 animals in natural habitats and provides visitors the feel of a safari. Guests can enjoy animals like okapis, giant river otters, elephants and rhinos in large open air exhibits; a giraffe feeding station; camel rides; an Indian rhino encounter; Australian parrot feeding; meet and greets with mascots, the Zoo Squad; tram tours; family cycles; water play areas; a monorail and large exhibits like Amazon & Beyond.
Zoo Miami is located at 12400 SW 152nd St., Miami, FL 33177. General Zoo Admission is: $17.95/adult, plus tax and $13.95/child (3-12) plus tax. Children under two, Zoo members and parking are free. Zoo Miami's hours are 10 a.m. - 5 p.m. on weekdays and 9:30 a.m. - 5:30 p.m. on weekends and holidays; ticket booths close at 4 p.m. For more information please visit http://www.zoomiami.org or call 305-251-0400.
About the Zoological Society of Florida
The Zoological Society of Florida is a non-profit 501(c)(3) that supports Zoo Miami through education, conservation and outreach programs; marketing and public relations; volunteer services and financial support for the construction of new exhibits.
---
Miami-Dade Parks, located at 275 NW 2nd street, 3rd floor, Miami, FL 33128, is a world-class parks system supported by the Parks Foundation of Miami-Dade and focused on placemaking, health and fitness,
and conservation and stewardship. For more information visit us online.
About Miami-Dade Parks: http://www.miami-dade.gov/parks/about-parks.asp.
About the Parks Foundation of Miami-Dade: http://www.miamidade.gov/parks_foundation/about-us.asp.