Last Visited »
The Parks Foundation of Miami-Dade understands the important role park systems play in a community, and is committed to ensuring Miami-Dade's park facilities, programming and connections provide a world-class experience for residents and visitors.Behind every great community is a great park system. We invite you to support our cause and ensure that our park system thrives for this and future generations.
News & Events
Vote Now! Help Gratigny Plateau Park win a new $25,000 Toddler Playground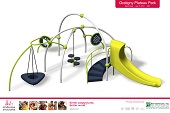 The Parks Foundation of Miami-Dade has teamed up with Local 10 and the Kiwanis of Sunny Isles/North Miami Beach to win $25,000 in playground equipment through the Make a Difference Through Play Facebook contest, sponsored by Kiwanis International and Landscape Structures. To become a finalist, we need to be in the top 10 for number of votes.
You can vote daily through June 15. Once you've voted, be sure to share with your friends and post on your Facebook page.
Back to Top
Page Last Edited: Wed May 22, 2013 3:02:54 PM
parks_foundation