Last Visited »

The Miami-Dade County Portal will be undergoing maintenance starting at 11 p.m. Saturday, May 3 and for all of Sunday, May 4. Intermittent outages may be experienced. We apologize for any inconvenience.
Thank you for your patience as we improve our online services.
The Parks Foundation of Miami-Dade understands the important role park systems play in a community, and is committed to ensuring Miami-Dade's park facilities, programming and connections provide a world-class experience for residents and visitors.Behind every great community is a great park system. We invite you to support our cause and ensure that our park system thrives for this and future generations.
News & Events
The Parks Foundation Receives a $5,300 Quality of Life Grant from Christopher & Dana Reeve Foundation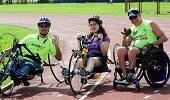 The Parks Foundation of Miami-Dade is proud to announce that it has received a $5,300 Quality of Life grant from the Christopher & Dana Reeve Foundation for the purchase of two adult hand-cycles and a recumbent bike to support Miami-Dade Parks Disability Services' Hand-cycling Program – Hand-cycles for All.
The award was one of 73 grants totaling over $537,550 awarded by the Reeve Foundation to nonprofit organizations nationwide that provide more opportunities, access, and daily quality of life for individuals living with paralysis, their families, and caregivers.
Gratigny Plateau Park celebrates its grand opening with a Community Block Party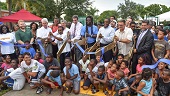 After two years of planning, fundraising and construction, an extreme park makeover at Gratigny Plateau Park, made possible through a unique public-private sector partnership, was celebrated on Wednesday, August 6, 2014 at 5:00 p.m., with a community block party marking the grand opening of this quaint, neighborhood park.
Designed to resemble a flower signaling new life for a community in need, Gratigny Plateau Park, located at 885 NW 117 Street, boasts new walking paths, fitness stations, a toddler playground, benches, and a butterfly garden providing area residents new opportunities for recreation. Local 10 Anchor Calvin Hughes and the Local 10 News Team reported live during the ceremony.
Parks Foundation awarded Florida Recreation and Park Association's (FRPA) Corporate Support Award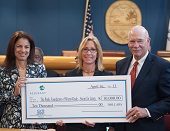 The Parks Foundation of Miami-Dade is the proud recipient of Florida Recreation and Park Association's (FRPA) Corporate Support Award for fundraising and development benefitting Miami-Dade parks and parks programming.
Parks Foundation Board President Dick Anderson will be presented the award during FRPA's Annual Conference Awards Banquet, on Thursday, August 28, 2014, at the Hilton Orlando.
Parks Foundation chosen as a partner of the National Inclusion Project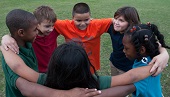 The National Inclusion Project has partnered for one year with the Parks Foundation of Miami-Dade to implement Let's All Play Inclusion in Miami-Dade Parks' recreational programs.
The National Inclusion Project provided for two Miami-Dade Parks' recreation specialists to attend their annual conference at their facility earlier this year, and in the Fall will provide a program model and expertise training to all Miami-Dade Parks' after-school and summer camp recreation specialists to incorporate into Miami-Dade Parks' children's programs.
Sign up & tell us what you think!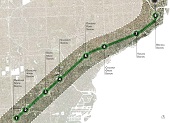 The GreenLink, is an initiative to transform the land underneath Metrorail into a contiguous 10-mile walking/biking/exercise path and linear park, from Brickell Station to Dadeland South Station. The Parks Foundation's Brickell Promenade project is just one component of the GreenLink.
Bug vs. Wild: Air Potato Vine-Eating Beetle to be reared in first ever Student-Run Lab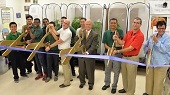 The only student-run beetle-rearing lab facility in the United States was unveiled today by students and faculty at the TERRA Environmental Research Institute (TERRA), together with Miami-Dade County District 10 Commissioner Javier D. Souto, and representatives from State Farm and Miami-Dade Parks, Recreation and Open Spaces.
The Lilioceris cheni (Lili) will be bred, and later released, to combat the invasive exotic Air Potato vine plaguing parks and neighborhood yards throughout South Florida and the state. The project is made possible by a $31,240 grant from State Farm Youth Advisory Board (YAB) to the Parks Foundation of Miami-Dade.
Walgreens Contributes $5,000 to Gratigny Plateau Park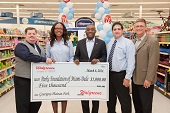 The nation's largest drug store chain reinforced its commitment to community health and wellness with a $5,000 donation to the Parks Foundation of Miami-Dade towards a HealthBeat® Chest/Back Press, one of eight pieces of outdoor exercise equipment planned for Gratigny Plateau Park. A check presentation was held at the Walgreens store located at 750 NW 119th Street on March 6, 2014, with partner WPLG-TV Local 10.
A.D. Barnes & Matheson Hammock Parks to Benefit from Macy's ''Heart Your Park''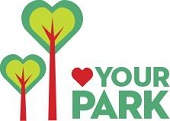 Through March 31, customers at Macy's Westland, Miami International, and Dadeland Mall stores can donate $1 or more at the register, with 100% of donations benefitting AD Barnes and Matheson Hammock Parks through the Mac's Heart Your Park program.
In addition, Macy's will match total customer donation up to $250,000.
Women Honored at the 26th in the Company of Women Awards Ceremony

Twelve women leaders were honored for their achievements in their respective fields, during the 26th Annual In the Company of Women Awards Ceremony, presented by Macy's. The evening began with a networking reception with drinks and hors d'oeuvres, followed by an awards ceremony emceed by WPLG Channel 10 Meteorologist Betty Davis, at the Coral Gables Country Club.
Parks Foundation Board President Featured on Comacast Newsmakers
Comcast Newmakers interviewed Parks Foundation Board President Dick Anderson who spoke about the Fit2Play Scholarship Fund and the various Adopt-a-Park programs available for people to donate in support of parks.
State Farm Presents a $31,240 Check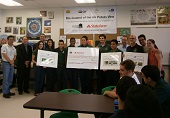 The State Farm Youth Advisory Board awarded a $31,240 grant to the Parks Foundation and students of TERRA Agricultural Research Institute. The check was presented on October 29th for the support of a new beetle-rearing facility at the school and the bio-control project of the Air Potato vine.
This project will consist of the rearing of the air potato leaf beetle by TERRA students and their subsequent release into Kendall Indian Hammocks Park.
Construction Begins on Gratigny Plateau Park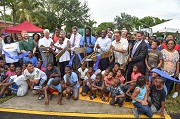 On Friday, Oct. 11, crews began work at the site of Gratigny Plateau Park, three empty lots in an under served area of northwest Miami-Dade that are being transformed into a neighborhood park with the help of corporate donors and ABC's Local 10, Miller Construction, architectural firm EDSA and other generous sponsors.
Channel 10's Glenna Milberg was live on the scene as crews began grubbing the site.
Coca-Cola Troops for Fitness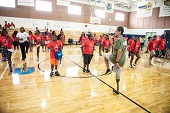 Army National Guard veteran and amputee Laura Ortiz is among the first of two dozen veterans hired to lead health and wellness programming at Miami-Dade Parks, part of the new Coca-Cola Troops for Fitness Program. Mayor Carlos A. Gimenez announced the more than $190,000 award to the Parks Foundation. The grant, made possible by The Coca-Cola Foundation, will be managed by the National Recreation and Park Association.
Swim for Jenny Fund showcased on Amerca TeVe and Comcast Newsmakers
The Parks Foundation's Swim for Jenny Memorial Fund was showcased on Comcast Newsmakers and America TeVe. Nearly 1,000 children have been taught to swim – free of charge – at Miami-Dade Parks' pools thanks to more than $100,000 in charitable donations.
Summer Camper Sets New Morning Mile Record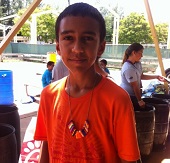 Hammocks Community Park's Sebastian Deoleo ran 140 miles during the summer as part of the Morning Mile Program sponsored by AvMed. Summer campers begin their day with a run, jog or walk and receive collectible necklace charms. Over 100,000 total miles were logged by campers with 56 reaching the 100 mile or more mark. The program is designed to get kids active, fit and poised to carry good exercise habits into adulthood.
Parks Foundation 2012 Annual Report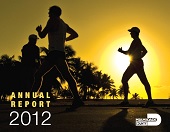 The Parks Foundation's vision is to Enhance the quality of life of Miami-Dade residents and visitors by securing dedicated funding to preserve and promote parks and parks programming throughout Miami-Dade.
We invite you to see what we have accomplished in 2012, where we are headed and how we are growing.
Other News
In the Company of Women Nominations - Nominations were held from Sept. 2 - Oct. 2 for the 26th Annual In the Company of Women Awards Ceremony, scheduled for March 13, 2014 during Women's History Month.
If you cannot view PDF

files, you can download
Acrobat Reader
for free from Adobe Systems, Inc. In order to use PDF files, you must have Acrobat installed on your computer.
Back to Top
Page Last Edited: Mon Aug 18, 2014 11:32:48 AM
parks_foundation