Last Visited »

The Miami-Dade County Portal will be undergoing maintenance starting at 11 p.m. Saturday, May 3 and for all of Sunday, May 4. Intermittent outages may be experienced. We apologize for any inconvenience.
Thank you for your patience as we improve our online services.
Programs
Fit2Play Scholarship Fund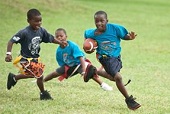 Created for families who simply cannot afford program fees, the Fit2Play Scholarship Fund offers children safe, structured after-school and summer camp programming. A national model, our programs which incorporate nutritional education, recreational games, and homework help have been studied by the University of Miami UHealth System and proven to prevent obesity and decrease hypertension in children and adolescents.
Dollars donated to the scholarship fund receive 100% matching funds, and more importantly, keep kids healthy, off the streets, engaged and safe.
Summer Camp Morning Mile Presented by Avmed Health Plans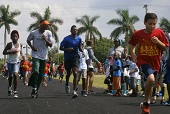 Nearly 400 Miami-Dade Parks' summer campers gathered at Goulds Park to participate in the Morning Mile program sponsored by AvMed Health Plans on June 12, 2013.
Former Miami Heat point guard and five-time NBA All-Star Tim Hardaway, Olympic Coach and University of Miami Director of Track & Field and Cross Country Amy Deem, track and field student-athletes from the University of Miami, Olympic hurdler Bershawn Jackson, Fitz Koehler from Fitzness International, Pat Nelson from AvMed Health Plans and Deputy Chief of Staff Helena Sumpter from the Office of Miami-Dade County District 9 Commissioner Dennis C. Moss, shared personal stories, stretched and led the children as they embarked on the "100 for 100 Challenge" with the goal of each camper running 100 miles by summer's end.
Swim for Jenny Memorial Fund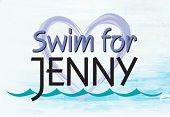 It's a sad fact that Miami-Dade is near the top of the list when it comes to unintentional drowning in Florida. On April 17, 2011, Jenny Nguyen became a victim when she went into water too deep for her swimming ability and drowned at a friend's birthday party. Jenny's death prompted the creation of the Swim for Jenny Memorial Fund which provides free learn-to-swim lessons to underserved children in Miami-Dade County.
Neill L. Miller Bicycle Safety Education Program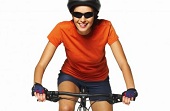 With the goal of preparing and inspiring adults and children to cycle, the Neill L. Miller Bicycle Safety Education Program was established in 2009. The fund was named by Thomas L. Miller in memory of his wife who served on Miami-Dade County's Bicycle Advisory Council.
Focus on Parks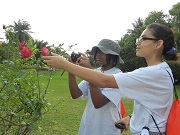 A new program to connect youth to nature and grow environmental stewards through photography was introduced in 2012. Focus on Parks is inspired by the National Park Service, and supported by Miami-Dade Parks, Florida State Parks and HistoryMiami.
Through hands-on field trips, middle school aged children document through the lens of a camera the connections they experience at parks as they build awareness of new surroundings, and ultimately, become interested and protective of our history, culture and environment. The cameras provide a powerful medium to connect kids and parks beyond a single activity, outing or trip.
Active Adults 55+ program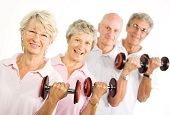 Every day, Miami-Dade Parks engages thousands of seniors, and provides a wide variety of programming for active adults ages 55 and older. Activities include health and wellness programs, arts & crafts, recreational games and more. Supporting the Parks Foundation can help provide more programming for seniors at a greater number of facilities.
Leisure Access Foundation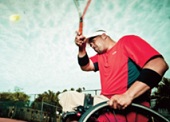 Created to improve opportunities for persons with disabilities to participate in quality leisure programs, both recreational and competitive, the Leisure Access Foundation provides funding for special adaptive equipment, volunteer training and the creation and implementation of programming.
Back to Top
Page Last Edited: Fri Jun 20, 2014 4:42:06 PM
parks_foundation