Last Visited »
Important Global Message
The Miami-Dade County Emergency Operations Center has been activated and is closely monitoring Erika. For any updates about County facilities and services, please visit: http://www.miamidade.gov/emergency
MDPD Career - Police Dispatcher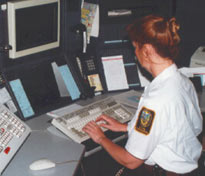 Police Dispatch work requires the operation of two-way radio transmitting equipment to law enforcement personnel. Work involves critical decision making skills, relaying orders and information to and from police personnel, managing radio traffic, and operating computer and telecommunications equipment. Work is performed in accordance with prescribed dispatch procedures and within the scope of Federal Communications Commission regulations and departmental orders. Note: The link above is not part of the MDPD website.

Supervision is received from a Police Dispatcher Supervisor or Police Sergeant who reviews work for conformance with proper procedures, and confers with employee on unusual or difficult situations.
This classification may require mandatory overtime to staff requisite consoles, rotating shift schedules, based on seniority, with possible weekdays off, and working holidays.
Illustrative Tasks
Receives calls for service from 9-1-1 Police Complaint Officers (Call Takers), via the Computer Aided Dispatch (CAD) and from field units via radio; utilizes acquired skills, abilities, and judgment to coordinate the direction and placement of field units to strategic locations for critical incidents; prioritizes calls for service; selectively assigning and dispatching of police emergency and non-emergency calls via radio communication technology to Miami-Dade County, municipal, inter-county and federal personnel using the assigned talk groups while monitoring the safety status of all field units.

Coordinates the movement of multiple law enforcement units engaged in pursuit tactics or responding to life or death situations.

Operates a computer based 800 MHz trunked radio system console to control talk groups and or conventional channels, a dual screen Computer Aided Dispatch (CAD) console, and a FCIC (Florida Crime Information Center) system terminal; coordinates multiple tasks simultaneously, using judgment to make operational decisions based on information regarding available units and calls holding within policy and procedural guidelines while utilizing specialized formats to integrate and prioritize information from all three systems into a coordinated dispatch service for optimal efficiency.

Reviews pages of various data based documentation to determine the existence of outstanding pick-up orders, misdemeanor and felony warrants, validity of driver licenses, and the status of stolen vehicles and vessels, vehicle and vessel registrations, firearm permits, occupational licenses, and criminal backgrounds to relay to field units.

Maintains detailed knowledge and records of BOLO (Be On the Lookout For) information, and the diversified configurations of daily personnel line-ups, work schedules, court times, assigned areas of patrol, specialized patrol responsibilities, and procedural differentiation's for each district.

Performs minor maintenance tasks associated with the position, for example, resetting computerized dispatch systems, preparing malfunction reports for radio frequency or equipment repairs, and related work as required.
Knowledge, Abilities, and Skills
Ability to learn radio transmitting techniques and procedures as applied to the dispatch of mobile units.

Ability to learn departmental regulations pertaining to the dispatch of law enforcement personnel.

Ability to learn the roadways and municipal boundaries of Miami-Dade County.

Ability to make swift, logical decisions and judgments based upon knowledge or prior experiences.

Ability to comprehend and carry out oral and written instructions.

Ability to react quickly and calmly during stressful, emergency radio communications.

Ability to communicate effectively with police personnel by means of a two-way radio system.

Ability to keep written and computer records.

Ability to speak clearly on police radios, using proper grammar.

Ability to handle multiple tasks simultaneously.

Skill in computer data entry.

Train new employees and pass along new information or procedures and techniques to co-workers.
Desirable Traits, Experience, and Training
Experience in law enforcement work including communications duties.

The ability to remain calm during stressful situations.

Experience in the dispatch of mobile units.

Experience in computer data entry.

Graduation from an accredited high school or GED.

Be a resident of the United States of America.

Employees must obtain and maintain certification in requisites of FCIC (Florida Crime Information Center).
Back to Top
Page Last Edited: Fri Sep 6, 2013 2:15:05 PM
police
About Miami-Dade Police
You are now leaving the official website of Miami-Dade County government. Please be aware that when you exit this site, you are no longer protected by our privacy or security policies. Miami-Dade County is not responsible for the content provided on linked sites. The provision of links to these external sites does not constitute an endorsement.

Please click 'OK' to be sent to the new site, or Click 'Cancel' to go back.