Last Visited »
Hurricane Irma
As we continue our recovery and cleanup efforts, please visit the Emergency website for the latest information on openings and closings in Miami-Dade County.
Police Officer
The Miami-Dade Police Department's application process for the position of Police Officer is currently closed.
Please visit www.miamidade.gov/jobs to review the most current job openings.
Should you have any questions, please contact the Personnel Management Bureau at 305-471-1945.
---
Annual Salary: Min (probational) $52,380.51 - Max $89.076.27*
Minimum Qualifications
All Applicants (Non-Certified, Certified and Lateral):
United States Citizen at time of application (F.S.S. 943.13(2)).
High school diploma or equivalent. An evaluation of foreign high school diploma may be required.
Must not have been convicted of any felony. All candidates must not have been convicted of any perjury or a false statement charge as an adult. All other arrests and convictions will be reviewed on a case-by-case basis. Must have good moral character as determined by a background investigation (F.S.S. 943.13).
If ever arrested, candidates must submit an official court disposition at a later time. Official court dispositions can be obtained from the Clerk of the Court in the county in which the incident occurred. Must possess and maintain throughout employment, a valid Driver's License without any restrictions affecting job performance. Out of state participants shall be required to obtain a Florida Driver's License upon acceptance of employment. Driver's license must show current address.
Police Officer Applicant Minimum Qualifications:
Be at least 20 years old to apply, and 21 years old at the time of hire; AND
High school diploma or equivalent. An evaluation of foreign school diploma may be required; OR
Have an Associate's Degree or at least sixty (60) college credits; OR
Have two (2) years of active or reserve military duty; OR
Have three (3) years of continuous full-time, post-high school work experience; OR
Have one (1) year of full-time sworn law enforcement experience.
Be a citizen of the United States.
Not have been convicted of any felony or of a misdemeanor involving perjury or false statement.
Any person who, after July 1, 1981, pleads guilty or nolo contendere to, or is found guilty of a
felony, or of a misdemeanor involving perjury or a false statement, shall not be eligible for
employment or appointment as an officer, not-withstanding suspension of sentence or withholding of adjudication.
Never have received a dishonorable discharge from any of the Armed Forces of the United States.
Have good moral character.
Successfully pass a background investigation, to include drug testing.
Pass a physical examination by a licensed physician.
Pass the Florida Basic Abilities Test (FBAT).
Complete the Physical Abilities Test (PAT) administered at the Miami-Dade College School of Justice (North Campus).
Certified and Lateral Applicants
Certified:
Successfully completed the Florida Law Enforcement Basic Recruit Training Program, and successfully passed the Florida State Law Enforcement Officer Certification Examination.
For Florida Correctional Officers, must have successfully completed a cross-over law enforcement program, and successfully passed the Florida State Law Enforcement Officer Certification Examination.
Lateral:
If employed as a law enforcement officer outside of Florida, must have successfully completed the Florida Department of Law Enforcement Equivalency of Training, and successfully passed the Florida State Law Enforcement Officer
Certification Examination within one year of receipt of the approved Equivalency Training.
Complied with Florida Department of Law Enforcement mandatory retraining or educational requirements for law enforcement officers.
Must have completed probation (at lease one year) at the time of hiring, if employed as a sworn law enforcement officer with another agency.
*Salary includes supplemental pay for hazardous duty pay and FDLE certification. A variety of additional pay supplements and pay incentives are available based upon assignments. Police trainee salary (for non-certified) during the police academy and/or training period starts at $43,020.90.
If claiming Veteran's Preference, candidates must provide a DD-214 Member 4 form.

Job Description:
Nature of Work
This is general law enforcement and public safety work in the protection of life and property and in the execution of orders issued through the authority of the Miami-Dade Police Department.

An employee in this classification may perform varied assignments in motorized patrol, traffic control and enforcement, accident investigation, preliminary and follow-up investigation at crime scenes, serving writs in criminal proceedings, and assisting in public safety education programs. Work involves an element of personal danger and high levels of physical, emotional, and mental stress to deal with people in various situations. Incumbents must be able to act without direct supervision and exercise independent judgment in meeting emergencies. Situations often arise where incumbents will have the responsibility for making decisions regarding the use of deadly force in protecting citizens and themselves without the opportunity for prior supervisory advice or assistance. Routine assignments are received from superior officers who review work methods and results through reports, inspections, and discussions. Police Officers generally work one eight-hour shift per 24-hour period, but will be subject to recall to on-duty status as the department warrants. In addition, Police Officers are required to respond to any emergency and/or criminal situation that they observe while off duty and function as a Police Officer until relieved by regular on-duty units.

Illustrative Tasks
Patrols the unincorporated area of Miami-Dade County in a radio equipped car or motorcycle to preserve law and order.
Responds to a variety of calls that require several intervention approaches ranging from personal counseling techniques to the use of physical or deadly force. Police Officers respond to accidents, domestic disturbances, various misdemeanors and felonies, traffic and crowd problems, etc.
At crime scenes or accidents, Police Officers administer first aid, conduct preliminary investigations, locate evidence, obtain information from witnesses, complete reports, make arrests and escort prisoners to jail.
Testifies in court concerning work activities.
Serves Criminal and Metropolitan writs; conducts search and surveillance to determine whereabouts of person to be served; arrests fugitives and returns person to proper authority.
Serves as instructor in the teaching of traffic safety to civic and school groups; broadcasts traffic information through commercial radio stations.
Assists in departmental programs and cooperates with other agencies in dealing with social, medical, and psychological problems such as domestic crises, alcoholism, attempted suicides, and other emotional disturbances.
On assignment, participates in underwater search and recovery missions, mobile crime laboratory investigations, undercover surveillance, civil defense exercises, rescue operations, marine patrol, and vice raids.
Assists in the presentation of departmental training programs.
Performs related work as required.

Knowledge, Abilities, and Skills
Knowledge of state statutes, local ordinances, and departmental regulations governing search and seizure of property, arrest, and admissibility of evidence.
Knowledge of Miami-Dade County geography and its road network.
Knowledge of law enforcement methods and procedures.
Knowledge of first aid principles and skill in their application.
Knowledge of basic human relations techniques.
Ability to understand and carry out oral and written instructions.
Ability to develop skill in the use and care of firearms.
Ability to work independently with minimal direct supervision.
Ability to enforce the law firmly, impartially, and with respect for individual rights.
Ability to prepare accurate reports of work activities.
Ability to assess an emergency or criminal situation and respond promptly and appropriately, often without direct supervision.
Ability to deal effectively and equitably with all people under various circumstances.
Ability to adapt to changing social conditions.
Ability to respond to training programs designed to develop proficiencies in work areas.
Physical strength and agility, and ability to meet physical requirements.
Emotional stability and the necessary capacity to cope with a wide range of inter-personal situations.
Personal character necessary to withstand frequent assaults on ethical and legal integrity.
Please go to http://www.miamidade.gov/humanresources/jobs.asp to establish an applicant profile. You may utilize our 'job agent' feature to notify you of job openings or follow us on social media: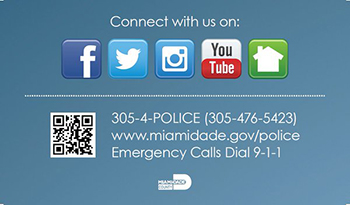 Back to Top
Page Last Edited: Thu Mar 29, 2018 9:50:29 AM
police
About Miami-Dade Police
You are now leaving the official website of Miami-Dade County government. Please be aware that when you exit this site, you are no longer protected by our privacy or security policies. Miami-Dade County is not responsible for the content provided on linked sites. The provision of links to these external sites does not constitute an endorsement.

Please click 'OK' to be sent to the new site, or Click 'Cancel' to go back.