Last Visited »
Important Global Message
The Miami-Dade County Emergency Operations Center has been activated and is closely monitoring Erika. For any updates about County facilities and services, please visit: http://www.miamidade.gov/emergency
Distinguished Officer of the Month - January 2011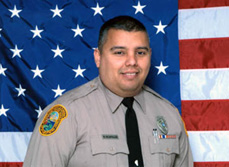 Officer Carlos Castillo
The Miami-Dade Police Department is pleased to announce that Officer Carlos Castillo has been awarded the departmental Gold Medal of Valor and Purple Heart Awards, and selected the Department's Distinguished Officer of the Month for January 2011. A 15-year veteran, Officer Castillo has been assigned to the Robbery Bureau's Robbery Intervention Detail (RID) for the past eight years.
As a RID officer, Officer Castillo and his co-workers are tasked with apprehending robbery subjects and violent felons throughout Miami-Dade County. This assignment places the RID officers in volatile situations daily as they diligently work to make the community a safe place for its citizens and visitors. The officers are deployed to high crime areas in an effort to thwart robberies and other violent crimes, using both covert and proactive approaches to crime fighting.
On April 23, 2010, Officer Castillo and his squad were assigned to patrol an area of the Northside District that is adjacent to the City of Miami. This deployment was based on crime trends and analysis. During the shift, at approximately 9:40 p.m., Officer Castillo conducted a routine tag check, as he sought out stolen or wanted vehicles. The check revealed that the vehicle was different from the assigned registration. This prompted Officer Castillo to further inquire about the unassigned tag, and he subsequently initiated a traffic stop of the suspect's vehicle.
The vehicle pulled into a dark alley at 260 NW 71 Street. Officer Castillo followed, but was wary of the location and did not completely enter. He requested that a back-up unit respond to assist. As he waited, Officer Castillo made contact with the occupants of the vehicle: Mr. Michael Robertson Jr., the driver; a female passenger; and two minor children. Officer Castillo directed his attention to Mr. Robertson, who was acting nervous. After a short conversation, Mr. Robertson abruptly took flight and ran down the alley into a dark area, where Officer Castillo lost visual sight of him. At this point, Officer Castillo focused his attention on the female subject, who remained on the scene, and promptly advised his back-up about the fleeing subject.
As the back-up officers searched the area for the subject, he had climbed onto the rooftop of the adjacent building and armed himself with a cinder block. Officer Castillo was unaware of his precarious location, as Mr. Robertson was situated directly above him. Mr. Robertson then threw the cinder block toward Officer Castillo, striking him on the head and rendering him unconscious.
Mr. Robertson came down from the rooftop and continued the unprovoked and vicious attack on Officer Castillo, kicking and stomping on his head. Officer Castillo was unable to defend himself due to his unconscious condition.
Mr. Robertson then proceeded to enter the detective's vehicle and continued the assault by running over Officer Castillo with his own police vehicle. Mr. Robertson fled in the police vehicle and abandoned it nearby as he fled on foot. Moments after the assault, the back-up units who were in the area searching for the subject, returned to the scene and discovered Officer Castillo with massive trauma to his head and body.
Officer Castillo was transported to the hospital in critical condition, fighting for his life. At the same time, a massive search for the subject was underway. Officer Castillo was near death upon arriving at the hospital. He sustained massive internal injuries, a broken arm, and serious brain injuries. Despite the severity of his injuries, Officer Castillo refused to let go and demonstrated an unwavering will to survive. In fact, the fire rescue personnel stated that Officer Castillo was combative on the way to the hospital, an indication of his personal drive. Mr. Robertson eventually surrendered and was arrested.
Currently, Officer Castillo has made a miraculous recovery and is on his way to returning to the profession he loves. He has vowed to continue in his crime fighting efforts. This incident has resulted in enormous support for Officer Castillo, not only from other police agencies, but the community as well. The unity between the many agencies in South Florida who rushed to assist was epitomized because of this incident. It is because of his resolute desire to survive, and determination to return to law enforcement, that so many are inspired by Officer Castillo.
This incident is a reminder of the dangers that law enforcement officers face as they perform their daily duties serving our community.
Prepared by:
Sandra G. Kramer
Media Relations Bureau
Back to Top
Page Last Edited: Tue May 29, 2012 11:29:27 AM
police
You are now leaving the official website of Miami-Dade County government. Please be aware that when you exit this site, you are no longer protected by our privacy or security policies. Miami-Dade County is not responsible for the content provided on linked sites. The provision of links to these external sites does not constitute an endorsement.

Please click 'OK' to be sent to the new site, or Click 'Cancel' to go back.