Last Visited »
Hurricane Irma
As we continue our recovery and cleanup efforts, please visit the Emergency website for the latest information on openings and closings in Miami-Dade County.
Distinguished Officer of the Month - March 2011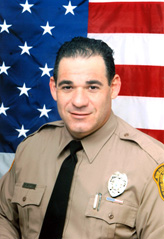 Officer Blas Cabrera
The Miami-Dade Police Department is pleased to announce that Officer Blas Cabrera has been awarded the departmental Exceptional Service Award and selected Distinguished Officer of the Month for March 2011. Officer Cabrera has been a member of this Department since January 1995, and is currently assigned to the Northside District.
Officer Cabrera has a high level of moral integrity, is dedicated to quality proactive enforcement against violent crimes, and is well-versed in policing strategies developed to combating such crimes.
During the past year, Officer Cabrera has received numerous accolades from co-workers and supervisors for the apprehension of violent felons while working as a one-man unit. He was awarded six commendations for his actions by supervisors in his chain-of-command. Detailed herein are a few of his outstanding accomplishments in 2010.
On May 14, 2010, Officer Cabrera and back-up officers responded to an in-progress burglary. Upon arrival, it was determined to be an armed home invasion robbery. As the officers neared the residence, they heard the subjects advising of the police presence outside. Officer Cabrera and the other officers negotiated the safe surrender of the subjects, who were armed with a high-powered rifle and a semi-automatic handgun. Later, it was discovered that the family, which included a mother and infant, had been tied up and could have been used as hostages. A subsequent search of the residence revealed multiple marijuana plants. Several subjects were arrested on Armed Home Invasion charges, and one resident was arrested in conjunction with trafficking in marijuana with intent to sell, within 1,000 feet of a school.

On May 29, 2010, Officer Cabrera conducted an area canvass after hearing a BOLO of an armed robbery. He noticed a vehicle matching the broadcasted description and set off in pursuit. Finally, the vehicle was stopped and the driver was apprehended and charged with Armed Robbery and Possession of Marijuana.

On August 5, 2010, Officer Cabrera responded as a back-up to assist an officer who had stopped a vehicle suspected of being used in an armed robbery earlier that day. As a result of his efforts, three felons were removed from the streets, counterfeit money was discovered, and evidence of the robbery was recovered for criminal prosecution.

On September 24, 2010, Officer Cabrera handled a robbery wherein the victim had been robbed at knifepoint and choked unconscious. Later in the shift, Officer Cabrera continued his search for the subjects, obtaining information from neighborhood contacts in an effort to develop leads for his search. Hours later, he found one of the subjects at a gas station and quickly apprehended him without incident. The subject was positively identified and subsequently charged with Armed Robbery.

On November 7, 2010, Officer Cabrera again used his community contacts to his advantage in the location and safe apprehension of a robbery subject, who had been hiding within a residence. The subject was subsequently arrested for Robbery with a Deadly Weapon, Attempted Murder, and Violation of Sexual Offender Registration.

On November 8, 2010, Officer Cabrera noticed a vehicle pulled over on the side of the road that matched the description of a vehicle used in an earlier armed carjacking. As he approached, the vehicle fled. Officer Cabrera pursued the vehicle and eventually apprehended the subject as he attempted to bail out and flee on foot. The subject was subsequently charged with Armed Robbery and Armed Carjacking.
Officer Cabrera's accomplishments reflect examples of consummate and diligent work, which is the norm for him. It is evident that he has a genuine desire to apprehend offenders and see that they are brought to justice. He goes out of his way to develop rapport with the community in order to obtain intelligence to locate the most violent offenders in the district he patrols. He truly enjoys his accomplishments and recognizes the long-term positive affects in the community. His high statistical output of quality arrests is indicative of methodical, tactically sound, and cunning patrol techniques.
More evident is Officer Cabrera's ability to work as a team with his fellow officers. On several occasions, he was involved in group enforcement details, where his individual efforts were subsumed in the overall production of statistical data. He does a lion's share of traffic enforcement around area nightclubs, providing police presence and reducing violent crimes associated with such venues. Additionally, he participates in closures of "rave parties" and clubs operating illegally, in which a team effort is paramount in dealing with highly intoxicated and agitated crowds. He also teams up with various members of his squad to observe "drug holes" and effect narcotics arrests. By and far, Officer Cabrera spends the majority of his shift in the most dangerous areas of the District, committed to making a difference.
It should be noted that the arrests Officer Cabrera has made and the actions he has taken were accomplished with not only the Department's best interests, but the public's well-being at heart. Equally important is the fact that these events produced no injuries to officers, the subjects, or the public, and no damage was incurred.
Officer Cabrera was awarded the departmental Exceptional Service Award and selected Distinguished Officer of the Month for March 2011.
Prepared by:
Sandra G. Kramer
Media Relations Bureau
Back to Top
Page Last Edited: Tue May 29, 2012 11:30:30 AM
police
You are now leaving the official website of Miami-Dade County government. Please be aware that when you exit this site, you are no longer protected by our privacy or security policies. Miami-Dade County is not responsible for the content provided on linked sites. The provision of links to these external sites does not constitute an endorsement.

Please click 'OK' to be sent to the new site, or Click 'Cancel' to go back.