Last Visited »
Hurricane Irma
As we continue our recovery and cleanup efforts, please visit the Emergency website for the latest information on openings and closings in Miami-Dade County.
Distinguished Officers of the Month - September 2010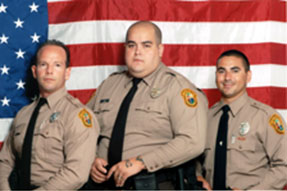 Officers Marloys Morales and
Christopher Casiano and
Police Reserve Officer Alexander Fornet
Midwest District
The Miami-Dade Police Department (MDPD) is pleased to announce that Officers Marloys Morales and Christopher Casiano and Police Reserve Officer Alexander Fornet have been awarded the departmental Bronze and Lifesaving Awards and selected to share Distinguished Officer of the Month honors for September 2010. Officer Morales has been a Department member since April 2001, Officer Casiano since March 2002, and Reserve Officer Fornet since March 2010, although he had previously served as a volunteer and as a police officer with MDPD.
On April 20, 2010, at 6:15 p.m., Officers Morales and Casiano and Reserve Officer Fornet, were dispatched to 160 SW 130 Avenue, regarding a possible suicide. The female caller advised that she had a gun and that someone would have to kill her or she would kill herself. The officers made contact with an 87-year-old female, Mrs. Epifania Rodriguez, who told the officers that her daughter-in-law, Mrs. Alejandrina Ferreiro, was inside her bedroom and was upset because of an argument she had with one of her sons.
With weapons in hand, Officers Morales and Fornet approached the bedroom door and called out to Mrs. Ferreiro, who answered from behind the bedroom door and said, "I have a gun, and if you open the door, I will shoot you."
While Officer Morales took cover behind an east bedroom doorway, Officer Fornet took cover behind a west bedroom doorway. Officer Casiano took cover at the end of the hallway. Officers Morales and Fornet began giving verbal commands to Mrs. Ferreiro to put the gun down and open the bedroom door. Mrs. Ferreiro repeated that she would not put the gun down and the officers would have to kill her.
Suddenly, Mrs. Ferreiro began to open the bedroom door, saying, "I have a gun, and I'm not putting it down." The officers now had a clear view of Mrs. Ferreiro, and they could see that she had a handgun in her right hand, held up to her head, with her finger on the trigger.
Meanwhile, Officers William Shanor and Jorge Martinez arrived and assisted with keeping irate family members safe and calm. Officer Shanor had to maintain control of Giselita Ferreiro, Mrs. Ferreiro's 14-year-old daughter, blocking her from entering the hot zone.
Officers Morales and Fornet continued to give Mrs. Ferreiro verbal commands to put the gun down. In response, Mrs. Ferreiro began taking small steps toward Officer Fornet, while repeatedly stating, "Kill me," and holding the gun down along her right side. Mrs. Ferreiro then said, "Kill me; I can't do it because I will go to hell, but if you do it, God will forgive you." As Officer Fornet continued to speak to Mrs. Ferreiro, she raised the gun up, this time using her left hand, and held the gun up to her chest.
Officers Morales and Fornet continued to give Mrs. Ferreiro verbal commands to drop the gun; she then held the gun back up to her head and stated that if the officers would not kill her, she would do it herself. She continued to take small steps toward Officer Fornet.
Both officers realized that due to being in such a close proximity to the subject, the Electronic Control Device (ECD) was not a good choice because this could cause her to make the gun discharge, injuring her or an officer.
Seeing that the distraught woman was getting closer to Officer Fornet, Officer Morales entered the hallway in order to cover Officer Fornet. As Mrs. Ferreiro looked toward Officer Morales, she bladed her body toward him and closed her eyes as if she was ready to be shot by Officer Morales. At the same time, she began to lower her gun back down to her side.
This action presented an opportunity for Officer Fornet to lunge toward Mrs. Ferreiro, grabbing her left arm to gain control of the gun. Officer Morales then ran forward and assisted Officer Fornet with securing Mrs. Ferreiro, who was resisting and struggling. Officer Morales managed to take control of Mrs. Ferreiro's gun and threw it down on the ground. With the assistance of Officer Casiano, they handcuffed her without further incident.
Further investigation revealed that Mrs. Ferreiro is an ovarian cancer survivor and had just learned that her cancer had returned, leaving her depressed. Mrs. Ferreiro had also had a heated argument with her son over financial matters. Mrs. Ferreiro stated that she does not want to live anymore, but she did not have the nerve to kill herself and wanted to commit "suicide by cop." Mrs. Ferreiro was transported to Miami Behavioral Health Center. The firearm, along with two large hunting knives, was impounded.
Thanks to their training and quick responses, these officers prevented a senseless death and a family tragedy. Their actions have brought great honor to the Department and the entire law enforcement profession.
Prepared by:
Sandra G. Kramer
Media Relations Bureau
Back to Top
Page Last Edited: Tue May 29, 2012 11:32:18 AM
police
You are now leaving the official website of Miami-Dade County government. Please be aware that when you exit this site, you are no longer protected by our privacy or security policies. Miami-Dade County is not responsible for the content provided on linked sites. The provision of links to these external sites does not constitute an endorsement.

Please click 'OK' to be sent to the new site, or Click 'Cancel' to go back.