Last Visited »
Hurricane Irma
As we continue our recovery and cleanup efforts, please visit the Emergency website for the latest information on openings and closings in Miami-Dade County.
Homicide Bureau
The Homicide Bureau conducts thorough and objective investigations of all deaths and officer involved shootings that result in death and/or serious bodily injuries which occur in unincorporated Miami-Dade County. These investigations are also conducted in many contracted municipalities within the County. The Bureau is comprised of eight squads. Each squad consists of one sergeant and four detectives; which report to a lieutenant. The squads use a "team approach," which is effective in order to address the many critical aspects of a death investigation. As a result of this approach, information is quickly developed and categorized, enabling the expeditious identification of potential subjects, witnesses, evidence and investigative leads.
The Bureau also houses three specialized squads; the Traffic Homicide Unit, which investigates all fatal and critical-injury motor vehicle crashes to include hit and run investigations and all County police vehicle collisions; the Cold Case Squad, which handles continuing probes into unsolved murders which occurred as long as 50 years ago; and the South Florida Homicide Clearinghouse, which serves as a centralized registry to gather and disseminate investigative leads and intelligence information to cooperating agencies, in order to help coordinate investigative efforts between police departments.
Traffic Homicide Unit (THU)
The Miami-Dade Police Department's THU conducts follow-up investigations of fatal, critical, and County police vehicle crashes occurring within unincorporated Miami-Dade County. In addition, the Unit handles all fatal and critical crashes occurring within 26 of 35 municipalities in the County. THU investigators are responsible for the entire investigation, from processing the crash scenes to the filing of formal charges. This includes collecting and preserving evidence from the traffic ways and vehicles, measuring, photographing, and taking statements from drivers, occupants, and witnesses. During the year 2013, the Unit handled 27 critical crashes, 76 fatalities, and 114 hit & run crashes involving injuries.
THU provides a 24-hour response to fatal, life threatening, and Miami-Dade Police Department owned or leased vehicle crashes. The Unit's normal hours of operation are from 6:00 a.m. to 10:00 p.m., seven days a week, and responds during all other times via call-out procedures.
For the State of Florida Crash Statistics visit http://www.hsmv.state.fl.us/reports/crash_facts.html or for the National Highway Traffic Safety Administration visit http://www.nhtsa.dot.gov/. For information on product recalls, technical service bulletins, consumer complaints, Air Bag switches, child passenger safety tips, and other auto safety issues and regulations visit the National Transportation Safety Board at http://www.ntsb.gov/.
To learn about the The Memorial Marker Program that was established to commemorate those who have died as a result of a vehicle related accident on Miami-Dade roadways, go to http://www.miamidade.gov/publicworks/memorial-markers.asp. Similarly, to learn about the The Memorial Marker Program that was established to commemorate those who have died as a result of a vehicle related accident on the State Highway System, go to http://www.dot.state.fl.us/statemaintenanceoffice/memorial%20markers.shtm.
Cold Case Squad
In the early 1980s, an ad-hoc squad composed of one sergeant and two detectives was put together to review the unsolved murder of a twelve-year-old female. The renewed investigation led to the arrest and conviction of two individuals responsible for the murder. As a result, this team then reviewed and closed several other unsolved homicides. A Miami Herald reporter wrote a series of articles covering the cases and referred to the squad as the "Cold Case Squad." The name was subsequently adopted by the Homicide Bureau.
Today, the Cold Case Squad reviews cases based on numerous factors. They explore new technology and resources, (i.e. DNA, fingerprint and informational databases, etc.) which might impact a renewed investigation. If the inquiry identifies new suspects, or strengthens the case against known subjects, the case is then reopened. The squad also assists other Bureau teams with police-involved shooting cases and other major death investigations. The Cold Case Squad aids other Departmental entities with high-profile cases when needed and lends it expertise to other law enforcement agencies.
The Cold Case Squad always welcomes the help of citizens. There are approximately 2,500 cold cases that remain unsolved, and if anyone has information pertaining to one of these cases, then there is a possibility a case can be solved. Below are links with information of some of the cold cases which remain unsolved. If you or anyone you know has information that can help bring justice to the families of these victims, please call Crime stoppers at 305-471-8477, or email the Homicide Bureau.
1960-1969 | 1970-1979 | 1980-1989 | 1990-1999 | 2000-2009 | 2010-present

South Florida Homicide Clearinghouse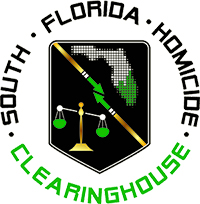 The continuing population explosion in South Florida, along with the creation of multiple municipalities fueled by community growth, has become a serious law enforcement challenge. A homicide subject could cross several neighboring boundaries to commit his criminal act. This creates an investigative obstacle, as the lead agency in the case could have to contact many jurisdictions to obtain information that might aid in the investigation. The South Florida Homicide Clearinghouse was established to serve as a centralized registry to identify the various trends and motives associated with homicide investigations. The South Florida Homicide Clearinghouse gathers and disseminates investigative leads and intelligence information to cooperating law enforcement agencies in an effort to support interaction and enhance the abilities of the agency conducting the case.
Law enforcement agencies wishing to be added to the SFHC distribution database or that would like to forward an item for dissemination should send an email requesting such to SFHC@mdpd.com. The message should include your name, agency, rank/title and must be sent from an official agency email account for consideration.
Associated Links:
Miami-Dade State Attorney's Office: works in conjunction with the Homicide Bureau in certain aspects of the investigative process and manages the prosecution of homicide cases.

Miami-Dade Medical Examiner Department: provides information regarding forensic pathology and the medical aspects of death investigations. Participates in the prosecution of homicide cases.

Miami-Dade Crime Stoppers: provides information regarding Wanted Subjects and coordinates public involvement to help solve crimes.

Back to Top
Page Last Edited: Fri Feb 7, 2014 11:47:04 AM
police
You are now leaving the official website of Miami-Dade County government. Please be aware that when you exit this site, you are no longer protected by our privacy or security policies. Miami-Dade County is not responsible for the content provided on linked sites. The provision of links to these external sites does not constitute an endorsement.

Please click 'OK' to be sent to the new site, or Click 'Cancel' to go back.