MSC Cruises announced today that PortMiami will be its exclusive homeport for its Caribbean sailings as of fall 2013 pending approval by the Miami-Dade Board of County Commissioners later this month.

MSC is the fastest growing cruise line operating a fleet of eleven cruise ships with its newest ship, the MSC Divina, scheduled to launch May 2012 featuring its ship-within-a-ship concept - the MSC Yacht Club.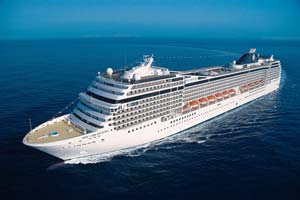 Beginning in fall 2013, MSC Cruises, which now homeports out of Port Everglades, will join the PortMiami cruise line-up. The initial term of the agreement is for three years.
"We are very excited to join the impressive roster of cruise lines operating out of PortMiami and look forward to sharing MSC Cruises' unique style of Mediterranean elegance, international cuisine and white-gloved service with more and more guests," said Richard E. Sasso, President and CEO of MSC Cruises (USA), Inc.
Miami-Dade Mayor Carlos A. Gimenez applauded the new business agreement and extended a warm welcome to Miami's new upscale Mediterranean cruise brand.
"MSC brings another prestigious cruise brand to PortMiami's distinctive line-up of ships," Gimenez said. "We are eager to welcome MSC to our Port."
PortMiami Director Bill Johnson said the new MSC service will strengthen Miami's offerings of luxury cruise brands. PortMiami, known worldwide as the Cruise Capital of the World, handled more than four million passengers in fiscal year 2011, more than any other cruise port in the world.
"For cruises to the Bahamas, Caribbean, Mexico and beyond, PortMiami is the port of choice for cruise vacationers -- with itineraries to meet every budget and taste," Johnson said. "MSC is a great addition to our line-up."
Miami-Dade County Commissioner Rebeca Sosa, who chairs the committee that oversees the Port, joined County Commission Chairman Joe A. Martinez in welcoming the international company to Miami-Dade County.
"We are grateful for MSC's commitment to Miami-Dade County and we look forward to rolling out the red carpet for MSC vessels and passengers," Commissioner Sosa said.
For additional information about MSC Cruises visit www.msccruisesusa.com.
About MSC Cruises
MSC Cruises is a privately-held, family-owned, Italian cruise line with a fleet of 11 ships: MSC Magnifica, MSC Splendida, MSC Fantasia, MSC Poesia, MSC Orchestra, MSC Musica, MSC Sinfonia, MSC Armonia, MSC Opera, MSC Lirica and MSC Melody. Its 12th ship, MSC Divina, a sister ship to MSC Fantasia and MSC Splendida, debuts in May of 2012 and features the exclusive MSC Yacht Club featuring Butler and concierge service along with complimentary wines and spirits. The fleet cruises year round in the Mediterranean and seasonally in Northern Europe, the Atlantic Ocean, the Caribbean, US and Canada, South America, the Indian Ocean, and South and West Africa.
About PortMiami
PortMiami is the busiest cruise port in the world, handling more than 4 million passengers in 2011. Miami is home to some of the world's most distinguished cruise lines with prices to fit all budgets and offering an array of exciting three and four day itineraries to the Caribbean, to much longer voyages to Central America, South America and Europe. For additional information, please visit PortMiami's website at www.miamidade.gov/portofmiami