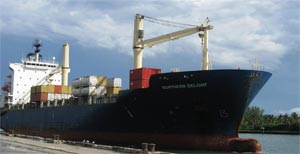 Mediterranean Shipping Company S.A. (MSC) of Geneva, Switzerland, the 2nd largest shipping line in the world with more than 430 cargo vessels worldwide, recently added PortMiami to a new weekly service to Central America and the Caribbean.
The new MSC Central America-Freeport Service will connect PortMiami with Puerto Santo Tomas De Castilla in Guatemala, Puerto Cortes in Honduras, Port of Jacksonville in the U.S., and Freeport in the Bahamas.
MSC South Florida Management is energized by the opportunity to call at PortMiami and be able to offer customers another great alternative for their shipping needs.
The first call for the Central America-Freeport Service arrived today at PortMiami with the vessel Northern Delight V. South Florida Container Terminal Miami will handle the new service at their PortMiami cargo yard.
About MSC
MSC provides an unparalleled service network via dedicated offices throughout the world and remains a truly independent and private company able to respond quickly to market changes and implement long term plans, without unnecessary interference or delay. With a streamlined management structure in Geneva, MSC has become a leading customer focused and cost effective global transportation solution for many shippers. MSC's South Florida office accounts for more than 40 employees and offers a full import/export customer service. For more information please contact 305-477-9277.
About PortMiami
PortMiami is among America's busiest ports and recognized across the globe with the dual distinction of being the Cruise Capital of the World and the Cargo Gateway of the Americas. PortMiami contributes more than $18 billion annually to the South Florida economy and helps provide more than 180,000 direct and indirect jobs. For more information please visit www.miamidade.gov/portmiami.