(Miami, Florida – December 6, 2012) Norwegian Cruise Line announced this week that Miami artist David "LEBO" Le Batard completed his commissioned work that will decorate the hull of the new Norwegian Getaway – launching from PortMiami in January 2014.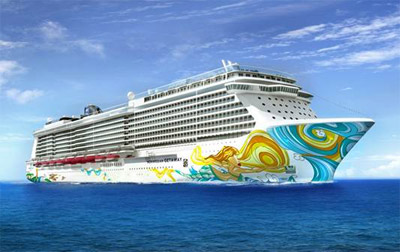 "Norwegian Getaway will be Miami's ship and, therefore, we wanted to ensure that her hull was designed by an artist with strong ties to Miami and the Latin community," said Kevin Sheehan, Norwegian Cruise Line's chief executive officer. "Having begun his career in South Florida, Dave is an artist that is entrenched here. His work adorns the city and I've learned that he is also a genuinely nice guy. He is a shining star in Miami, as well as the global art community."
PortMiami Director Bill Johnson is equally excited about the work. "Having a world renowned artist like LEBO create what is essentially a floating exhibition for a ship that calls Miami home has everyone at the Port very excited. We look forward to welcoming new passengers and sharing the beauty of the Getaway with the general public."
According to LEBO, Norwegian Getaway's hull art design is centered on a mythical mermaid, an iconic image that represents humanity's connection to the sea, and features her seemingly skimming across the surface of the water. Surrounding the mermaid is a fusion of sea and sky dancing across the ship, where three pelicans gracefully glide along in the artist's version of a tropical paradise. Says LEBO, "Having grown up in South Florida, the ocean has been an immense presence in my life and has been infused into my work as an artist. When I was asked to design the artwork for Norwegian Getaway, I saw an opportunity to create a prominent image, one that would surely help define the Miami seascape and illustrate the world-class experience that Norwegian Cruise Line has come to stand for."
Widely recognized for his work in a wide spectrum of creative mediums including murals, paintings and sculptures, LEBO (www.lebostudios.com) is known as the innovator of Post-modern Cartoon Expressionism, a movement that combines cartoon imagery with bold color and unique linear composition. LEBO's formal arts training began at Florida International University in Miami and further developed during his residency at the International Museum of Cartoon Art in Boca Raton, Florida. Inspired by his work on Norwegian Getaway, LEBO will be revealing his latest series of paintings, entitled "Where our souls meet the sea," during Art Basel week in Miami.
Currently being built at Meyer Werft in Germany, Norwegian Getaway will be Miami's largest year-round ship, weighing in at 146,600 gross tons, and will offer a wide range of accommodations. The ship represents an opportunity for the Norwegian guest to "get away" from the routine of work, school, and daily stress, and find a true respite at sea that reflects the energy and culture that Miami is known for worldwide. Norwegian Getaway will sail seven-day cruises from Miami to the Eastern Caribbean beginning on February 1, 2014, with ports of call including Philipsburg, St. Maarten; St. Thomas, U.S. Virgin Islands; and Nassau, Bahamas.
PortMiami is welcoming several new cruise lines and newbuild ships in 2012-2013 and the arrival of the Getaway in 2014 is an important piece of their expansion project.
About PortMiami
PortMiami is among America's busiest ports and recognized across the globe with the dual distinction of being the Cruise Capital of the World and the Cargo Gateway of the Americas. PortMiami contributes more than $18 billion annually to the South Florida economy and helps provide direct and indirect employment for more than 180,000.
About Norwegian Cruise Line
Norwegian Cruise Line is the innovator in cruise travel with a 46-year history of breaking the boundaries of traditional cruising, most notably with the introduction of Freestyle Cruising which revolutionized the industry by giving guests more freedom and flexibility. Today, Norwegian invites guests to "Cruise Like a Norwegian" on one of 11 purpose-built Freestyle Cruising ships, providing guests the opportunity to enjoy a relaxed cruise vacation on some of the newest and most contemporary ships at sea. For further information on Norwegian Cruise Line, visit www.ncl.com, follow us on Facebook, Twitter, and Instagram @Norwegiancruiseline, Pin us on Pinterest, watch us on YouTube, or contact us in the U.S. and Canada at 888-NCL-CRUISE (625-2784).