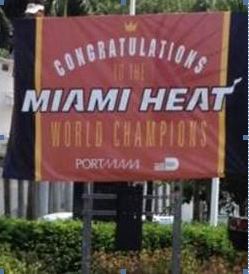 (MIAMI, June 21, 2013) - On Monday, June 24, 2013, at 11:00 a.m., the Miami Heat will host a celebratory parade on Biscayne Boulevard. PortMiami users should expect traffic delays beginning at 9:00 a.m.
The Port will remain fully operational, however at 11:15 a.m., for approximately 45 minutes, the Port's inbound and outbound traffic will stop to allow the passage of the parade caravan. During the parade:
Biscayne Boulevard will be closed North and South.
There will be a staging area at the bottom PortMiami's bridge inbound by Bayside, where representatives of the various cruise lines and shuttles will be staged to assist passengers that walk into the Port to cruise. Passengers are encouraged to contact the cruise lines for further information.
PortMiami is working in collaboration with the Miami-Dade Police Department, the City of Miami Police Department, U.S. Customs and Border Protection, and port partners to ensure the immediate restoration of regular operations beyond the passage of the parade.
CONGRATULATIONS MIAMI HEAT!!!!
About PortMiami
PortMiami is among America's busiest ports and recognized across the globe with the dual distinction of being the Cruise Capital of the World and the Cargo Gateway of the Americas. PortMiami contributes approximately $28 billion annually to the South Florida economy and helps provide direct and indirect employment for more than 207,000. For more information please visit www.miamidade.gov/portmiami.