Florida Attorney General Pam Bondi and Florida Agriculture Commissioner Adam Putnam tour PortMiami Tunnel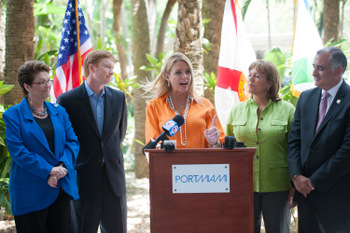 (Miami, Florida – August 21, 2013) The PortMiami Tunnel is now nearly 90 percent finished and on track for completion in May 2014, PortMiami officials told members of the State of Florida Cabinet who toured the tunnel yesterday to see progress of the massive construction project.
State of Florida Attorney General Pam Bondi and Florida Agriculture Commissioner Adam Putnam were in Miami to promote international trade and commerce and the Port's role as a powerful economic engine.
"It was great to see first-hand the tremendous progress being made at PortMiami, especially the new tunnel," said Attorney General Bondi. "These improvements will enable the Port to double its cargo by providing for faster and more efficient access to and from the Port. PortMiami currently contributes billions of dollars annually to local and state economies, and these improvements will allow the Port to continue to grow as the Cargo Gateway to the Americas."
"PortMiami is one of the largest and most important ports in this country and across the globe," Putnam said at a meeting also attended by Miami-Dade County Commission Chairwoman Rebeca Sosa and Vice-Chair Lynda Bell, who oversees the Commission's port committee.
"This port also has been a key player in exports for Florida's $100 billion agriculture industry, which has seen substantial growth over the past five years. I am proud to see the work being done to ensure the Port is ready to meet the needs of our state and carry Florida into the future," Putnam said.
The state officials toured the tunnel which will link PortMiami directly to the Florida Interstate Highway System. The public-private partnership project includes the following participants: the Florida Department of Transportation, Miami-Dade County, the City of Miami, and the private consortium managing the project, Miami Access Tunnel. The French company, Bouygues, S.A., is the prime contractor for construction.