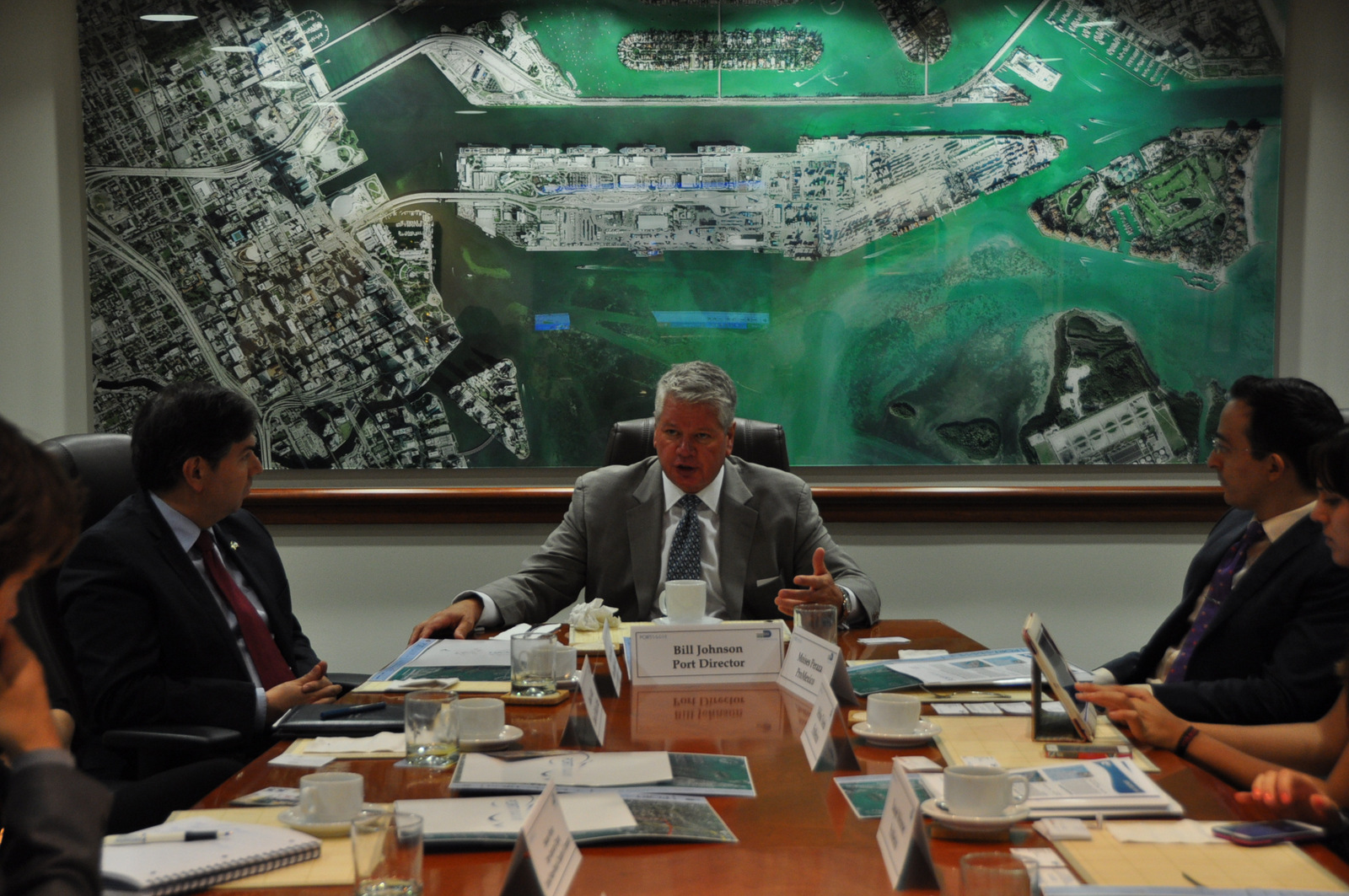 PortMiami Director Bill Johnson speaks to international trade representatives from across South Florida. To Johnson's right is Mexican Consul General, Francisco De La Lama.
(Miami, Florida – August 30, 2013) -- PortMiami hosted Mexican Consul General, Francisco De La Lama, and other important officials in Miami's international trade business Thursday morning at the Port. Other meeting attendees included, Pro Mexico Trade and Investment Commissioner, Moises Peraza Zaragoza, and Susanna Werner, President of the Inter-American Chamber of Commerce. The aim of the meeting was to discuss the development of a working relationship to expand bi-lateral trade between Mexico and PortMiami.
With its rapidly growing economy and proximity to Florida, Mexico is a key target market for PortMiami. "The expanding agricultural and manufacturing production in Southern Mexico makes it an attractive market for expanded trade for PortMiami," said Port Miami Director Bill Johnson. Miami's Mexican population makes up a significant portion of the entire Latino population and the market is ripe for imports and exports.
Joining in on Thursday's discussion were officials from Seaboard Marine and CGA-CGM, both of which have regular service between PortMiami and Mexico. Participants discussed examples of how shifting cargo shipments from the traditional land-route border crossing, to an all water route via Miami have saved importers thousands of dollars. Participants discussed how shipping containers across the Gulf of Mexico can provide a safer and more cost effective route for containers bound for Florida and the Southeast.
The group is committed to maintaining an open dialogue and expanding partnerships that will in turn promote new trade between Mexico and PortMiami. Says Johnson, "In the end it's about saving time, increasing efficiency and lowering cost for everyone."
About PortMiami
PortMiami is among America's busiest ports and recognized across the globe with the dual distinction of being the Cruise Capital of the World and the Cargo Gateway of the Americas. PortMiami contributes more than $27 billion annually to the South Florida economy and helps provide direct and indirect employment for more than 207,000. For more information please visit www.miamidade.gov/portmiami.