PortMiami's fumigation capacity increases to 6,000 pallets per day -- Faster is Fresher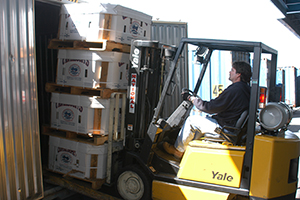 (MIAMI, January 7, 2014) – Following last summer's expansion of on-port fumigation facilities at PortMiami, the Port has announced that, beginning in January, they will be able to process up to 6,000 pallets of fruit and vegetables per day. The announcement comes just in time for harvest season in certain South American countries, such as Chile and Peru where table grapes and asparagus need to be fumigated to enter to the U.S. market.
When the increase began last August, PortMiami had the capacity to process 4,000 pallets per day, a significant improvement over the original 600 pallets. This new fumigation expansion will improve efficiency and delivery time, getting products to market faster and fresher.
"The expansion of PortMiami's fumigation capacity means that we will save exporters time and money, delivering a fresher, quality product to the American consumer," says Port Director Bill Johnson. "We are excited about this new service and the improved efficiency it will provide our customers."
PortMiami, perishables gateway to the Americas, is the closest U.S. port to the growing regions of Central and South America. The expanded fumigation program will enable the Port to process and distribute goods from these regions faster and more efficiently.

About PortMiami
PortMiami is among America's busiest ports and recognized across the globe with the dual distinction of being the Cruise Capital of the World and the Cargo Gateway of the Americas. PortMiami contributes more than $27 billion annually to the South Florida economy and helps provide direct and indirect employment for more than 207,000. For more information please visit www.miamidade.gov/portmiami.