PortMiami makes history - Historic Marker Unveiled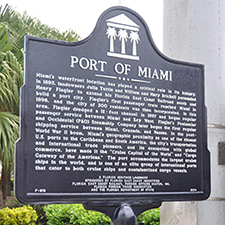 (MIAMI, September 4, 2014) – PortMiami unveiled the historical marker that will forever stand at the Port's entrance on Biscayne Boulevard, recognizing PortMiami's importance to the history, development and heritage of the State of Florida.
The ceremony was presided over by Arva Moore Parks, well-known Miami historian and historic preservationist, and was attended by several state and local officials including Ananth Prasad, Florida's Secretary of Transportation. Also in attendance was Julia Tuttle's great-great-great grandson, John Henriquez.
"PortMiami is very honored to receive this recognition," says Port Director Juan Kuryla. "The Port would not be what it is, where it is today without the great people who helped build it. From Julia Tuttle and Henry Flagler to modern day shippers, truckers, the International Longshoreman's Association, our cruise and cargo partners… The list goes on."
The Florida Heritage Marker program recognizes significant resources, persons, and events that played a role in the growth and development of the state. There are over 600 markers across the state, all designed to share Florida's rich cultural history and heritage with residents and visitors alike.
"For decades, PortMiami has played an enormous role in the economy and overall reputation of Miami-Dade County," says the Honorable Lynda Bell, Commissioner and Chairwoman of the Committee that oversees PortMiami. "Today's recognition is well-deserved and I look forward to many more years of growth and development for the Port."
PortMiami's marker is sponsored by Florida East Coast Industries, Florida East Coast Railway, the Foreign Affairs Center, the Florida Foreign Trade Association, and Florida's Department of State.


About PortMiami
PortMiami is among America's busiest ports and recognized across the globe with the dual distinction of being the Cruise Capital of the World and the Cargo Gateway of the Americas. PortMiami contributes more than $27 billion annually to the South Florida economy and helps provide direct and indirect employment for more than 207,000. For more information please visit www.miamidade.gov/portmiami.