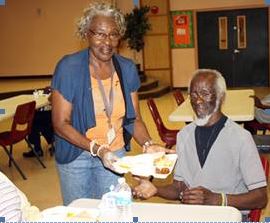 (MIAMI, June 10, 2013) – One of the fastest growing segments of our population are people 85-years-old and older. The fact is, we are living longer due to advances in medicine and a better quality of life. The Senior Companion Program offered by the Miami-Dade Community Action and Human Services Department (CAHSD) provides support to frail seniors by providing other more active seniors the opportunity to assist them in their homes, at senior centers or assisted living facilities.
The program is a benefit to both as it provides companionship and a sense of security to those who need it while giving more active seniors an opportunity to give back.
For more information about volunteer programs for the elderly, please call (786) 469-4600 or visit us on the web at www.miamidade.gov/socialservices.
It is the policy of Miami-Dade County to comply with all of the requirements of the Americans with Disabilities Act. For sign language interpreters, assistive listening devices or materials in accessible format, please contact the department at (786) 469-4682.