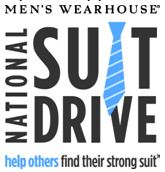 (MIAMI, July 18, 2013) – The Greater Miami Service Corps (GMSC) is partnering with Men's Wearhouse for the sixth annual National Suit Drive, the nation's largest collection of gently used business attire for men. Together, they are encouraging residents to donate their gently used business attire to help give a fresh start to disadvantaged youth and young adults.
Along with more than 150 other nonprofit organizations across the country, GMSC and National Suit Drive will distribute the items collected at the local Men's Wearhouse locations to program participant's, veteran's and community residents in need. Items being collected include men's and women's suits, shirts, jackets, ties, belts, and shoes. Residents may donate their gently used items now through July 31 at any local Men's Wearhouse location. Donations are tax deductible.
The GMSC provides educational and vocational training to youth and young adults ages 18-23. The program prepares young people to enter the workforce through education, work experience, internship, and job placement.
For more information about the Greater Miami Service Corps and the National Suit Drive visit www.miamidade.gov/socialservices or call (786) 469-4600.
It is the policy of Miami-Dade County to comply with all of the requirements of the Americans with Disabilities Act. For sign language interpreters, assistive listening devices or materials in accessible format, please contact the department at (786) 469-4682.