Community Action and Human Services Department Project Face teams up with MLK Mural to create Mural in Brownsville
(MIAMI, July 9, 2014) – Miami-Dade County Community Action and Human Services Department (CAHSD) Project FACE (Family and Child Empowerment) participants joined local community-based organization, Moving the Lives of Kids Community Mural Project (MLK Mural), to create a mural at Brownsville Middle School.
Project FACE is a family-oriented, community intervention program for children diverted from the juvenile justice system. Youth participants had the opportunity to collaborate with the professional artists of MLK Mural, a local non-profit committed to empowering youth through art education. Through the creation of the mural, the young artists learned about teamwork and community involvement, while developing respect for community history. MLK Mural will continue to partner with CAHSD at the Culmer Community Resource Center serving the Overtown neighborhood.
To learn more about MLK Mural, visit http://www.mlkmural.com/. For more information on CAHSD, visit www.miamidade.gov/socialservices or call (786) 469-4600.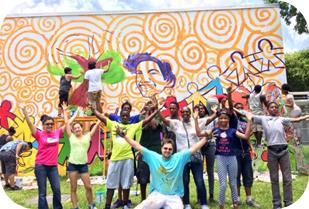 Project FACE participants join Edward Rawson and team of artists from MLK Mural