Last Visited »
Important Global Message
The Miami-Dade County Emergency Operations Center has been activated and is closely monitoring Erika. For any updates about County facilities and services, please visit: http://www.miamidade.gov/emergency
Mosquito Control
Miami-Dade County has a sub-tropical environment and is home to approximately 45 species of mosquitoes. However, a few create sufficient annoyance that require control measures. In addition to their annoyance, mosquitoes can also transmit diseases such as West Nile Virus, Dengue Fever, Encephalitis, Malaria and dog heartworm.
County residents experiencing a mosquito nuisance are encouraged to:
Resident complaints are serviced either by truck spraying, aerial spraying or by site inspections, depending upon the location and the season of the year.
Drain and Cover

Prevent the sting and spread of mosquitoes — Drain and Cover
Drain any standing sprinkler or rain water from outside the house, and learn other ways to keep water clean to avoid mosquitoes.
Cover your skin with socks, shoes, long pants and long sleeves when mosquitoes are active. Cover doors and windows with screens, and use repellent on bare skin.
Be a hero. Spill the water!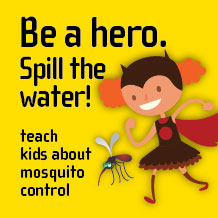 Don't let Florida's kids be a mosquito snack. Teach them to cover up and Spill the Water!
Mosquitoes are more than just an everyday nuisance, they can carry dangerous diseases like West Nile and Zika virus. As Florida's youth head outside to play this summer, we need to protect kids from mosquito bites by teaching them to cover their skin with long clothing and repellant and to Spill the Water! around their home.
Led by the Florida Department of Health, Spill the Water! is a fun, educational campaign that teaches kids about mosquitoes. Mosquitoes can breed in as little as one teaspoon or a bottle cap of water, so eliminating sources of standing water around homes is critical to keep mosquitoes from multiplying. When kids Spill the Water!, they can be superheroes in their home and community!
Spillthewater.com is full of great resources tailored to kids, parents and teachers including:
A 30-second superherp themed video just for kids;
Activity sheets for pre-k, elementary, middle and high school levels;
A Teacher Tool filled with brain teaser exercises that correspond to activity sheets and meet Florida Standards benchmarks;
Important information for parents about how to protect their kids from mosquitoes; and
Resources for young adults to volunteer to help Spill the Water! in their community.
Don't let Florida's kids be a mosquito snack. Teach them to cover up and Spill the Water! For more information and tips on how to protect yourself from mosquito bites, please visit www.FloridaHealth.gov.
Controlling Mosquitoes at Home
Protect yourself from mosquito bites and the diseases they can carry. Don't forget to drain and cover!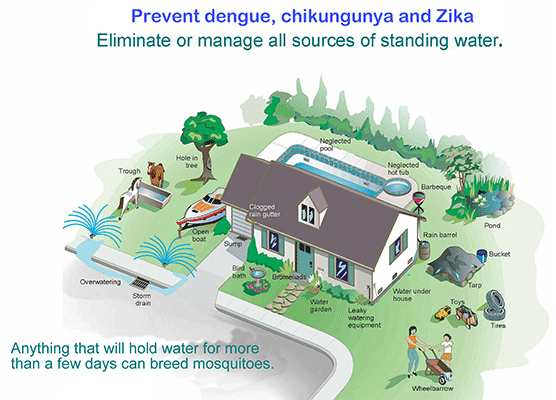 Site Inspections
Find out how site inspections can help you deal with your mosquito problem.
About the Mosquito Control Division
Since its creation in 1935, the goal of Miami-Dade County's Mosquito Control Division is to control the mosquito population using the most effective methods, techniques, equipment and insecticides, thus enhancing the quality of life for all residents and reducing the possibility of mosquito-transmitted disease.
Surveillance & Monitoring
Learn how Miami-Dade County stays on top of mosquito infestations through proactive monitoring.
Mosquito Bite Protection
If you cannot view PDF

files, you can download
Acrobat Reader
for free from Adobe Systems, Inc. In order to use PDF files, you must have Acrobat installed on your computer.
Back to Top
Page Last Edited: Tue Jul 12, 2016 3:53:32 PM
solidwaste
You are now leaving the official website of Miami-Dade County government. Please be aware that when you exit this site, you are no longer protected by our privacy or security policies. Miami-Dade County is not responsible for the content provided on linked sites. The provision of links to these external sites does not constitute an endorsement.

Please click 'OK' to be sent to the new site, or Click 'Cancel' to go back.