Last Visited »
Hurricane Irma
As we continue our recovery and cleanup efforts, please visit the Emergency website for the latest information on openings and closings in Miami-Dade County.
Residential Recycling
Miami-Dade County provides curbside recycling services to residents in the unincorporated areas of the County and residents in these 18 municipalities: Aventura, Cutler Bay, Doral, El Portal, Florida City, Medley, Miami Beach, Miami Gardens, Miami Lakes, Miami Springs, North Bay Village, Opa-locka, Palmetto Bay, Pinecrest, South Miami, Sunny Isles Beach, Virginia Gardens and West Miami.
Acceptable and unacceptable items for recycling
Items Allowed

Items Not Allowed

Paper Products
ex. newspapers, magazines, catalogs, telephone books, printer paper, copier paper, mail, all other office paper without wax liners
Garbage or other non-recyclable waste
ex. cylinders, tanks, rocks, dirt, building debris, flammables
Cardboard
ex. packing boxes, cereal boxes, gift boxes, corrugated cardboard; flatten all boxes prior to placing them in your cart
Batteries
ex. dry cell batteries, lead acid batteries

Plastic Containers (narrow-necks only)
ex. bottles, milk, water, detergent, soda and shampoo containers (flatten and replace cap)
*Only narrow-neck plastic containers (the opening of the container is smaller than the body)

Certain glass products
ex. window or auto glass, incandescent and fluorescent light bulbs, mirrors, glass cookware or bakeware, ceramics
Aseptic Containers
ex. polycoated drink boxes, juice cartons, milk cartons
Plastic bags, foam, trays and containers
Glass
ex. glass food & beverage containers (clear, brown and green)
Home chemicals
ex. paints, pesticides
Metals
ex. aluminum & steel food and beverage containers
Medical waste and pharmaceuticals
ex. syringes, plastic tubing, medicine bottles or containers

Electronic waste and accessories
ex. PCs, monitors, televisions, printer cartridges, keyboards, cell phones, CDs and DVDs
Other non-recyclables
ex. coat hangers, small appliances, microwave trays

Empty propane or oxygen tanks

Textiles
Donate used clothing, shoes and other apparel.
Back to Top
What about these items?
Plastic bags

Cannot be placed in recycling carts. Return them to your local retailer

Egg cartons; meat and vegetable foam trays; plastic clamshell trays

Cannot be placed in recycling carts. Return them to your local retailer

Garden hoses

Discard with your regular trash

Margarine and butter tubs; yogurt cups

Cannot be placed in recycling carts

Plastic cups, plates and utensils

Cannot be placed in recycling carts

Plastic hangers

Reuse or donate them to a local thrift store

Wire hangers

Return to a local drycleaner for reuse or recycling
Back to Top
Recycling cart guidelines
The curbside recycling program uses convenient "single-stream" recycling, which means you don't have to separate your recyclable materials. Every household receives one 65-gallon wheeled cart where you can place all of your recyclable materials together.
Just roll your recycling cart out to the curbside by 7 a.m. on your recycling day. Place your recycling cart within three feet of the street and at least five feet from mailboxes, parked cars or other obstacles. The wheels must face your home.
If you use a Miami-Dade recycling bin or other automated cart for garbage collection, be sure to leave at least five feet between the two carts. After collection, return your recycling cart to its storage place. The biggest advantages of our single-stream program are that you don't have to separate your recyclables and you can now recycle more types of paper products. Recycling has never been easier.
Back to Top
Ordering a new cart
To encourage increased participation in the single-stream curbside recycling program, the department is offering one additional recycling cart per household at no extra charge.
Increasing your household's recycling efforts helps save space in your waste cart and increases the amount of recyclables that can be turned into new products.
Back to Top
Damaged or stolen cart
If your recycling cart is damaged in the collection process, call 3-1-1 and the cart will be repaired or replaced.
If the cart has been stolen, call your police department's non-emergency phone number. (If you are serviced by the Miami-Dade Police Department -- meaning you live in unincorporated Miami-Dade, or in the towns of Cutler Bay, Miami Lakes or Palmetto Bay -- call 305-4-POLICE or file a non-emergency police report)
Obtain a case number, then contact 3-1-1 with that information for a free replacement.
If your cart is damaged because of misuse, modification or placement of unacceptable materials, you will be responsible for purchasing a replacement cart.
Back to Top
2017 Residential Recycling
Recycling is collected every other week on one of your garbage collection days for most customers; some municipal customers will be collected on Wednesdays. Look up your recycling day, or view the 2017 calendars in Adobe PDF

format:
Back to Top
Recycling tips
Make sure all recyclable material fits inside the blue recycling cart and the lid closes completely.

Do not place your recyclables inside plastic bags. Plastic bags damage the equipment at the recycling facility.

Do not stack items on top of or alongside your recycling cart. They can't and won't be collected.

Do not use the recycling cart for rocks, dirt, tile, construction and demolition debris, free-flowing liquids, flammables, automobile batteries, propane tanks or other home chemical waste.

If you are disabled or need assistance moving your recycling cart to the curb, you can apply for special assistance recycling service by calling 3-1-1.

If you move to a new residence, leave your recycling cart behind for use by the next resident.
Back to Top
If you cannot view PDF

files, you can download
Acrobat Reader
for free from Adobe Systems, Inc. In order to use PDF files, you must have Acrobat installed on your computer.
Page Last Edited: Mon Sep 18, 2017 9:57:51 AM
solidwaste
Receive Recycling Alerts
Sign up to receive an email reminder the night before your scheduled recycling pickup when you subscribe to miamidade.gov.
Recycling Pickup Days
Need to look up your recycling pickup day?
Ready, Set, Recycle!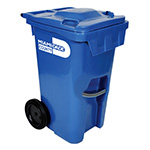 Play our game and sort as many items as you can in 30 seconds and keep your cart happy!
You are now leaving the official website of Miami-Dade County government. Please be aware that when you exit this site, you are no longer protected by our privacy or security policies. Miami-Dade County is not responsible for the content provided on linked sites. The provision of links to these external sites does not constitute an endorsement.

Please click 'OK' to be sent to the new site, or Click 'Cancel' to go back.