Last Visited »
Hurricane Irma
As we continue our recovery and cleanup efforts, please visit the Emergency website for the latest information on openings and closings in Miami-Dade County.
Miami-Dade Transit History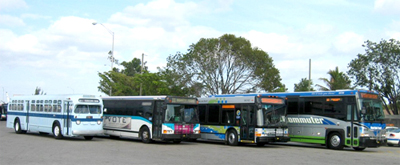 Photo courtesy of Motor Bus Society: Metrobus from 1960 to the present.
In 1960, the County Commission passed an ordinance to create the Metropolitan Transit Authority (MTA).
Over the years and under various administrations, MTA evolved into the Metro-Dade Transportation Administration, the Metro-Dade Transit Agency, the Miami-Dade* Transit Agency, and is now known simply as Miami-Dade Transit (MDT).
Today's MDT has a viable four-mode system Metrobus, Metrorail, Metromover, and Paratransit (STS)-used by nearly 300,000 passengers daily.
A 1997 election changed the name of the County from Dade to Miami-Dade
The Early Days
1873
Julia B. Tuttle purchased 40 acres of land north of the river to stimulate the growth of Miami.
1891
Julia B. Tuttle offered land for a town site to James E. Ingraham, president of the Florida Railroad, if he'd extend his railroad to Miami. Ingraham refused.
1895
After the big freeze in north Florida, Henry Flagler visited Miami to study the possibility of growing oranges here. Julia Tuttle offered Flagler land if he'd agree to extend his railroad to Miami. He accepted and a contract was signed.
1896
April 15: Flagler's Florida East Coast Railroad (FEC) passenger service was joyously welcomed to Miami.
1900
The first wagon road was pushed in the area now known as Coconut Grove.
1905
May: Three members of the Tatum family secured a street railway franchise.
1906
July 4: The Tatum brothers purchased the Miami Electric Railway Company.


July 25: A single car began running from the old FEC depot near Avenue B (now NE 2 Avenue) and 6th Street (now Flagler Street), down to Avenue B and 12th Street, then along 12th Street to the FEC crossing at the courthouse.
1907
September 3: Miami Electric Railway Co. closed for overhaul, never to reopen.
1914
The Miami Traction Company began laying new track.
1915
December 4: The Miami Traction Co. began service with "battery cars." Other bus service operators were spread around the county: Hialeah and northwest Miami were served by Winslow Bus Lines; Miami north and east of Flagler Street was served by Miami Transit Co., run by Freeman & Sons; south of Flagler Street into Coconut Grove was served by Dunn Bus Company.
1919
Carl Fisher and other investors formed the Miami Beach Electric Company and the Miami Beach Railway Co.
1920
Miami Beach Railway Co. began operating a single line linking downtown Miami and south Miami Beach via the County Causeway.
1921
Miami Traction Co. closed down after fire wiped out its fleet. The City of Miami agreed to buy the franchise of the defunct Miami Traction Co., ordering eight single-truck Birney streetcars. The city leased the operation to the Miami Beach Railway Co.
1925
Most of the jitneymen operating within Miami sold out to George B. Dunn who organized two companies: Dunn Bus Service Inc. (in the southern part of town) and Miami Transit Co. (on the northern side), with streetcars still serving the central area.
1926
The first solid-tire buses saw service on both sides of Biscayne Bay after Florida Power and Light acquired Carl Fisher's causeway trolley line and contracted with Miami for trolley and bus service on the mainland.


May: The first Coral Gables rapid transit cars operated from downtown Miami to Ponce de Leon Boulevard in Coral Gables via Coral Way.
Back to Top
1930s to 1960s
1933
George B. Dunn made a proposal to the City of Miami Beach to operate the local streetcar lines.
1935
The Coral Gables high-speed service had lasted nine years. Damage to electric overhead power lines during the storm of 1935 was so extensive that the line was permanently shut down and the City of Coral Gables went to an all-bus system.
1937
Voters rejected a ballot which attempted to unify all transit services in Miami except the jitneys.
1939
A second attempt to have the public approve a new unified transit franchise was successful.


October 17: Miami Beach Railway abandoned its three streetcars in favor of 15 new "twins." This company continued as a subsidiary of Florida Power and Light until it was sold to William D. Pawley in 1941. Miami Beach became a military training base during World War II.

Miami discontinued using its streetcars. The city granted an exclusive franchise to Miami Transit Company.
1940
November 14: George B. Dunn, using the name Miami Transit Co., took over the city-owned lines and merged Dunn Bus Service into the combined operation, resulting in a fleet of 208 buses (half of them new Macks) covering 193 route miles.

November 16: Miami's trolley cars rolled for the last time.
1941
Miami Beach Railway was purchased by William D. Pawley, thus increasing the local bus fleet from 18 to 43 buses.
1948
Pawley bought Miami Transit Company upon the death of George Dunn, taking the significant step toward solving some of Greater Miami's transportation problems.
1956
Pawley bought South Miami Coach Line and the Keys Transit Company.
1957
July 21: The Metropolitan Dade County government was officially established.
1959
The County Commission tried to purchase the bus system for the first time. The plan was dropped because of the high cost.
1960
The County Commission passed an ordinance creating the Metropolitan Transit Authority (MTA) to unify the different transit operations into one countywide service. This ordinance provided for the purchase, development, and operation of an adequate mass transit system by the County. These companies included the Miami Transit Company, Miami Beach Railway Company, South Miami Coach Lines, and Keys Transit Company on Key Biscayne and would be managed by National City Management Co.
1962
January 28: Bus operators opposed to a Dade County takeover of bus operations began a work stoppage protest.

February 9: Bus operators began returning to work. Dade County purchased Pawley properties. Buses began operating under Metro Transit Authority.

May: citizens of Dade County approved, by more than a two to one margin, the validity of the $9 million Revenue Bond Issue to finance a unified County transit system.
1964
The Miami Urban Area Transportation Study (MUATS) began with a feasibility study on transit for Dade County.
1969
Construction of the Central Division complex was completed at 3300 NW 32 Avenue, consolidating four separate garage facilities and the administrative offices of the Metro Transit Authority into one unit.
As population reached 800,000, the first stage of MUATS concluded that rapid transit would indeed be feasible and desirable for Dade County.
Back to Top
1970s
1970
May: MTA removed all fare boxes from bus vehicles and instituted an "exact change" policy.
1971
The first MUATS studies recommended an $800 million rapid transit system, and public hearings on the entire transportation plan began.
1972
For the first time in its history, MTA received a subsidy derived from the seven-cent gas tax revenues as a result of action by the state legislature during the previous year. Prior to this, MTA operated solely on fare-box revenues.

The voters of Dade County approved, by a two to one margin, a $132.5 million "Decade of Progress" bond issue to provide the local share for rapid transit construction plus expanded bus service to support the system.
1973
Seventy-four Flexible buses were purchased.

John A. Dyer was appointed Transportation Coordinator for Metropolitan Dade County's Office of Transportation Administration (OTA).
1974
October 1: The Metro Transit Authority was dissolved and National City Management Co. was dismissed, resulting in Dade County taking control of the bus system. The new county department was to be known as the Metro Transit Agency.

Residents of Dade County strongly opposed the planned study for construction of six new expressways. These plans were later dropped from the transportation plan.
1975
August 31: The Coral Gables Transit System merged with Dade County as part of the Metro Transit Agency.
1976
MTA purchased 140 AM General buses.

Preliminary engineering of a rapid transit system was completed.

The United States Department of Transportation (USDOT) made a commitment in principle to pay 80% of the costs for construction of the Stage I Rapid Transit System.

April: The Urban Mass Transportation Administration (UMTA) announced a nationwide competition for funding downtown people movers (DPM) in urban areas. More than 65 cities expressed interest; eleven, including Dade County, were selected as finalists.

December: Dade County received conditional approval to pursue its DPM plan based on reprogramming $24 million from approved Metrorail funds to the people mover project.
1977
Dade County's population reached over 1.4 million. The Urban Mass Transportation Administration (UMTA) of USDOT officially committed $575 million to cover its 80% share of construction costs for Stage I, 16.5 miles of track running from Dadeland to NW 67 Street.

The State of Florida and Dade County agree to split the remaining 20% of construction costs. The Florida legislature appropriated $2.1 million as part of a total state commitment of $72 million.

UMTA authorized the final engineering for an additional 4 mile segment to Hialeah.

Dade County officials requested an additional $57 million from UMTA for the four-mile extension to Hialeah, which agreed to add a $2 million contribution from the city.

Late in the year, a group of citizens petitioned the County Commission for a referendum to stop all further spending on the rapid transit system. The issue was put on the ballot for March 1978.

December: UMTA administrator, Richard S. Page, reaffirmed UMTA's commitment to the Miami-Dade County DPM project.
1978
January: MTA's North Division, 5901 NW 27 Avenue, opened with service capability for 100 buses.

MTA initiated two-way radio communications aboard all buses.

Thirty Flexible buses were purchased.

The first of 30 RICO 20-seat minibuses were purchased.

March: After a hard-fought campaign, the citizens of Dade County reaffirmed their desire for a balanced transportation system by voting down an attempt to repeal the bonds approved in 1972.

May: UMTA approved funds for preliminary engineering, and a request for proposals was distributed.

July: County Commissioners approved a Transportation Master Plan for the year 2000, which included eventual extensions of the rapid transit lines northeast to 193rd Street near the Broward County line, south to Cutler Ridge, and west to the Midway Mall area with a link to Miami International Airport.

October: The Board of County Commissioners approved the award of contracts for preliminary engineering to Gannet Fleming/SKBB, a joint venture of Gannet Fleming Corddry & Carpenter Inc. of Harrisburg, Pennsylvania and SKBB of Coral Gables.

October: MTA's South Division, 10830 SW 211 Street, began operation with service capability for 100 buses.
1979
January: The Board of County Commissioners created the Downtown People Mover Policy Committee (DPMPC) to aid in the decision-making necessary during preliminary engineering. Included were representatives of interested public bodies (Dade County, the City of Miami, Downtown Development Authority), private organizations (Greater Miami Chamber of Commerce, Downtown Merchants Association), civic organizations, and the general public.

March: The full system DPM alignment was adopted after a public hearing held jointly by the Metro-Dade Board of County Commissioners and the City of Miami Commission.

April: An agreement between Dade County and the Florida East Coast Railroad for transference of 9.5 miles of the right-of-way for Metrorail's south line was ratified by the Interstate Commerce Commission, and FEC began removal of the tracks.

May: UMTA committed $19.2 million in federal funds to the DPM project.

June: Stage I of the DPM system, with an estimated cost of $76 million, and a change in the Miami River crossing were approved at another joint public hearing.

June: Groundbreaking for the Stage I system was held at the site of the University Station. The system would be known as Metrorail, and would feature 17 stations initially, with two more to be added with the extension to Hialeah.
Back to Top
1980s
1980
The first of 260 General Motors RTS II buses began operating on the streets of Dade County.

In January, work on the University Station substructure was completed, making way for work to begin on the station itself.

January: Construction began on the Northwest 27th Avenue Modification Project, which was aimed at removing the underground storm sewer system to accommodate Metrorail support footings.

April: In a letter to Metro-Dade County, UMTA advised that it would commit $50 million to the DPM project subject to future congressional authorizations.

May: Metro-Dade County received a written Full Funding Agreement from UMTA to provide 80% of the remaining construction cost for Metrorail, a first for a rapid rail project.

August: Preliminary engineering of the Stage I downtown loop was completed.

August: The first Metrorail girder was poured at the R.T. Joint Venture site in northwest Dade County.

September: Requests for proposals to complete the final design and construct the Stage I DPM system were distributed. Funds were received to proceed with preliminary engineering on Stage II of the system.

October: The Federal Highway Administration (FHWA) presented a letter of approval to use $32.9 million in federal interstate funds for the extension of the existing HOV (High Occupancy Vehicle) or carpool lanes from I-95 to State Road 112, tying into the Allapattah and Earlington Heights Metrorail stations. The project also covered costs for additional parking at the two stations and street modifications to handle increased traffic.

November: Proposals were received from DPM system suppliers, including Westinghouse, UTDC, Matra-Otis, and Titan PRT Systems Inc.

November: The final Environmental Impact Statement was approved by UMTA.


December: The first double-tee girder is placed atop two piers at University Station. The $55,887,830 contract for girder construction and installation was awarded to R.T. Joint Venture.
1983
February: The first Metrorail vehicle arrived at the Palmetto Yard and Shops from Pueblo, Colorado.

May 2: South Miami Station was dedicated, and the general public is given its first opportunity to ride Metrorail.

June: The Metrorail bridge over the Miami River was completed. The rapid transit guideway was now a continuous ribbon of concrete from the Dadeland South Station to just north of the Overtown Station.

June: The Metro-Dade Transportation Administration (MDTA, formerly DCTA) approved the award of a $23,747,000 contract to Perini Construction Inc. of Framingham, Massachusetts to build the guideway for the 1.9 miles of elevated double-guideway for Metromover.

July 15: Douglas Road Metrorail station was dedicated.

August 26: Dadeland North Metrorail station was dedicated.

September 16: University and Dadeland South Metrorail stations were dedicated.

October 21: The Palmetto Yard and Shops was dedicated. The facility was renamed the William Lehman Operations and Maintenance Center in honor of the Florida Congressman. The $21.7 million maintenance garage was built by Frank J. Rooney Inc. of Ft. Lauderdale, Florida. Site work of the $14 million track work and related material was performed by Paul N. Howard Inc.

December 2: Coconut Grove and Vizcaya Metrorail stations were dedicated.
1984
February 10: Brickell Metrorail station was dedicated.

April 10: Metrorail's girder #2,704 was hoisted into place at the Northside Station, marking the end of girder installation in the 21-mile Phase I Metrorail system.

March: The first six maintenance technicians were hired.

May 18: Overtown Metrorail station was dedicated.

May 20: Government Center Station was officially dedicated, and Metrorail begins south-line service to ten stations from Dadeland South to Overtown Station. Rides were free to the public for the day. Over 125,000 participated in the opening-day event and rode the new system. Metrorail began operations in the Automatic Train Protection (ATP) mode. Commemorative booklet.

May 21: Metrorail starts revenue service. Regular fare--$1; reduced fare--$.50 (during off-peak hours for senior citizens, people with disabilities, and youth in grades 1-12).

May 29: The 33,500-square foot Metromover maintenance building was dedicated.

June: The first completed vehicle was delivered to the Metromover maintenance building for use in hands-on training of maintenance technicians.

August 25: Culmer and Hialeah Metrorail stations were dedicated.

November 7: William A. Smith Construction Co. placed the 368,000th and last rail fastener in the 21-mile, Stage I Metrorail system.

The event was marked with a "Golden Spike" ceremony at the Allapattah Metrorail station. The total contract for rail placement was $45 million.

November 19: Allapattah Metrorail station was dedicated.

December 7: Civic Center and Santa Clara Metrorail stations were dedicated.

December 15: Earlington Heights Metrorail station was dedicated.

December 17: Metrorail service was extended north to Earlington Heights station.
1985
January 15: The Dr. Martin Luther King Jr. Plaza station was dedicated.

January 28: Okeechobee Station was dedicated.

March: Metromover initiated system verification and demonstration testing.

March 23: Brownsville Station was dedicated.

March 30: Northside Station was dedicated.

May 1: Metrorail began a "Bikes on Train" program, a six-month demonstration allowing riders to bring their bicycles on the trains during limited hours on weekends only. A permit was required.

May 19: Service is extended to the final five Metrorail stations, thus completing service between Dadeland South and Okeechobee.

June: The consulting firm of Schimpler-Corradino and Associates was retained by MDTA to propose recommendations and to coordinate the planning and research for Network 86, a comprehensive public transportation improvement program. Network 86 would integrate, simplify, and consolidate local transit service to make it more cost effective for all Dade County citizens.

June: MDTA began leasing bicycle lockers for the convenience of commuters.

July 1: MDTA created the Metropass Corporate Group Discount Program. Corporations and organizations were given the opportunity to purchase quantities of the All-Transit Metropass in advance at discount prices.

August: Joseph M. Fletcher was named MDTA executive director.

August: Public meetings were held in all areas of Dade to determine the impact that changes recommended for Network '86 would have on the community. A formal public hearing was held Tuesday, November 19, at the new Metro-Dade Commission Chambers.

September 5: Groundbreaking for the Dr. Martin Luther King, Jr. $6.8 million, 1,000-space parking garage took place. Construction was awarded to 3W Corporation.

September 15: A special ribbon-cutting ceremony was held to inaugurate the opening of the Vizcaya Metrorail station pedestrian overpass. The overpass, an $859,000 structure, was built by Ebsary Foundation Inc.

October: The Bikes-on-Train program was extended for an additional 12 months to include weekdays from 10 a.m. to 4 p.m. and after 6:30 p.m., and all day Saturday, Sunday, and major holidays.

November: MDTA began to electrify the north line in preparation for pre-revenue testing.

December: Twenty-five National minibuses were delivered. Fifteen of the $42,000, 19-seat passenger buses were used to replace the RICO buses, providing service on the Venetian Causeway. Ten $47,000 buses equipped with wheelchair lifts were assigned to the Special Transportation Services office to transport riders with disabilities.

December 1: The first phase of Network'86 was implemented.

December 9: Metrorail started Automatic Train Operations (ATO). In this mode, train operation is run by computers. The operator's function includes monitoring the train control board, starting train movement, and assisting riders.

December 18: The Northeast Division, 360 N.E. 185 Street, was dedicated, marking the start of operations from this facility with capacity for 159 buses that serve the north, east, and west parts of Dade. Additionally, the Northeast Division is equipped to handle articulated buses scheduled for purchase in the future.

December 29: MDTA activates Central Control, located on the fifth floor of the new Metro-Dade Government Center. From Central Control, rail traffic attendants can command train movement, rail electrification, communications (two-way radios, telephone, and emergency lines with police and fire departments), track switching, and monitor security at stations using a sophisticated television system.
1986
January: The Board of County Commissioners approved creation of a "Blue Ribbon Transportation Task Force" to study the existing transit system in depth and develop recommendations for improvements in administrative procedures and operations.

March 18: MDTA received shipment of Metrorail vehicles 235 and 236, the last two to arrive at the William Lehman Maintenance Facility. The last vehicle, #236, was off-loaded at 10:25 a.m.

April 6: MDTA takes over Metromover operations from Westinghouse and starts providing preview tours.

April 17: Metromover and the new Metro-Dade Government Center building are officially dedicated. Metromover rides are free until April 20.

April 21: Metromover started revenue operations (fare - $.25) providing service to nine stations in downtown Miami, covering a 1.9 mile double loop.

June 15: The second phase of Network'86 was implemented with the new fare policy.

October 28: The Metro-Dade Transportation Administration is renamed the Metro-Dade Transit Agency.
1988
MDTA implements a $1 parking fee at all Metrorail stations, and increased the cost of a monthly pass to $50. This results in increased MDTA revenues by $5 million.
Nov: Newly-elected County Commissioner Charles Dusseau proposes that Metrorail extend its service hours until midnight, seven days a week, to take effect November 27. The Board of County Commissioners approve the recommendation. (Previously, Metrorail operated from 6 a.m. to 9 p.m., Monday through Friday, and 6 a.m. to 6 p.m. weekends and holidays.)
1989
February: Metrorail ridership reaches 40,000 per day for the first time.

March: Metrorail unofficially adds its 21st station to the system when the Tri-Rail Station opens for passenger service. The official opening of this station, which connects Metrorail with the Tri-County Commuter Rail service, is set for June.

May: Metrorail celebrated its 40 millionth rider. Also, MDTA opened its first Transit Service Center at Government Center Station on May 17. Mayor Stephen P. Clark cut the ribbon to open the Center, and Commissioner Charles Dusseau joined Mayor Clark in the ceremony.

June 5: Dade County officially dedicated the Tri-Rail Metrorail station. Dade County Mayor Stephen P. Clark, joined by Congressman William Lehman and Dade County Commissioner Charles Dusseau, unveiled the plaque marking the station's official opening.

July: Chester "Ed" Colby was appointed director of Metro-Dade Transit by County Manager Joaquín Aviño. He joined MDTA after serving in a similar capacity in Denver, Colorado.

December: Wackenhut Security Corporation replaces North Dade Security as the agency providing security services for Metrorail and Metromover. All of the Wackenhut officers are police/military trained and are armed. They are positioned at all Metrorail stations and patrol the Metromover stations.
Back to Top
1990s
1990
MDTA creates a 30-year plan to expand transit service in Dade County. Highlights of the plan include: adding 20% more bus service; upgrading the fleet and improving access for the disabled with wheelchair accessible buses; and expanding Metrorail service an additional 39 miles. Implementation of the plan depended on securing a dedicated source of funding for transit.


March: MDTA began operating its first Anti-Truancy Unit in conjunction with Metro-Dade Police. The unit was created to reduce the number of school kids who were skipping school and roaming the Metrorail/Metromover system.


May: Metrobus on-time performance improved by 10% in late bus departures, from 49% to 59%.


May: The last of 73 new buses were delivered; training on wheelchair lifts begins for mechanics and operators.


May: The consultant for the design of the Brickell extension of Metromover was directed to proceed with a final design which includes Riverwalk Station and placement of two piers in the river outside the navigable channel. The Coast Guard permitting process continues.


June: Due to increased passenger use of the Tri-Rail Metrorail station, three additional fare gates were installed at the station. From July 1989 to June 1990, boardings at the station have increased by 5% per month.


June: A significant, comprehensive transportation funding package, including specific funding earmarked for public transit operations and transportation disadvantaged programs, was approved during the legislative session; Dade County was scheduled to receive additional funding from this package.

July 4: Metrorail ridership was 36,200, up 62% from the previous year. Service ran on a regular Sunday schedule.


July: County losses to privately-owned minibuses exceeded $100,000 per month. New state legislation and a County ordinance enabled the County to regulate these services.


July: The privately-owned Mayflower Contract Services successfully initiated bus service on several routes under a new County contract. The services included Kendall Area Transit (KAT), route 6 weekdays, and routes 71, E, and the weekend Zoobus.


August: MDTA officially broke ground for construction of the new $17 million Dadeland North Metrorail parking garage. This facility would be built where the former bus bays were located, would stand 10 stories high, and would provide approximately 2,000 new spaces. The project was expected to open in August 1992.


November 6: By a margin of 4%, citizens of Dade County vote "No" to a penny sales tax to fund transit, police, courts, jails, and public works.


November: Weekday Metrorail boardings averaged 50,300, up from 48,400 in October. This represented a new high in ridership.


November: KAT ridership approached 2,000 rides per day, up from a peak of 1,700. This was attributed to Mayflower's new minibus fleet and greater service reliability.


December: Metrorail carried over 101,000 passengers for the annual King Orange Jamboree Parade in downtown Miami. This marked the highest single-day total in the system's history.
1991
January 1: There were 101,000 Metrorail boardings and 43,600 Metromover boardings on New Year's Eve, the largest number of riders ever for a single event during revenue service.


All bids were rejected for construction of the Metromover Brickell extension stations and guideway. New bids were submitted.


The Greater Miami Chamber of Commerce and Metro-Dade County began the effort for successful reauthorization of the federal Surface Transportation Act.


January 6: Budgetary constraints and failure of the penny sales tax referendum result in cuts of 500,000 annual bus miles; a staff reduction from 30 to 9 officers in the Transit Police section; a decrease in Metrorail landscape maintenance; and an increase of the base fare from $1 to $1.25.


January: The apparent low bidder for the Metromover Brickell extension guideway construction contract was O.C.T. with a bid of $24,496,165; the engineer's estimate was $28,340,000. The apparent low bidder for the Metromover Brickell extension stations construction contract was Codina Cogefarimpresit U.S.A. Ltd. with a bid of $12,796,331; the engineer's estimate was $16,200,000.


January: For FY 91, Metro-Dade County was awarded $14,832,737 in Section 9 federal funds for operating assistance, design of a rail storage facility, a new bus radio system, and associated capital maintenance items.


February: Communication continues with federal officials regarding Congressional reauthorization of mass transit funding; specific issues include the need for operating assistance and rail modernization funds.


February: A new Bus Shelter Initiative Program began with a ribbon-cutting ceremony at a newly installed shelter in front of the Economic Opportunity Family Health Center on NW 54 / Street 22 Avenue.


February: The City of South Miami agreed to the County's construction plans for a five-level South Miami Metrorail station parking garage extension.


March: The South Miami Metrorail station parking garage extension contract was awarded to C.G. Chase Construction Co.


March: The Omni Metromover extension guideway and stations contracts were awarded to Recchi America Inc. and ICA/Florida Roads Inc., respectively.


March 4: A Notice to Proceed was issued to the Brickell Metromover extension guideway and stations contractors with construction scheduled to take 560 days.


March 10: Metrobus transported 26,214 passengers to and from the annual Calle Ocho festival from three Park & Ride lots, up from the 15,482 transported last year.


April: The Adopt-A-Station program is launched to encourage established groups to spruce up Metrorail stations by removing litter and beautifying landscaped areas.


May: Metrobus route 77 was repackaged as Super 77 to challenge the jitneys operating illegally along the route 77 alignment. The fare was lowered to $.75, and buses arrived every 10 minutes. As a result, jitney business dropped 30%, and route 77 ridership increased by 2,000.


November: Special Transportation Services ridership averaged 1,700, increasing by 6.25% from the previous month and by 30.77% from the previous year.
1992
A metro mini-library and a Metropass sales outlet open at Civic Center Metrorail station.


Metro-Dade County is in line to receive $24.6 million in federal funds for transit projects.


A South Dade Transitway was proposed by State Representative John Cosgrove. The Transitway, exclusive lanes for buses, would connect riders from as far south as Florida City with Metrorail at Dadeland South Station.


County Commissioner Charles Dusseau proposed using airport landing fees as local matching funds for an east/west corridor project to provide a transit connection between Miami International Airport (MIA) and the Port of Miami (seaport).


The Metropolitan Planning Organization (MPO) released a report proposing an Airport Multimodal Facility combining bus, Metrorail, Tri-Rail (a tri-county commuter service),Amtrak, high-speed rail, car rental services, auto pick-up/drop-off areas, and parking.


Token/change dispensers were installed at all rail stations.


Limited-stop MAX (Metro Area Express) bus service began on NW 27 Avenue, Biscayne Boulevard, and Coral Way.


Metromover Brickell extension construction crossed the Miami River. All 15 vehicles for the Metromover Omni and Brickell extensions arrive.


August: Hurricane Andrew, called the worst natural disaster ever to strike this nation, devastated south Dade County. Regular bus service was suspended countywide Sunday evening, August 23, and the vehicles were used to evacuate thousands of residents to designated Red Cross shelters. The hurricane hit on August 24.
1993
March: Flagler MAX (Metro Area Express), a limited-stop bus route, began peak-hour service between Miami Beach and west Dade County.


March: The second regularly scheduled APTA Rail Safety Audit was completed; all areas were in compliance with the Agency's System Safety Program plan.


May: Metromover's outer loop reopened after a 90-day shutdown for testing tie-ends to the extensions. Mechanical acceptance and electrical testing of the new Metromover vehicles continued.


June: Fifteen new Flexible buses went into revenue service.


June: The low bid for 104 new articulated buses for $35,720,074 came from American Ikarus, Ltd. Each articulated bus seats 63 passengers.


June: The first APTA International Rail Roadeo was held at Lehman Center with contestants from six transit properties.


June: AEG Westinghouse connected permanent power to all Brickell Metromover extension stations.


July: MDTA developed several options to contract out certain bus routes to jitney operators. These options were to provide continued transit service for south Dade communities when FEMA monies expired, at no cost to the County.


July: Plans were completed to begin Special Transportation Service (STS) expansion to mirror fixed-route schedules; new hours were 4:30 a.m. to 2:30 a.m. the following day.


August: The first powered vehicle for the completed Brickell Metromover extension system crossed over the Miami River under manual control. Vehicles were scheduled to make the same trip under automatic control by October.


September: Danny Alvarez was appointed Deputy Director of MDTA.


September: FEMA funding ended, and full fares were resumed on south Dade bus routes; County-approved private minibuses began operating on seven south Dade routes.


September: A Notice to Proceed was issued to COMSIS Corp., the selected STS broker.


October: The Agency closed FY 93 with a $50,000 operating fund surplus.
1994
February: MDTA initiates the Black History Month tours featuring historical sites in the black community.


According to a survey released by the American Public Transit Association (APTA), MDTA tied for first place with Phoenix, Arizona as the agency with the highest ridership increase from 1991 to 1992. Both agencies recorded a 3.1% overall ridership increase during that time.


May 26: The Brickell and Omni Metromover extensions open for service to capacity crowds, on time and under budget.
1995
May: The new 800 MHz radio/tracking system for the 800 MHz AVL/AVM project was successfully tested on Metrobuses.


June: MDTA received the highly coveted 1995 National Association of Counties Achievement award and the prestigious 1995 Multicultural Diversity award for its Black History Tours project. The Tours were also featured in "Modern Maturity Magazine."


August: The Special Transportation Services base fare increased from $2 to $2.50 plus applicable transfer fees.


September: Florida DOT turned over the Metrorail extension to the Palmetto Expressway project to the County.


September: Metrorail's daily parking fee increased from $1 to $2 and the monthly parking permit fee from $2 to $5.


October: A demonstration program was proposed to dedicate space for advertising on transit publications.


November: Fiscal Year 1996 federal transit appropriations included: $2,536,010 for fixed guideway modifications; $1,975,961 for North Corridor new-start funds; $9,925,000 for bus acquisition; and $25,707,774 for capital and operating grants.


November: The MPO adopted NW 27 Avenue as the locally preferred alternative for the North Transportation Corridor expansion of Metrorail.


November: The Board of County Commissioners rejected all bids for construction of the Herald Plaza Metromover station; staff began evaluating construction documents to find possible reductions to estimated costs.


December: The first parking receipt machines were installed at Okeechobee Metrorail station. The machines provide parking receipts for rail riders.


December: The Board of County Commissioners authorized a demonstration project for the sale of advertising on transit publications, fare media, and bus-stop display spaces.
1996
April: "Bus Service Update" brochures were released in English and Spanish for the first time since the County commission repealed the English-only ordinance.


June: STS Free-Fare Pilot Program ridership was analyzed through May 1996. Under this program, certified STS riders could opt to ride free on Metrobus, Metrorail, and Metromover by showing their ID card to the bus operator or rail security officer. There was no loss of STS certification. STS ridership continued to decrease by 4.74% when compared to FY 94-95 data.


July: Bike racks were installed on the front of 30 Metrobuses serving the south Dade area.


August 17: After a 78-day shutdown during repairs to the adjacent Congress Building, Metromover's inner loop reopened for service. A protective netting was installed on the Congress Building to shield the Metromover system from any potential falling debris.


August: The preliminary design for the Metrorail extension to the Palmetto Expressway was presented to the Transportation Aesthetics Review Committee which granted tentative approval of the design, pending a follow-up presentation to include proposed landscaping, lighting, and surface treatments.


September: The "Bike and Ride Program" began in mid-September.


September: MDTA tested a low-floor coach to determine if this type of bus was suitable for operation in Dade County. Low-floor coaches have only one step and ramps, instead of wheelchair lifts, and are easier for people with disabilities to use.


September: The Federal Transit Administration gave written approval for the Draft Environmental Impact Statement and Preliminary Engineering for the North Corridor.
1997
February 3: The South Dade Transitway, an exclusive roadway for buses, opened for service. Dedication ceremonies were held on February 2.


June: Ridership on the South Dade Transitway continues to increase. The 11,199 May ridership figure was 163% above the previously projected 4000-plus riders.


September: MDTA director Chester "Ed" Colby resigns. Danny Alvarez, deputy director for administration, was appointed acting director by the county manager.
1998
March: Fifty buses purchased from North American Bus Industries arrive. They will be painted in the new design and teal, royal blue, and fuchsia colors and placed in revenue service. As older buses are pulled for rehabilitation, they will be repainted with the new design and colors.


September: MDTA's first low-floor bus makes its debut in downtown Miami in front of the Stephen P. Clark Government Center building. The bus is state-of-the-art with Global Positioning Satellite technology which provides announcements and an LED visual of major bus stops and transfer points. The "kneeling" NABI 40-footer comes equipped with a bicycle rack and is wheelchair accessible with a simplified ramp that can be operated manually if necessary. The bus is painted in the new design and colors. In attendance were County Commissioner Bruno A. Barreiro, County Manager Merrett R. Stierheim, MDTA Director Danny Alvarez, and MDTA Assistant Director Roosevelt Bradley. Diana Richardson, director of the Office of ADA Compliance, was also present. Television Channels 6, 7, and 10 taped the event.
1999
Spring: Miami-Dade Transit launches plans to extend the South Miami-Dade Transitway. Since opening in 1997, the Transitway has sparked an unprecedented growth in ridership in south Miami-Dade. Ridership in that corridor rose 47% weekdays and 84% weekends. The 22-station Transitway II will extend service from Cutler Ridge to Homestead/Florida City. Construction of the estimated $38 million project begins the first half of 2001.


July: Metrobus ridership rose 3.3% weekdays and 7.0% weekends for a three-month period ending in May. This is in keeping with a national trend, according to APTA. In the last three years, ridership in the U.S. rose more than 12%.


July 29: Miami-Dade Transit's hopes to expand the transit system with more frequent bus service and additional Metrorail lines are postponed when voters defeat the penny sales tax initiative by a two-thirds majority.


October 5: Miami-Dade County Mayor Alex Penelas and the Board of County Commissioners approve the Golden Passport program, offering free rides on transit to seniors citizens 65 years and over. Qualified applicants' annual household income must not exceed $20,000.


November 1: Registration begins for the Golden Passport program at sites throughout the county.


November: Several new routes were added to the Bike & Ride program. The program now includes Metrobus routes 21, 27, 33, 35, 70, 71 (weekdays only), 87, 88, G, J, and Transitway MAX.


December 15: Free rides on transit begin for more than 16,000 senior citizens enrolled in the Golden Passport program. Registration continues.


December 31: MDTA pauses all transit systems from 11:55 p.m. to 12 05 a.m. January 1, 2000 to check for Y2K bug strikes. Buses wait on stand-by at Metromover and Metrorail stations. Three years of preparations pay off. All systems passed with flying colors.
Back to Top
Famous Transit Families
The Tatum Family
In April 1906, only 10 years after Miami was formally incorporated, the City Council passed an ordinance granting three members of the pioneer Tatum family and several associates the exclusive right to operate a railway over Miami's streets.
July 25, 1906--a single car began running from the old FEC depot near Avenue B and Sixth Street, down Avenue B to 12 Street, then out 12 Street to the FEC crossing at the courthouse. Avenue B is the present NE 2 Avenue, and 12 Street is Flagler Street; so the line served the purpose of linking downtown Miami, such as it was, with the then-outlying FEC station.
On September 3, 1907, the company superintendent announced that service would be suspended so the line could prepare for the coming winter season. Although repairs were supposed to take only a month, the line had carried its last passengers. Miami's first trolley line lasted just one year.
Early in 1915, the Tatums again decided to venture into a field of public transportation. Again, the streetcar was to be the vehicle, and the route would basically be the same. Work on the new system began in 1915, but it was late in 1917 before cars were running the length of the line. This line, unlike its predecessor, used battery-powered cars rather than an overhead trolley system for power.
The car barn was also located near the ball park, standing at Ninth Street and Avenue U. It accommodated the six cars that comprised the system. Early in 1920, the barn was the scene of a disastrous fire that wiped out the entire fleet. Faced with the prospect of an expensive re-equipping of the line, the Company managed to stall for a year before it officially decided to leave the transportation field.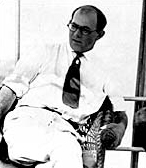 Carl Fisher
During 1920, the Miami Beach Electric Co. with Carl Fisher as president, built a single-track line across the County Causeway to Miami Beach. Ten small streetcars, known as Birney safety cars and seating 28 passengers, were delivered to the Electric Company in September 1919. The car barn was situated near the east end of the causeway where the power house now stands.
Early in December the company began running tests at various points over the line, and on December 13, 1920, the first car completed a round trip between Miami and Miami Beach. Shortly before noon on December 18, regular electric railway service was incorporated between the two cities.
Meanwhile, on the west side of the bay, Miami's city fathers were not blind to the success of the Miami Beach Electric Railway Co. Miami had been without local trolley service since the demise of the battery line early in 1920. Late in 1921, the city began negotiations to buy the franchise of the Miami Traction Company. The city ordered eight new streetcars similar to the ten operated by the Beach Company. On January 3, 1922, the agreement was signed, and the city of Miami now owned a trolley system.
Local streetcar operation in Miami proper returned to the city on January 7, 1922 with two safety cars running on a 20-minute headway. In March, 1924, the Miami Beach Electric Railway Company and its rail subsidiary were sold to the American Power and Light Company.
By 1925 the Florida boom was wide open. Miles of new track were built both in Miami and on the Beach. In 1924 and 1925, the city bought 27 more streetcars, now owning a total of 39. The original single-track line across the causeway had been double tracked in 1925-26, and 12 large deluxe cars arrived just in time to inaugurate service on the improved lines.
In 1925 and 1926, the Miami Railway Company was operating 50 buses on a less heavily traveled line.
On April 30, 1924, William Jennings Bryan, the silver-tongued orator, made a speech extolling the streetcar as "the apostle of democracy."
Seaboard Depot Line--Service for this line began on January 4, 1928 and ended on May 20, 1928, less than five months after it opened with such high hopes.
One final route, which lasted somewhat longer, operated along Ponce de Leon Boulevard in Coral Gables to the University of Miami, then south along the present Magnolia Street to Sunset Drive in South Miami. This service, which began on November 18, 1926, and was operated principally for students at the university and at old Ponce de Leon High, lasted until 1931.
By 1935, the Coral Gables Municipal Railway was operating only the Coral Way high-speed line, and even this line was only a shadow of its original glory. Only four of the 20 trolleys the city owned were required to maintain service on the line.
On November 4, 1935, an unexpected hurricane touched down in Miami. Much of the overhead wire on the Coral Way line was destroyed. The city of Coral Gables, which had contemplated replacing its last trolley line with buses anyway, decided that the estimated $7,500 for repairs was too much.
By the '30s the city had begun to spread beyond its original boundaries, and now buses and jitneys were siphoning off the long-haul traffic. School cars were still popular, carrying students to Miami High in the morning and home in the afternoon.
Early victims of the depression were the local beach lines on Alton Road, Washington Avenue, and Sheridan/Pine Tree. By 1933, the last of these had been replaced by buses, and only the original intercity causeway line still operated between Miami and the Beach.
In 1934, the Kiwanis Club spearheaded a campaign to rid Miami of streetcars and modernize the city transit system. The newspaper took up the cry. On the afternoon of October 17, 1939, only hours after receiving official permission, the last trolleys rolled across the causeway, ending the service that had begun nearly 20 years before. In the rush hour the next morning, 30 buses seating 23 passengers each were required to handle the loads that the 12 trolleys, carrying 48 passengers each, had handled the morning before.
On October 8, 1940, a special election granted the Miami Transit Company the authority to run buses throughout the city. The final conversions were set for November, and on the afternoon of November 14, a gala parade, celebrating the passing of the trolley, rolled through downtown Miami. On the unusually cold night of November 16, 1940, the last trolleys rolled along Miami's streets.
Finally, it is interesting to note that initial proposals for the present-day Miami-Dade County Metrorail system called for early construction of a line across MacArthur Causeway through south Miami Beach, following almost the identical route taken by Carl Fisher's little trolleys that morning of December 18, 1920.
Back to Top
Page Last Edited: Fri Jul 20, 2018 8:30:37 AM
transit
About Transit
You are now leaving the official website of Miami-Dade County government. Please be aware that when you exit this site, you are no longer protected by our privacy or security policies. Miami-Dade County is not responsible for the content provided on linked sites. The provision of links to these external sites does not constitute an endorsement.

Please click 'OK' to be sent to the new site, or Click 'Cancel' to go back.