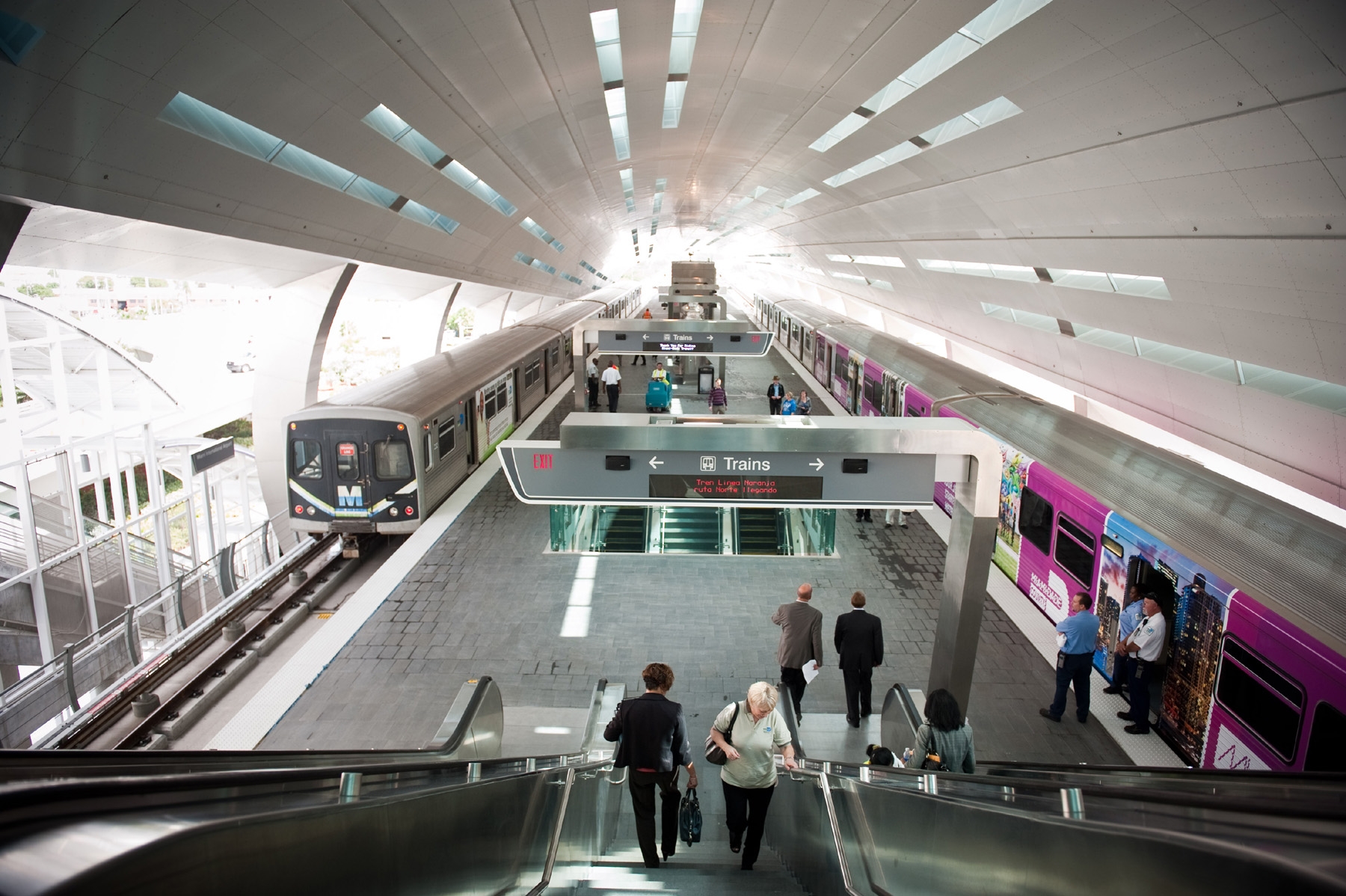 Miami-Dade Transit (MDT) officially opened the new Miami International Airport (MIA) Station, its 23rd Metrorail station, on Saturday, July 28, 2012.
Metrorail's new service will make it possible for millions of Miami-Dade County residents, visitors and airport employees to have a reliable and seamless Metrorail connection to its new MIA Station, where travelers can transfer to the airport's MIA Mover, which will take transit riders directly into the airport. This new connection also will provide a boost to the local economy by creating jobs and facilitating work-related travel, reducing greenhouse gas emissions, and improving travel time by taking vehicles off our roadways.
"This is a big step in the right direction for public transportation in our community. Now more than ever before, we're getting more people to more places," said Miami-Dade County Mayor Carlos A. Gimenez during the inauguration of the new MIA Station. "With today's grand opening, our community joins global cities like London, Paris and Tokyo that already enjoy a rail link that directly connects their major airports to their urban cores."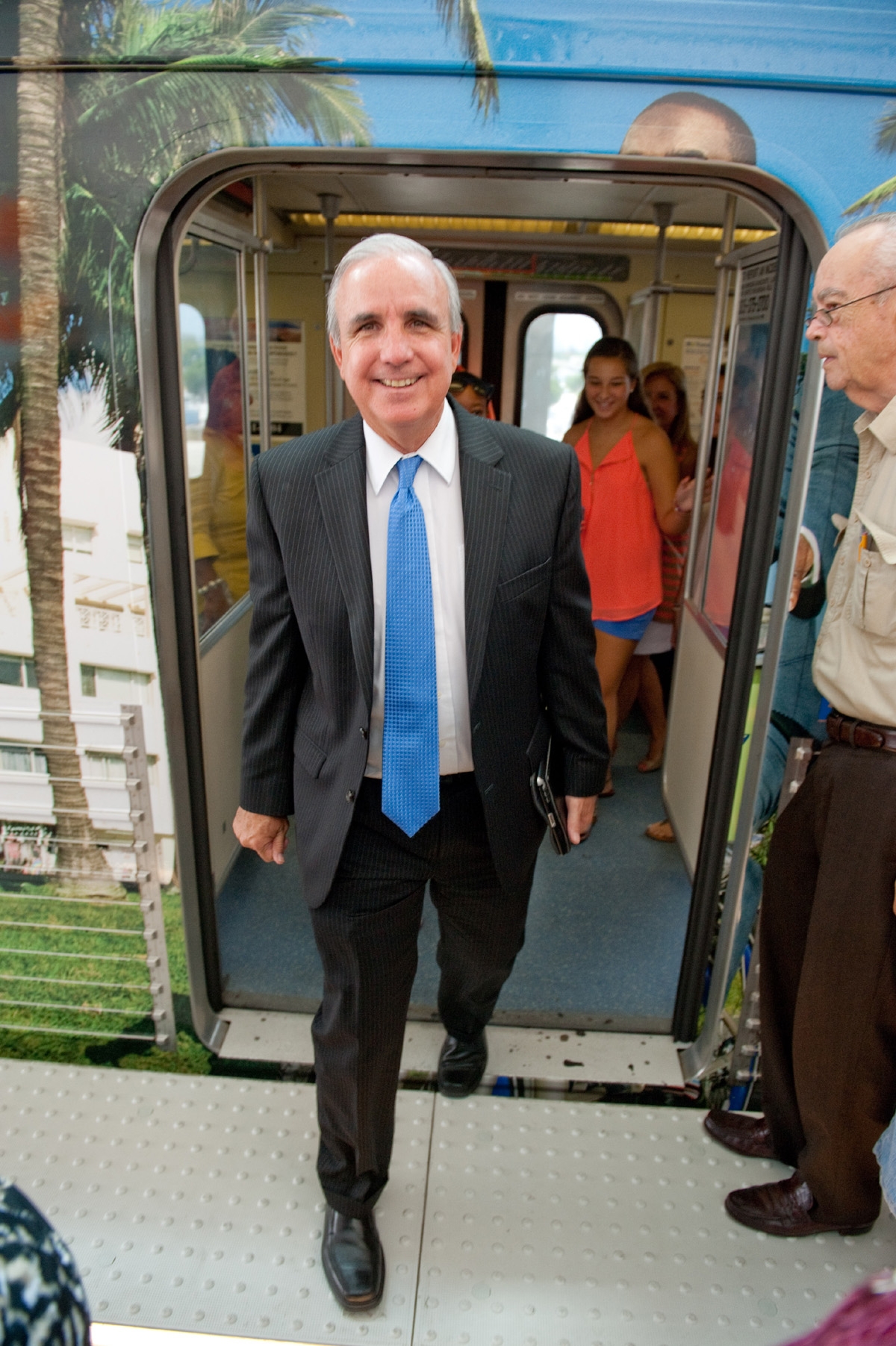 The new 2.4-mile Metrorail extension to MIA, which runs parallel to State Road 112 and crosses the Miami River, and the new MIA Station, are considered the centerpiece of the People's Transportation Plan (PTP).

In 2002, Miami-Dade County voters approved a half-penny sales surtax, overseen by the Citizens' Independent Transportation Trust (CITT), to fund the People's Transportation Plan. The PTP is a comprehensive program of both roadway and transit improvements. Construction of Metrorail's extension and station were funded with $404.7 million from the PTP surtax, and $101.3 million from the Florida Department of Transportation (FDOT)
In anticipation of airport travel by both residents and visitors, three Metrorail stations are now available for overnight and long-term parking:
Okeechobee Station - 2005 West Okeechobee Road, Miami, FL 33016
Earlington Heights Station - 2100 NW 41 Street, Miami, FL 33142
South Miami Station - 5949 Sunset Drive, Miami, FL 33143
The Earlington Heights Station parking garage is accessible 24 hours a day, seven days a week. Both parking garages at South Miami and Okeechobee stations are available during regular operating hours, from 5 a.m. until midnight (or the last train). Patrons will be able to park either overnight, from when the station opens until noon the next day, or long-term, up to 30 days, at these three stations for only $4 per day. Long-term parking must be paid in advance.
The new MIA Station is a multilevel structure that provides passengers with a central transfer point to Metrobus and later to Tri-Rail, Amtrak, Greyhound, tour buses and other modes of transportation via the Miami Central Station, which will be completed in 2013. The Miami Central Station is being sponsored and built by the Florida Department of Transportation.
For more information on the Orange Line, the new MIA Metrorail station, and how to pay for long-term parking, visit www.miamidade.gov/transit (on mobile devices, www.miamidade.gov/transit/mobile); or call 3-1-1, Monday - Friday, from 7 a.m. until 8 p.m., and on Saturday, from 8 a.m. until 5 p.m. Closed on Sundays and during County-observed holidays.