The swimming advisory remains in effect for the Inter-coastal Waterway between Sunny Isles Blvd and William Lehman Causeway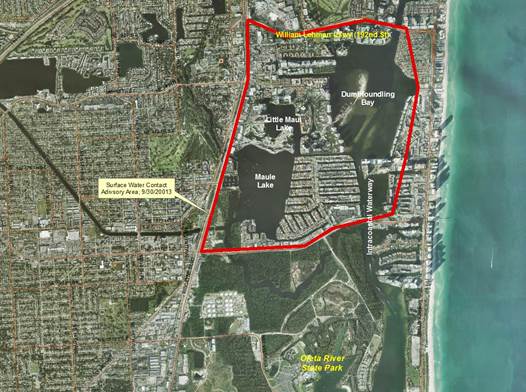 (MIAMI, October 2, 2013) – The precautionary swimming advisory enacted on Monday has been modified. The public advisory to avoid contact with water including swimming and recreational activities, is in effect for the waters of the Intracoastal Waterway, north of Sunny Isles Blvd (NE 163rd St), and south of the William Lehman Causeway, including the waters of Maule Lake, Little Maule Lake and Dumbfoundling Bay, is due to a discharge of sewage from a ruptured pipe.
The Department of Health and the Department of Regulatory and Economic Resources (RER) are testing the affected waters and the advisory remains in effect until test results return to normal levels. We are working closely with all the regulatory agencies to minimize or prevent any further impacts to the environment and the general public.
Residents can view the latest information and a copy of this map at www.miamidade.gov.