Last Visited »
Hurricane Irma
As we continue our recovery and cleanup efforts, please visit the Emergency website for the latest information on openings and closings in Miami-Dade County.
The Water Cycle
The water on Earth is continuously circulating between the air or atmosphere, the land and the sea. The ways in which water moves around, above, on and within the Earth is the hydrologic or water cycle.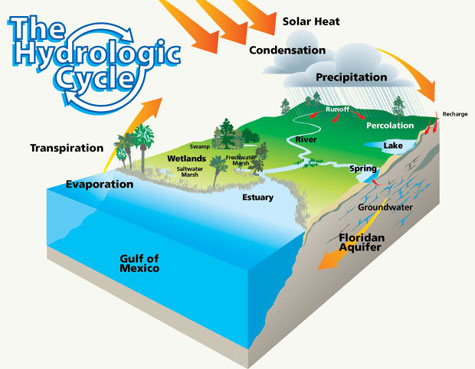 from the Southwest Florida Water Management District
The sun is the energy source for the water cycle, causing water to evaporate from lakes, rivers and oceans, as well as from land surfaces and vegetation. When water evaporates, it changes to a gas (water vapor) and rises in the air. When the water vapor rises and meets cold air, it condenses, forming water droplets, or what we see as clouds or fog. This process is called condensation. Water droplets combine into water drops and return to the Earth as precipitation in the form of rain, sleet, hail or snow.
Exactly how clouds produce rain has eluded meteorologists until recently. In 1999, Dutch scientists using a supercomputer to model cloud behavior announced that rain is produced when whirling masses of water, a few centimeters in diameter, force water droplets outward by centrifugal force. These droplets then collide and grow. To fall to the ground as precipitation, they need to reach a diameter greater than 20 micrometers (Environmental News Network online, November 16, 1999).
Some rain is absorbed by vegetation or evaporates before it reaches the ground. Some evaporates after it reaches the surface. Some soaks into the ground and the Biscayne Aquifer and is taken up by the roots of plants and then released back into the air through the leaves of the plants in a process called transpiration. The combination of evaporation and transpiration is referred to as evapotranspiration. Some rain soaks beneath the water table into underground units of water-bearing rock called aquifers. The remainder becomes surface or stormwater runoff that flows over the ground to wetlands, lakes, ponds, rivers and oceans.
A water molecule's trip from the atmosphere and back may be very long or very short. It may stay in the atmosphere for only a few days or it may remain deeply buried in cavities in the earth or frozen in polar ice caps for thousands of years.
Back to Top
Page Last Edited: Fri Jul 15, 2016 2:41:21 PM
water
You are now leaving the official website of Miami-Dade County government. Please be aware that when you exit this site, you are no longer protected by our privacy or security policies. Miami-Dade County is not responsible for the content provided on linked sites. The provision of links to these external sites does not constitute an endorsement.

Please click 'OK' to be sent to the new site, or Click 'Cancel' to go back.