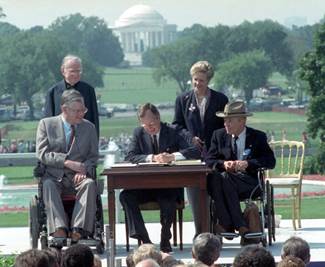 Voice of America photo file from 1990
MIAMI – The Office of Community Advocacy, supports Shake-A-Leg Miami's effort to celebrate the 29th Anniversary of the Americans with Disabilities Act (ADA). In a ceremony, students from Shake-A-Leg summer camp will perform a reenactment of the signing of the 1990 civil rights law that prohibit discrimination against individuals with disabilities. The event will take place on Thursday, July 25 at 10 a.m. at the Shake-A-Leg Miami Marina, 2620 S Bayshore Drive, Miami, FL 33133.
"ADA protection in all areas of public life, including jobs, schools, transportation, and all public and private places that are open to the general public was necessary," said Shake-A-Leg Miami's President Harry Horgan. "In United States, people with disabilities have the same rights and opportunities as everyone else today."
In 2008, the Americans with Disabilities Act Amendments Act (ADAAA) was signed into law and became effective on January 1, 2009. The ADAAA made a number of significant changes to the definition of "disability." The changes in the definition of disability in the ADAAA apply to all titles of the ADA, including Title I (employment practices of private employers with 15 or more employees, state and local governments, employment agencies, labor unions, agents of the employer and joint management labor committees); Title II (programs and activities of state and local government entities); and Title III (private entities that are considered places of public accommodation).
Shake-A-Leg Miami Watersports Center, a 501(c) (3) organization, is a unique place where children and adults, many of whom are not only people living with a disability, but also financially disadvantaged, are able to improve their social skills, make new friendships, and increase their self-confidence through targeted programs.
The Office of Community Advocacy is charged with making Miami-Dade County "One Community" that embraces our diverse and unique population. Follow us on YouTube, Facebook, Instagram, and Twitter @AdvocacyMDC.