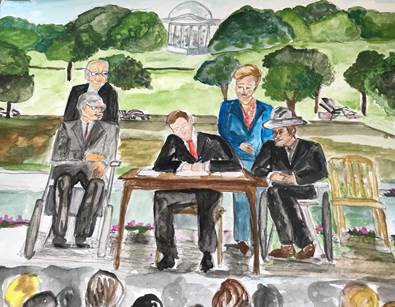 ADA Illustration by Alicia Varona (Ali)
MIAMI – On July 25, in anticipation of the 29th Anniversary of the Americans with Disabilities Act (ADA), students from Shake-A-Leg Miami's summer camp performed a reenactment of the signing of the July 26, 1990 civil rights law that prohibits discrimination against individuals with disabilities. On July 26, student Alicia Varona (Ali) will be showcasing her ADA signing illustration to the community and media from 10 a.m. to 2 p.m. at the Shake-A-Leg Miami Marina, 2620 S Bayshore Drive, Miami, FL 33133.
Ali is a Miami native who has attended Shake-A-Leg Miami since 1st grade as a camper in Marine Academy camp. She is now 20 years old and studying art at Miami Dade College Kendall Campus. Ali is currently spending her summer interning at Shake-A-Leg Miami, working closely with Lexxis Ashby on creating an educational children's book about Lexxi's adventures at Shake-A-Leg Miami. Lexxi has cerebral palsy and scoliosis. Ali is working on watercolor illustrations for the book.
"Ali enjoys drawing, going on road trips and playing video games. We are happy to have her as part of our media team this year and are looking forward to seeing her finished illustrations in the children's book this winter; she serves as an example as in United States, people with disabilities have the same opportunities and rights as everyone else today," said Shake-A-Leg Miami's President Harry Horgan. "We are grateful to have ADA protection in all areas of public life, including jobs, schools, transportation, and all public and private places that are open to the general public; such as Shake-A-Leg Miami, an entity that has counted on the support of the City of Miami and Miami-Dade County Government since 1990.
Deputy Mayor Maurice Kemp from the Office of Mayor Carlos Gimenez and staff from the Office of Commissioner Xavier L. Suarez, Commissioner Daniella Levine Cava, and the Office of Community Advocacy attended the July 25 ADA signing reenactment ceremony. Pictures and a Facebook live video of the event are available at: https://www.facebook.com/AdvocacyMDC.
Shake-A-Leg Miami Watersports Center, a 501(c) (3) organization, is a unique place where children and adults, many of whom are not only people living with a disability, but also financially disadvantaged, are able to improve their social skills, make new friendships, and increase their self-confidence through targeted programs.
The Office of Community Advocacy is charged with making Miami-Dade County "One Community" that embraces our diverse and unique population. Follow us on YouTube, Facebook, Instagram, and Twitter @AdvocacyMDC.