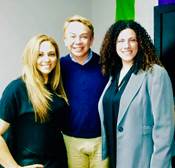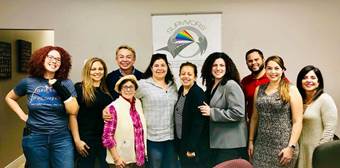 (L-R) Evelyn Suero, Francesco Duberli, and Monica Amador 2019-2020 HAAB's Board of Directors
MIAMI – The Miami-Dade Hispanic Affairs Advisory Board (HAAB), under the Office of Community Advocacy elected three officers for the 2019-2020 term on January 15. 2019.
Francesco Duberli as Chairperson: He is the founder and chief executive officer of Survivor's Pathway, and a clinical psychologist with master's degrees in both public health and clinical mental health. He is known nationally and internationally for his work developing and implementing programs that promote equality, inclusion and social justice in United States and Latin America. His work is focused on developing awareness about the challenges; needs and barriers faced by the immigrant Latino community, focusing on Latino immigrant woman and the LGBTQI communities living in United States. Duberli has dedicated his career to advance the dialogue about the impact of violence in the Latino community and the development of polices that allow these communities to access justice. He also works on the analysis and development of cultural and gender-oriented interventions to prevent different types of violence experienced by these communities; such as, intimate partner violence, domestic violence, sexual abuse, human trafficking, and other violent crimes.
Monica Amador as Vice Chairperson: She is a partner at Amador & Cuellar, PL. concentrating in the areas of consumer law, debt defense, and complex commercial and real estate litigation. In 2009, with many of the firm's clients facing economic hardship, Ms. Amador began working in the area of consumer law and foreclosure defense. Since that time, she has defended over 100 foreclosures and debt defense cases and has dedicated her practice to defending the rights of consumers. She is an active member of the National Association of Consumer Advocates, NACA., and proudly works within our community providing informational sessions and seminars in the areas of consumer abuse, predatory lending practices and consumer fraud.
Evelyn Suero as the Second Vice Chairperson: She is the owner and principal attorney of Suero Law, PLLC, a transactional law firm for business and contractual matters in Florida with a focus on the legal needs of startups, global entrepreneurs, and entertainment professionals. Ms. Suero has worked with hundreds of investors and business owners in South Florida launch their companies and nonprofit organizations, protect their intellectual property and investments, and expand globally. She is a zealous advocate for women and minority entrepreneurship and is a proud member and speaker for the Organization of Women in International Trade (OWIT) and the Hispanic Alliance for Career Enhancement (HACE). Ms. Suero has dedicated her career to working with organizations within our local and global community to address barriers to professional growth and advancement.
For more information, please contact Hispanic Affairs Advisory Board Director Natalie Milian at 305-375-5098.HAAB's next meeting will be held on Tuesday, Feb. 12, 6 p.m. in the Survivor's Pathway office, 1801 Coral Way, Suite 200, Miami.
The Office of Community Advocacy is charged with making Miami-Dade County "One Community" that embraces our diverse and unique population. Follow @AdvocacyMDC on YouTube, Facebook, Instagram, and Twitter. Follow @MiamiDadeHAAB on Facebook and Twitter.
Editor's note: For the high resolution photo, please email [email protected].