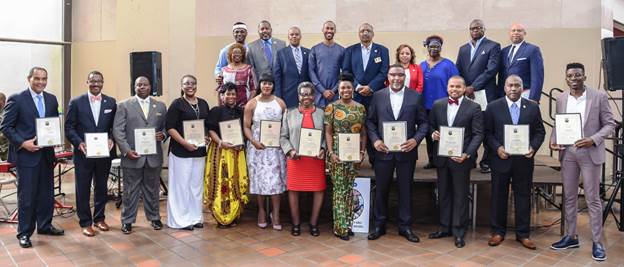 Top row from L-R: Black Affairs Advisory Board (BAAB)Program Director Retha Boone-Fye; Senior Manager Miami-Dade County International Trade & Development Desmond Alufohai; City of Miami Gardens' Vice Mayor Rodney Harris; BAAB member Ronald Mumford; City of Opa-locka Mayor Matthew Pigatt; BAAB members D.J. Fabien; Dr. Tisa McGhee; Dannie McMillon; City of Miami Administrator Milton Vickers; BAAB member Cliff Thomas Bottom row from L-R: Honorees: Dr. Rudy Moise; Dr. Jaffus Hardrick (Florida Memorial University); Minister Shakira Taylor (Universal Truth Center); Nikenna Benjamin (Miami-Dade County Cultural Affairs); vonCarol Kinchens (City of Miami's NET office); City of Miami Gardens Councilwoman Lillie Q. Odom; Actor Sope Aluko; Ruban Roberts (President-NAACP); City of Miami Commissioner Keon Hardemon; BAAB member Pierre Rutledge; Rayvon Joseph (Macy's). Photo by Armando Rodriguez/Miami-Dade County Photographer.
MIAMI – In honor of #BlackHistoryMonth2019, the Miami-Dade Black Affairs Advisory Board (BAAB), under the Office of Community Advocacy, is hosting and participating in many events throughout Miami-Dade County. On Feb. 1, BAAB unveiled Vessels 2019: Women of Substance" and "Triumphant Spirits 2019: African American Men" exhibit-curated by MUCE; Kinad African American Museum exhibit, and excerpts from the Smithsonian Institution's Traveling Exhibition Service' entertainment. The exhibit will remain in the lobby of the Stephen P. Clark Center until the end of February and is free and open to the public Monday through Friday during business hours.
To view the pictures from the unveiling, please visit our Facebook page. For more information on the month's events, please contact Black Affairs Advisory Board Director Retha Boone-Fye at 305-375-4606.
The Office of Community Advocacy is charged with making Miami-Dade County "One Community" that embraces our diverse and unique population. Subscribe to our YouTube channel and follow us on Facebook, Instagram, and Twitter.
Editor's note: For the high resolution photo above and those shared on Facebook, please email [email protected].